---
At 61, Cecil Lee still looking for...
Checkmate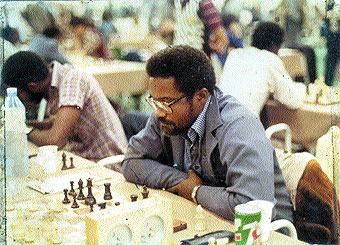 Lee ponders over the board during the 25th World Chess Olympiad in Greece, 1984.
By Shammi Kowlessar

How many people can you think of who have been in the upper echelon in their sporting discipline for more than three decades and into their 60s? I can come up with one name: Cecil Lee.
I can almost see the bewildered look on your faces and hear the collective shout WHO!?
But in the world of local chess, Cecil Lee is like a god. This three-time national champion, as well as three-time Sportsman of the Year nominee, has been battling in the top bracket for just over 30 years and has qualified to represent the country at "Olympic" level far more times than anyone else.
Yet when he failed earlier this year to gain selection for a tenth time, Lee was bitterly disappointed. He will still be going to Slovenia next week Thursday, though, for the World Chess Olympiad, as non-playing captain.
Lee will lead new national champion Ryan Harper, Merio Merritt, Ravishan Singh and former national champs, Christo Cave, Yogendranath Ramsingh and John Raphael, in the tournament, which will be contested in Bled, Slovenia, from next week Friday until November 7.
Lee, who turned 61 earlier this month, would still prefer to play, but he failed to finish in the top three in any of the final three qualifying tournaments after being in contention until January.
Never before had Lee failed to earn a spot on the team since he was first picked in 1974, but the main reason could be a result of his self-imposed exile from the game between 1991-95.
Lee had decided to quit chess after withdrawing from the '90 Olympiad team following a run-in with the Trinidad and Tobago Chess Association (TTCA). He pulled out of the team, protesting it was unfair to use money obtained from sponsorship to purchase tickets for certain members to travel to Yugoslavia instead of using it to aid the collective effort for the TEAM tournament.
Lee considered this the final straw of a series of blunders by the association at the time and walked away from the game only to return in '95 when they begged him to become TTCA president .
He reluctantly stepped into the position, but made a substantial impact during his year in office and his achievements included staging the biggest-ever national junior tournament (featuring more than 200 players) and recruiting a coach from Cuba.
Lee also resumed playing competitively that same year, but admits that the time away from the game, added to the fact that age has caught up with him, ensured he's yet to return to his best.
He's still in the top 10 in the country, but even at age 61 that's not good enough for Cecil Lee, who still strives to get back to the top.
It is that kind of determination which propelled Lee to top rung in the first place.
He has accomplished so much in chess that it is dificult to believe that Lee never played in the juniors ranks. In fact he only started playing the game by accident at age 22.
Disenchanted with the committment to the game by some of his teammates, Lee decided to quit club cricket in the mid-60s and get involved in an individual sport.
He started playing draughts and was being whipped so soundly he decided to build his own board in order to get more practice time.
But he constructed a 100-square (chess) board instead of the required 64-square board used for draughts and decided to learn chess "after going through all that trouble".
The year was 1966 and Lee and a friend spent almost all their time playing for several months before he approached East Zone champion, policeman Lionel Dechi, who took him under his wing and promised to make him a champ if he remained decidated to the game.
Lee was a model pupil and after three years of intense studying of literature to improve strategy, and playing thousands of games (losing a significant portion of them) against competitors from the East, Dechi, a former deputy commissioner of police, was ready to unleash his charge on the public.
Lee's first tournament was the '69 East Zone Championships and he placed a very creditable second to Dechi, a national draughts champ, who Lee describes as one of the best players to never win the National Chess Championships.



Cecil Lee stands proudly with the national flag at the the 21st World Chess Olympiad in Libya in 1976.

Cecil Lee had arrived and only two years later he finished third in the "Nationals" and the Royal Victoria Institute (RVI) Candidates Tournament, rated a level just below the National Championships.

The following year, 1972, he won his first tournament—the RVI Candidates and finished runner-up at the "Nationals" but it was the next year when Lee proved he would be one to reckon with for many years.

He repeated as "RVI" champ and also won an event designed for players who had been victorious in major tournaments. Lee was not even eligible to participate in the "Champion of Champions" since the RVI is below the required level, but a special concession was made and Lee went

all the way.

He was then selected to represent T&T for the first time and was a member of the 1973 squad at the Central American and Caribbean (CAC) Games in Venezuela.

Following year he went to France for his first Olympiad and in '75 played in the Caribbean Championships in Guyana and the individual championships of the CAC Games in Guatemala.

Another trip to the Olympiad (in Libya) followed in '76, but in all this time victory in the most prestigious local tournament, the National Championships, kept eluding him.

After finishing second on four consecutive occasions, Lee finally earned the right to be hailed as national champion in 1978.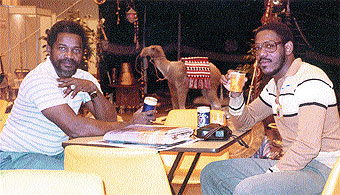 Lee and John Raphael a member of this year's team, relaxing during the tournament in Dubai.

Six years later he did the trick again when he also completed a hattrick in the National Swiss Championships (which assumes a different format but is at the same level as the National Championships).

Lee was crowned national champ again in '87 and won several other titles in a very long and distinguised career, which as far as he is concerned, "is far from over".

There have been many highlights in his chess career, but the most memorable for him have been, voted best player on the T&T team at the '74 Olympiad in France (after he had lost all six of his matches at the CAC Games the year before); winning 62 per cent of his matches at the '86 Olympiad in Dubai, United Arab Emrites, and his remarkable performance in the 1984 US Open.

In the year in which he also won "Nationals" and completed a "Swiss" hattrick, Lee, who became the first local player to compete in the US Open, did his country proud by not only competing among the best in the Masters' division but also holding his own.

He won five games, drew six and lost just once to earn a Masters' rating of #2224.

That performance almost earned his the title for Sportsman of the Year, but he was nosed out by boxer Leslie "Tiger" Stewart, who later became a world champion.

The consensus was that Lee would have won had Sean Tavares not prevailed for the "small" sport of chess at the "WITCO" battle the year before.

Tavares, one of several champions that Lee has coached, was out of the country when he won and specifically requested that his mentor collect the trophy on his behalf.

Apart from chess, Lee is still an ardent cricket fan and his knowledge of West Indies cricket and statistics is up there with the very best of them. He's also very passionate about tennis and has played at club level for close to 30 years.

He was also a tennis official for more than a decade (until '99) after successfully completing the International Tennis Federation (ITF) Level Two umpires' examination to obtain a white badge in the mid-80s.

But for a man who has accomplished so much he's still not satisfied.
---
Shammi Kowlessar, At 61, Cecil Lee Still Looking for Checkmate," 18 October 2002. Reprinted from the Trinidad Express (www.trinidadexpress.com).