Chess prodigy competes internationally
by Noah Fowle (Bronx Times, 11 December 2003)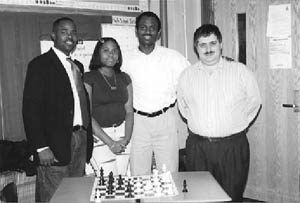 Patrick Prophile, chess advisor and MS 118 Internship Administrator,
Medina Parrilla (12), and her two coaches Fritz Gaspard and Yuri Lapshun (l-r)
are all part of the highly successful Chess in the Schools. - PHOTO BY ANNA FOSTER/NF

After her recent performance in the World Youth Chess Championships in Greece, twelve-year-old Medina Parrilla of Morrisania is ranked second in the world among female chess players under 13.
Parrilla's reaction to the high international ranking is surprisingly humble. "It's no big deal," said Parrilla, a seventh-grader at M.S. 118. "I just always do the best that I can."
Parrilla started playing chess while in kindergarten through Chess in the Schools, a non-profit organization that teaches the game to inner-city public schoolchildren. "I just wanted to try something different," she said of her motivation for first learning the game.
Now, the world-class chess player has high praise for the program that has helped propel her to international recognition. "Chess in the Schools sponsors me, and they take care of everything: my coaches, my lessons, my tournaments," she said. "Without them I wouldn't be here."
Parrilla's aspirations are now much higher than just exploring a new hobby. "I want to be the first African-American female Grand Master in chess," she said. "I'll get there."
Last month, Parrilla proved that her goal is not some far-flung fantasy but a very real possibility. Finishing 27th out of 85 players, she knocked off the top player from Turkey as well as the number 10 seed in the championship tournament. "There were times when I thought I was going to lose, but I kept fighting and fighting," she said of her performance at the World Youth Chess Championships.
When asked about his pupil's performance at the finals in Greece, coach Fritz Gaspard said, "She did great. She really showed her fighting spirit."
Aas far as Parrilla's long-term goal, he said, "It's fantastic. I'm sure with her work ethic she can achieve a Grand Master rating."
Both Gaspard and Parrilla's other chess coach, Yuri Lapshun, agree that her success cannot be attributed solely to natural ability. "To get to her level talent is not enough," Lapshun said. "She thinks about chess every day."
Gaspard also praised her commitment to improving on her abilities. "She has the willingness to put in extra time at practice and participate in tournaments against older, tougher opponents," he said.
For Parrilla, chess is more than a game. She applies lessons learned on the chess board to everyday life. "Chess has taught me there is always another solution, that there is never just one way to do something," she said.
And now chess is also expanding her cultural horizons. "Besides learning the psychology of her opponents, we also talked about the histories and cultures of her opponents' countries," Gaspard said. "For the tournament, she learned greetings in foreign languages, too."
Parrilla's mother, Luz, also sees how chess has strengthened her daughter's mind. "She makes a lot of decisions on her own," her mother said. "She's very patient."
Chess in the Schools paid for Parrilla's mother to accompany her daughter to the world championships in Greece. There, she recognized her daughter's fierce competitive streak. "It doesn't matter how high rated her opponent is. Medina is always going to try her best and give her opponents a rough time," she said.
The promising 12-year-old believes that Chess in the Schools is an invaluable program. "It's very important. It keeps kids off the streets. Every school should have an activity like this," she said.
Marley Kaplan, the CEO of Chess in the Schools, could not agree more. "This program is so cost effective- it's only $100 per student per year. Kids walk away with a chessboard and a rulebook. Hopefully they go home and spread the game on their own. We want to give them something they can use for the rest of their lives," Kaplan said
Chess in the Schools started in 1985, and originally aimed to teach kids the very basics of the game. Now, almost twenty years later, Kaplan explained that the program is now marked by highly trained instructors, organized lessons, and after school tournaments. "Today's program bears almost no resemblance to the original," she said. "It's fully blown out."
Currently, Chess in the Schools has 38,000 kids involved in 160 schools in all five boroughs.
Although Kaplan commended Parrilla as "a shining example of the program," Chess in the Schools' main goal is not to make great players. "We want to teach the kids certain concepts, to think in depth, and plan ahead," Kaplan said. "Teachers and principals report children active in Chess in the Schools are better behaved and have increased attendance." With 100 schools on the waiting list, Kaplan claims there is "no end in sight" for how the program can continue to grow and help cultivate and shape young minds.
As for Parrilla and her coaches, they are already looking ahead to the grade Nationals later this month in Chicago. Last year, Parrilla led her team to the championship and he