Maurice Ashley
1144 Lenox Rd., #3B
Brooklyn, N.Y. 11212
(718) 498‑4268
February 8,1992
---
MY DEAR BROTHER IN CHESS:
The Unity Chess Tournament Series is on! That which may arguably be the single most momentous event in the history of African‑American chess is about to become a reality ‑ and soon! Read on.
Conception
The inspiration for the UCTS came to me shortly after my reading the Autobiography of Malcolm X and from some reflective conversations with a friend who is well‑versed in similar subject matters. It has long been a concern of mine (and yours, no doubt) that the African‑American chess community is as fragmented as it is. There is no place in this country I can think of that boasts four or five black masters meeting on a regular basis, if only to just 'throw‑down'. This has always bothered me, but it was not until the aforementioned 'stimulations' that I was ready to conceive of the project in its entirety. It came to me in a flash and with such force that I can only say I feel humbled to be able to serve as the vehicle through which the idea carries itself onward, upward, and beyond.
Purpose
The UCTS is, simply stated, designed to educate, uplift, and unify the strongest players of African descent in the United States. It is based on a simple concept: Together, we stand ‑ divided, we get mated! The Soviets have been the undisputed masters at applying this formula to absolute perfection. I don't need to tell you that the next Westerner to challenge Garry for the title of World Champion will have to face him, his homeboys, and the rest of the Commonwealth. While Americans have been sitting on their rear ends chewing cud and reminiscing about the good old days of Fischer, the Soviets have been consistently producing thoroughbred after thoroughbred to the tune of complete world chess domination. Well, the time has cane for the Brothers to come out full force in the flesh with a vengeance!
Goal
Make no mistake about it; we must stop at nothing short of the World Championship title. But "the longest journey begins with a single step." What is that first step? More National Masters, more Senior Masters, some International Masters (for crying out loud!), and inevitably a handful of Grand Masters. Unrealistic? Not at all! Just raise the rating of every African‑American master by two hundred points and the U.S. chess map would be changed forever. Take a look at our Top Ten if you need to be convinced:
1. Maurice Ashley (NY) ‑ 2485
2. Emory A. Tate Jr. (NY) ‑ 2441 (USCF 12/92)
3. Ronald Buckmire (NY) ‑ 2424
4. Morris Giles (IL) ‑ 2423
5. Maurice Broomes (PA) ‑ 2408
6. Ronald Simpson (NY) ‑ 2390
7. Steve Booth (CA) ‑ 2387
8. Alfred Blake Carlin (LA) ‑ 2386
9. Charles Lawton (MO) ‑ 2363
10. Marvin Dandridge (IL) ‑ 2351
(Source: Jerome Bibuld as of 1/92)
If I have mistakenly left anyone off this list then he or she is further proof of my point: that as a group we are extremely strong and would be a tremendous force to be reckoned with if we were stronger.
The Plan
But exactly how do we go about making our assault on the elite of the American chess establishment? A good question with a clear and straightforward solution. As I see it, it would require the following:
1. Get as many of us as we possibly can together under one roof on a consistent basis! This in and of itself would be a remarkable occurrence.
2. Two weeks in advance furnish all the players with topical thematic positions, i.e. positions 12 to 14 moves deep in an opening variation which will be played on every single board. The two weeks will give everyone more than enough time to prepare a sequence for playing both with White and with Black. Herein lies the true secret to the entire strategy: instead of attacking each other tooth and nail in our own pet lines, we will be forced to do battle on even ground in positions that are guaranteed to be mind‑numbing, heart‑thumping, pulse‑racing, hand‑quaking, knee‑jerking, nerve-racking, mouth-watering, deeeeeliciously complicated!
3. Include only those players rated over 2100 and also include two to four of our most talented youngsters. The latter category is extremely important. It is the young people who will be our real foundation for continuous growth. Without them, we would just be an endangered species waiting to became extinct.
4. Make up a bulletin for each tournament and distribute it to all the participants for further study. Then repeat(!) the same positions in future tournaments. This will not only put the best ideas in everyone's hands, but it will also raise the quality of the games immensely.
5. Guarantee prizes at every tournament so that if the spirit of unity doesn't get you, the cash will. Prizes will be absolutely guaranteed up to eight places. With only about 20+ players in each tournament the chances of winning your money back will be pretty good!
6. Set up a "Continue the Unity Fund" to which anyone may contribute. The fund will assure that this series of tournaments remain a part of our community for as long as there are black chess players. Since my positions as organizer and participant could cane into conflict, any share of the prizes I win will be contributed to this fund (minus my entry fee, of course.)
7. Get some publicity. Over the next couple of weeks I will be approaching local African‑African newspapers with the idea for a chess column. This column will feature the best game from each event, thereby providing sustained coverage of our activities.
8. Let the rest take care of itself. There is no question that things will snowball after that. New alliances will form, old rivalries will flare up, and a refreshing fighting spirit will be ignited in a very constructive fashion. We are sure to benefit, not just one, not just a few, but all of us ‑ TOGETHER.
"The time has come"
Needless to say, without everyone's wholehearted participation the chances of our succeeding as a group became that much more diminished. The time has come to stop complaining about what could be, and to bring to life that which is. We need you. We need each other. I sincerely hope that I will see you at as many of these events as possible, for the skills you have developed will enliven the discussions, and the spirit you bring will give us strength. Peace and love, my Brother. It's Unity time!
Signed, Maurice Ashley
---
February 22nd. 1st African‑American Unity Chess Tournament: 4‑SS; G/45; open to 2100/above (OTB or DOCUMENTED correspondence); St. Martin's Episcopal Church, 230 Malcolm X Blvd. between 121st & 122nd Sts. (see below for directions); EF: $20. $$(400 gtd.), 150‑100‑50‑20‑20‑20‑20‑20; NOT USCF rated; Reg. 10:30‑10:45; Rds. 11:00‑12:45‑2:45‑4:30. Info: (718) 498‑4268 or (914) 939‑5023.
First Thirteen Moves, Leading to the Thematic Position of the 1st African‑American Unity Tournament, 1992
1.d4 Nf6 2.c4 g6 3. Nc3 Bg7 4.e4 d6 5.Nf3 0-0 6.Be2 e5 7.0-0 Nc6 8.d5 Ne7 9.Nd2 a5 10.Rb1 Nd7 11.a3 f5 12.b4 Kh8 13.Qc2 Ng8.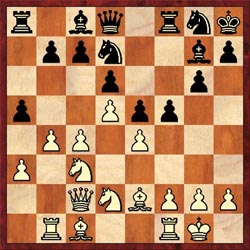 ---