2023 FIDE World Cup: Round 1
In a hall of great splendor, players from 86 countries have trekked to Baku, Azerbaijan for the 2023 FIDE World Cup. A total of 206 players assembled for the open section and 103 for the women's section are competing for a record prize fund and three spots for the Candidates Tournament. Starting with the 2021 edition, a new format expanded the field to include players from the top 100 federations.
Each of these federations was able to nominate one player to represent their flag. It is a novel idea that provides players with opportunities that would not normally occur. Typically each region will have a specific number of players qualifying through zonal tournaments. Now more players have a chance to compete on the largest stage apart from the Olympiad.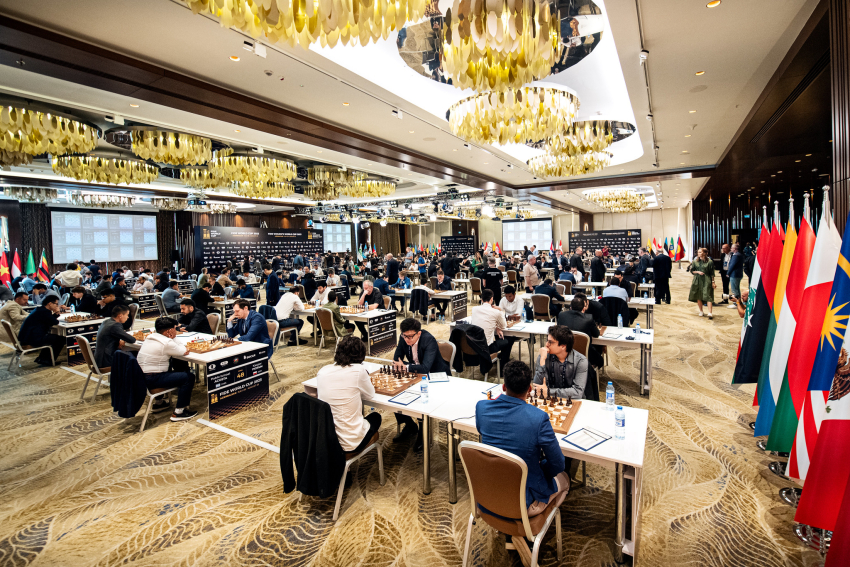 The 2016 Olympiad was held in Baku and the venue chosen for the World Cup was ideal for the status of this event. ChessBase India's Sagar Shah gave us a look.
Video by Sagar Shah/ChessBase India
Sagar Shah and ChessBase India are by far one of the most treasured resources for chess content and has provided a platform for not only covering Indian chess, but top-level events. His interview and line of questioning is very friendly and conversational which makes it much easier for the person to answer questions freely.
Round 1, Game 1
Sunday, 30 July 2023
The 2023 World Cup begins!
Open
Many chess players following professional chess may remember the name Pablo Salinas Hererra of Chile. If not, in the 2021 World Cup he uncorked one of the most picturesque checkmates of that year. It was against Mads Andersen of Denmark and involved a nice queen sacrifice. So it should come as no surprise when he scored the upset of the round by beating Montenegro's Denis Kadric. There were not any other major upset losses, but two African players threatened to get 500-point upsets.
Interesting moment #FIDEWorldCup for African chess. Namibia's Dante Beukes ?? Uganda's Haruna Nsubuga ??were better in their games but were ultimately held by more experienced GMs. @AfricaChessConf @thechessdrum

— Daaim Shabazz (@thechessdrum) July 30, 2023
FM Nsubuga Haruna at the Fide World Cup in Baku, Azerbaijan ?? after holding the French GM Moussard Jules to a draw.@AfricanChessCon @newvisionsport @NnalubaaleS @ntvuganda pic.twitter.com/F2PPpnBw9E

— UgandaChess(UCF) (@UgandaChess_UCF) July 31, 2023
Perhaps it was the Frenchman who held the Ugandan to a draw. Uganda's Haruna Nsubuga was winning in his game against Frenchman Jules Moussard after the Exchange Caro Kann (main line). The game went into normal channels until Nsubuga play 12…Bf5?! instead of the more common 12…Bxf3. After 13.Bxf5 exf5 white already has a permanent structural advantage. Nevertheless, the game went on and the Ugandan went forward with 20…h5!? The engines preferred 20…Qc7, but the text move was a good practical choice and Moussard immediately panicked with 21.Qd3?! White begins to slide into passivity and after 25…Qc4!
At this point, black had equalized. However, like most Grandmasters will not believe they are losing against a player so much lower-rated. They believe there must be resources available. However, after 28.Qxd5? black takes initiative with 28…Re2! Moussard continue to flail away and the position got even worse after 30…Nc4! and now the position is -3.00. How does white stave off the impending attack? Many times lower-rated players will overthink a winning position thinking that the stronger player must have some type of resource.
The position went to -4.07 after 31.Qd4. In all fairness, it is one thing to have a good evaluation, but another thing to recognize it. Nsubuga decided to trade queens relieving the pressure on white. 31…Qg5 threatening mate would keep the tension and give white a chance to make another mistake. In fact, black had a chance to crack the whip after 32.g3 Ne3! Imagine that.
There is no satisfactory response and white will lose material. Again… it's one thing to get a winning position, but to know you're winning is what separates the levels. Nsubuga was probably content with a draw given the rating difference and trading queen gave away most of his advantage. The game went into a 4 vs. 3 rook ending with an easy draw. However, Nsubuga ended up playing 57…g4 to liquidate the pawns but ended up being a pawn down. Fortunately, there was no way for white to make progress.
Namibian International Master Dante Beukes had his chances against Croatia's Ivan Saric in a Rauzer Attack. The opening went off the main line and after 13.e5 Qa5 black had equalized. However, Saric sacrificed the exchange after 21…Rxc4, but did not have adequate compensation. White consolidated, but it seems as if black had a fortress. However, Saric (losing) declined a draw offer because Beukes was running low on time.
Hoping the Namibian would err, he began to play poor moves, and 51…a5 52.c5! was now evaluated as +3.47. The winning plan was pointed out by commentators and they had already resigned this as an upset in the making. However, as the game wore on time became a major issue.
Dante Beukes vs. Ivan Saric has been an absolute thriller!#FIDEWorldCup pic.twitter.com/vRWJbHnSJL

— chess24.com (@chess24com) July 30, 2023
However, Saric's gamble paid off and Beukes' shortage of time resulted in him repeating moves, and a draw was agreed.
In perhaps one of the most sensational games played in the first game was the game of Edis Durel, the 14-year-old Turkish player. He uncorked a dashing attack that will be part of instructive lessons of the famous bishop sacrifice on h7.
The first game is one in which higher-rated players are trying to feel out the opponents that they may not know very well. Just as you have in Olympiad tournaments, you will have some upsets. There were a few upsets of 200 points, such as Venezuela-born Spanish player Eduardo Iturrizaga and Hungary's Ferenc Berkes both losing to Mongolia's Ganzorig Amartuvshin and Iran's Pouria Darini, respectively.
Women
Just as in the Open, the top-seeded women will begin play in round two so World Champion Ju Wenjun will lie in wait. Dutch champion 17-year-old Eline Roebers won her game easily against Iraqi player Yamama Asif Abdula Al-Fayyadh with a devastating kingside attack. It is quite overwhelming for an Iraqi player to be playing on the top board, but an honor to be the subject of so many wonderful photos that may inspire a generation of players.
One of the most spectacular wins (in either section) was Munkhzul Turmunkh's smothered mate against Natalia Buksa of Ukraine. In the following position, the Mongolian player had just played, 36.Nh6! Taking the knight would've led to a queen sacrifice, pawn promotion, and mating attack.
Most of the rating favorites won their games, but in the Internet age, it is hard to know who is in top form since it's possible to play in online competitions.
Full Broadcast
Sunday 30 July 2023


Video by FIDE Chess
Amidst the expected victories of the favourites, the World Cup's opening showcased a hint of unpredictability, as a handful of upsets set the stage for potential surprises in the games ahead.

At 3 PM sharp local time in Baku (Azerbaijan), the first round of the World Cup began, where altogether 228 players in the Open and the Women's tournament are fighting for the top three places in each group leading to the Candidates tournament, the final qualifying stage to select the next challenger for the title of World Champion.

Not all of the players are taking part in the first round. As per regulation, the top 50 players in the Open and the top 25 in the Women's section will join the event from the second round. (full report) ~Milan Dinic, FIDE
Round 1, Game 2
Monday, 31 July 2023
While most of the favorites go through
Chile's Salinas upsets Kadric 2-0
Cypriano Deng Rehan (South Sudan)
Many following the World Cup were talking about the new format and the fact that players from such diverse countries were able to participate. One such country mentioned was South Sudan. Its representative Cypriano Deng Rehan had a couple of interesting games, but lost his way in both against Olympiad gold medalist Javokhir Sindarov.
In the second game, Rehan tried a rather ill-advised 7.Bh6?! allowing black to equalize almost immediately after 7…cxd4 8.Nxd4 Bxh6 9.Qxh6. White's idea is simply too slow here and the Uzbek player wasted no time in seizing the initiative and a half-open b-file.
Although the game went into an ending, black was a clear pawn up with a better structure. Rehan gave some resistance, but when his king got confined to the a-file, there was nothing else to do but concede. After the match, Rehan gave a delightful interview where he talked about the games, his overall experience, and the future of chess in South Sudan. It was very optimistic and while he was with the Olympiad team in Baku in 2016, Rehan seems to be preparing the next generation of players for Budapest Olympiad in 2024.
Video by FIDE Chess
FIDE Report
The opening move on the second day of the World Cup was made by the former World Champion,
Viswanathan Anand
. With just two more days before the top-world players play their first games, many have started arriving in Baku and were seen inspecting the playing hall and getting ready for the matches.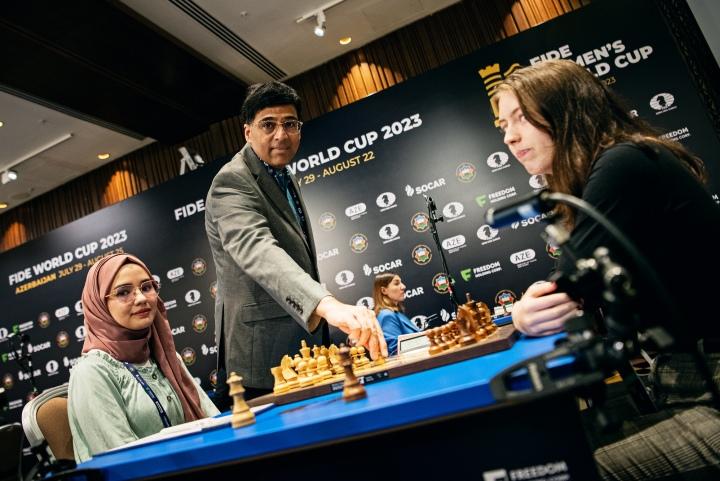 Viswanathan Anand making ceremonial move on second day of World Cup in Baku, 31 July 2023.
Photo by Stev Bonhage
The top favourites in this early stage of the World Cup secured the pass to the next round, but there were some upsets: Chile's
Pablo Salinas Herrera
(rated 2468) proved that it was no surprise as he defeated the significantly higher-rated Montenegrin GM
Denis Kadric
(rated 2601) in the first game, and repeated it in the second, this time with black pieces. Herrera will now go up against Iran's
Amin M. Tabatabaei
in the second round. Also, after a draw in game one, Moldova's Schitco defeated the higher-rated Azeri Grandmaster
Nidjat Mamedov
in the second game and will now be playing against the 2018 US Champion,
Sam Shankland
, in the second round. (
full report
)
~Milan Dinic, FIDE
Full Broadcast
31 July 2023
Videos by FIDE Chess
Round 1, Tiebreaks
Tuesday, 1 August 2023
Crazy tiebreaks including a 10-game match!
FIDE Report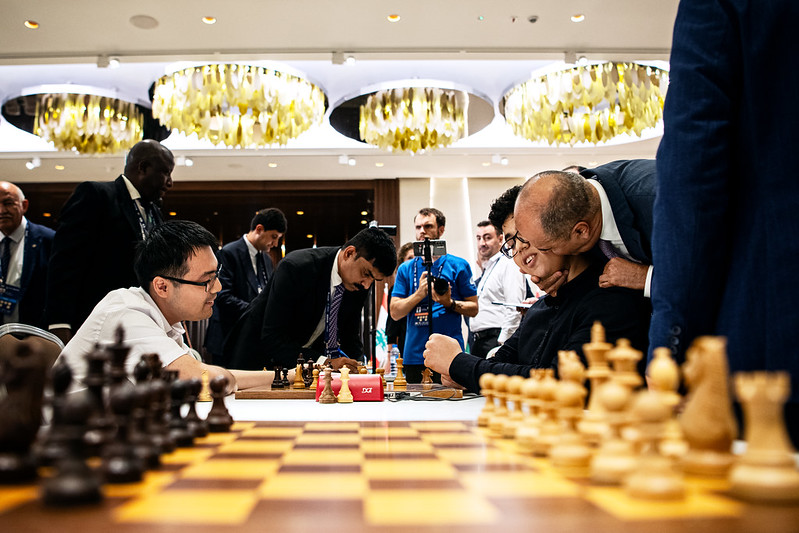 The tiebreaks of round one of the World Cup saw a lot of drama, particularly in the Open tournament. While the favourites mostly won, a few notable surprises made it to the second round of the World Cup.

After six hours of play, four rounds of tiebreaks in the Open and two in the Women's tournament, the full list of qualifiers for the second stage of the 2023 FIDE World Cup in both the Open and the Women's tournament was determined.

Altogether – 24 boards in the Open and 9 in the Women's World Cup played the round one tiebreaks.

While all the top favourites qualified, there have been a few upsets, such as Azerbaijan's GM Gadimbayli and Argentinean IM Pablo Acosta, who knocked out significantly higher-rated opponents. In the women's tournament, all the favourites moved to round two, with just one match (Guichard vs Serikbay) entering the second tiebreaker. (full report) ~Milan Dinic, FIDE
Full Broadcast
1 August 2023
Videos by FIDE Chess