Niemann's $100m Lawsuit Dismissed… but stay tuned
Today a federal judge dismissed Hans Niemann's $100 million lawsuit (amended twice) against several high-profile figures in the chess community. GMs Magnus Carlsen, Hikaru Nakamura, Chess.com, the Play Magnus Group, and IM Daniel Rensch were the targets of a lawsuit citing five different offenses against defendants:
"(1) slander; (2) libel; (3) unlawful group boycott under the Sherman Act, 15 U.S.C. § 1, et. seq.; (4) tortious interference with contract and business expectancies; and (5) civil conspiracy."

~Hans Niemann's filing (Section 17 "Nature of Action")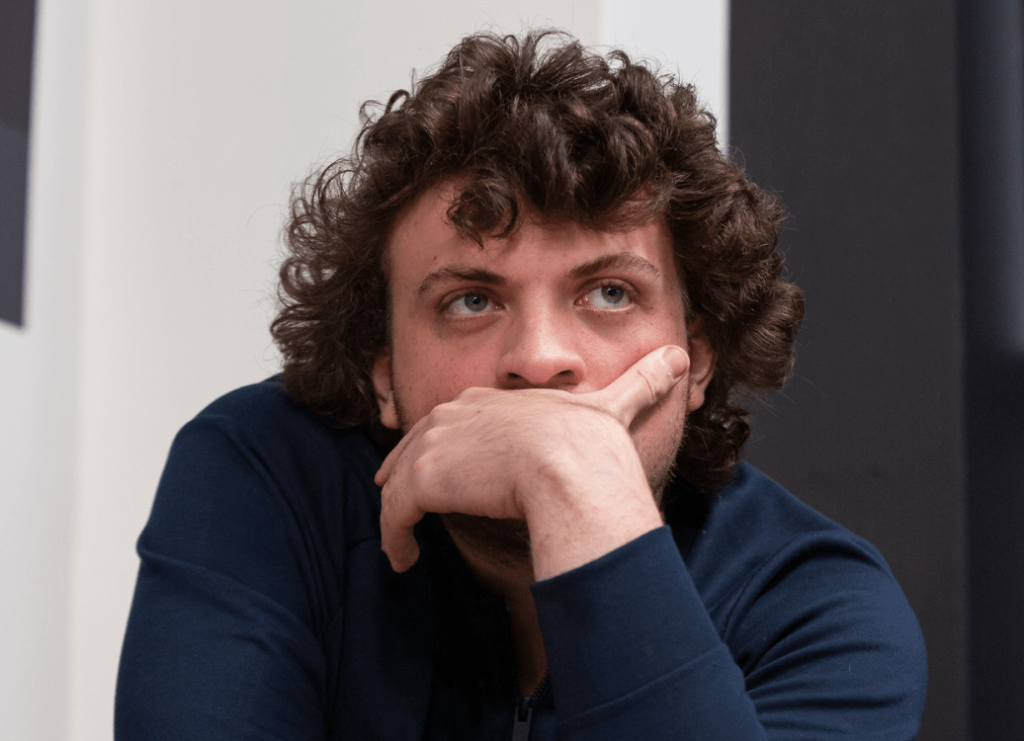 GM Hans Niemann's debut at 2022 Sinquefield Cup went viral for reasons no one predicted.
Photo by Bryan Adams
The suit evolved from a blistering attack on Niemann due to his cheating history on chess.com, but the fire was lit when Carlsen lost to Niemann and withdrew from the 2022 Sinquefield Cup tournament. He immediately implied that Niemann cheated while beating him. He gave the following reasons, even taking issue with the seemingly effortless way Niemann outplayed him.

Here is an excerpt:
"I believe that Niemann has cheated more — and more recently — than he has publicly admitted. His over the board progress has been unusual, and throughout our game in the Sinquefield Cup I had the impression that he wasn't tense or even fully concentrating on the game in critical positions, while outplaying me as black in a way I think only a handful of players can do. This game contributed to changing my perspective."

~Magnus Carlsen statement (26 September 2022)
This case spiraled into an analysis of Niemann's past games, centipawn loss, data analytics, and his improvement trajectory as opposed to whether any cheating had occurred in the Carlsen-Niemann game. There were so many conclusions drawn and Niemann quickly became one of the most scrutinized players in history. All of his games were put through some screening process to search for patterns of foul play.
In addition to analyses of the Carlsen-Niemann game by several Grandmasters, there were data analyses on samples of his previous games. While some analysis was conducted by research scientists, some of these experiments were conducted by amateurs using very questionable research methods.
Magnus Carlsen is pictured along with Fabiano Caruana watching Niemann's win against Shahkriyar Mamedyarov. Photo by Lennart Ootes
The above photo was taken the round before the infamous Carlsen-Niemann game at the 2022 Sinquefield Cup in St. Louis, Missouri. Looking at his casual body language, Carlsen didn't seem to show any resentment toward Niemann despite his professed knowledge of his cheating past. Taking a survey of social media, there was no serious talk of cheating even after Niemann's big win over Mamedyarov. The strange set of circumstances that unfolded over the next 24 hours led to the biggest controversy in recent chess history.
In the next round, Magnus Carlsen and Hans Niemann square off. Niemann's win and what followed would set off a tsunami of controversy that spread around the globe. Photo by Crystal Fuller
After Carlsen lost and accused Niemann of cheating, social media exploded with mostly caustic comments against the then-19-year-old Niemann which ultimately prompted a famous press conference, a report by chess.com, and a statement by Carlsen. This resulted in a legal response by Niemann last October. For the past several months, legal minds took to social media to explain the merits and demerits of the case. While there was a clear expectation that Niemann would legally respond, many questioned the manner in which it was done.
One of the points made by Niemann's counsel was that the PlayChess Magnus Group and chess.com conspired to create a monopoly (after the merger) that would then threaten to ban him from any of their events. He reasons that such a ban would deny him access to top events and thus, an opportunity to make a living at chess.
Once completed, the Merger will further solidify Chess.com's monopoly over the chess industry by, among other things, providing it total control over Chess24, one of the last few alternatives to Chess.com for online chess, and purchasing the Play Magnus brand, which has become virtually synonymous with chess.

~Hans Niemann's filing (Section B70 "Chess.com's Merger with Play Magnus to Monopolize Chess")
After months of waiting, the U.S. District Court in Missouri dismissed the case in the federal jurisdiction and parts "with prejudice" and others "without prejudice."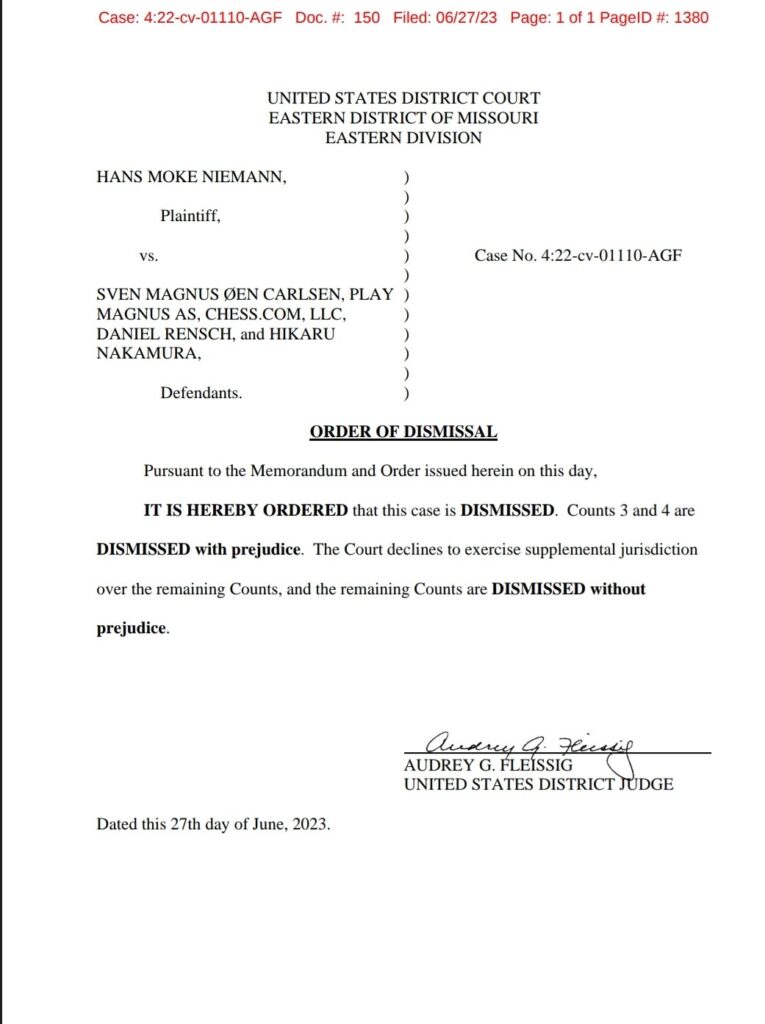 The case was dismissed without the ability to refile for antitrust violation in federal court. There were statements on chess.com purporting that this is the "end of a saga" or a "rejection" of Niemann's case. However, the ruling states that while certain portions of the suit cannot be refiled (i.e., antitrust claims under 12(b)(6)) or "with prejudice," others can be filed again in state (not federal) court "without prejudice."
Nakamura wasted no time taking to Twitch with his views. There were also statements made by the lawyers for chess.com and Carlsen here. Clearly, we have not seen the last of this saga. According to a Reuters article, lawyers for Niemann state they plan to pursue their claims in state court.
Full Decision here!