2022 Chess Olympiad: Round #6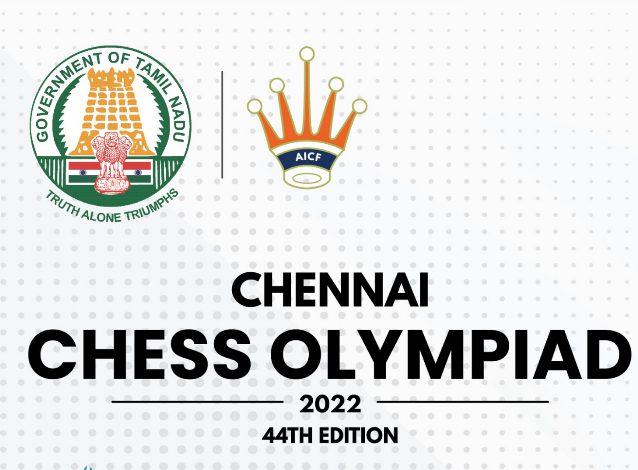 2022 Chess Olympiad: Round #6
Wednesday, 3 August 2022
Exciting action in round #6 at the 2022 Chess Olympiad today. As we are past the halfway mark, there has been a pleasant surprise emerging with Armenia leading the Open Section. Armenia is a well-known chess power, but since the loss of Levon Aronian and Vladimir Akopian (immigrating to the U.S.), they were considered less of a contender with Gabriel Sargissian on board one.
Sargissian had been a star in the three Armenian gold medals, so he can provide team leadership. Armenia stands atop the leaderboard with 6/6 and 118.5 board points. USA, who had struggled against weaker teams, is second on 5.5/6 and 109 board points.
Gukesh on Fire with 6/6!
Just three years ago, Dommaraju Gukesk was rated 2319. Now he is 2719 on the live list.
Photo by Madalene Belinki
"The future belongs to them."

~GM Yasser Seirawan regarding young Indian stars
While Sargissian's favorite tournament seems to be the Olympiad, he ran into a buzzsaw named Dommaraju Gukesh. The 16-year-old has taken the tournament by storm and after beating the Armenian star, he stands on 6/6. We may remember this kind of excitement from a streak 20 years ago when Zimbabwean International Master Robert Gwaze was chopping his way through his opposition at the 2002 Bled Olympiad. Granted his opponents were not elite, but he ended up with 9/9, a 2690 performance, and a gold medal.
This was an impressive win, but unfortunately, India 2 could not equalize on the other boards. However, India 1 drew a surprising Uzbekistan team, with a couple of prodigies. Uzbekistan is bidding for the 2026 Chess Olympiad, so perhaps the requirement of hosting an Olympiad is having produced a prodigy. Nodirbek Abdusattarov is such a prodigy and his opponent, Pentala Harikrishna joked that he was twice the age of their team. This experience would prove valuable as the Indian veteran demolished his young opponent.
Notes from ChessBase.com
Besides the Indian teams, eight others have 10 points. Netherlands, Cuba, Germany, Kazakhstan, Serbia, and Peru are all at 10, but Peru has only 82 board points. India 2 is the top 10 with 124.5 board points. India 3 had a good round beating Lithuania 3.5-.5 giving all three Indian teams 10 points! Referring to the India's core of talent, commentator GM Yasser Seirawan said, "The future belongs to them!"
With India's emergence and prodigies sprouting in a variety of non-European nations, this certainly doesn't seem like the "European sport" as GM Jacob Aagard recently pronounced. Chess may indeed go the way of sports that are widespread and cannot be claimed by any one country or region. India, China, Iran, Cuba, Egypt, the Philippines, and Zambia have shown that any country is capable of producing talented chess players, but real momentum is created when a culture is created as we see in India.
On the Pan-African scene, Egypt bested South Africa 3-1 with Bassem Amin, Adham Fawzy and Kariem Wageih getting wins. Daniel Barrish scored the only point for South Africa upsetting Ahmed Adly. The top countries in Africa are (in order of tiebreaks): Egypt (8 points), Nigeria (7 points), and South Africa (6 points). The top countries in the Caribbean are: Cuba (10 points), Jamaica, Trinidad & Tobago (7 points). Jaden Shaw of Jamaica is on 4.5/6 including the show of civility against Estonia.
Round #7 Pairings
Armenia-USA
India 1-India 3
France-Netherlands
Serbia-Germany
Cuba-India 2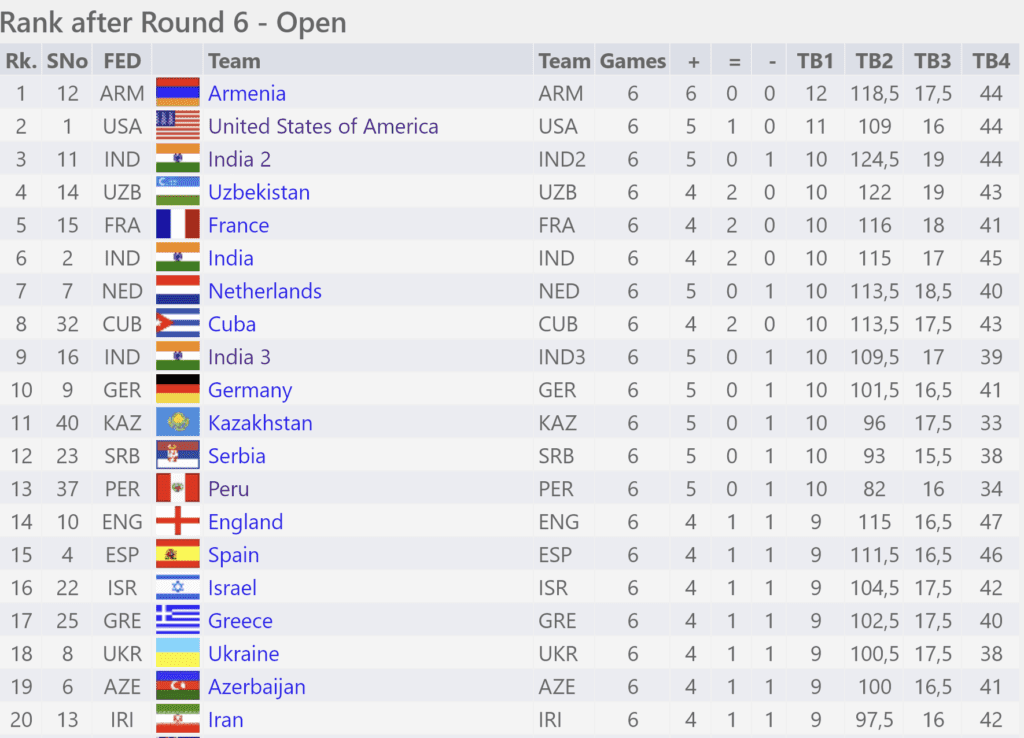 Women's Section… India still perfect!
Dronavali Harika on the move. The top boards have been a stabilizing force for India
while the lower boards have destroyed every team in its wake.
Photo by Lennart Ootes.

No one would be surprised if they predicted Indian women would be at the top of the charts at the midway point. They are the top seed given the absence of Russia and China, but the next five rounds will be a test. In round #6, they beat one contender in Georgia 3-1 with wins from Humpy Koneru and Vaishali Rameshbabu. Vaishali and Tania Sachdev are both on 5/6 have been reliable in on the lower boards. Watch Vaishali's alert play spotting 17.b4! The attack with the knight and queen is instructive. Powerful!
Notes from ChessBase.com
Rameshbabu Vaishali after an impressive win.
Photo by Lennart Ootes.
There were some surprising results with Azerbaijan beating Kazakhstan who successfully played IM Guliskhan Nakhbayeva (2329) on board #4 and WIM Xeniya Balabayeva (2198) or board #3. This "board stacking" is designed to pile up points on the lower boards. Unfortunately, it didn't work against the Azeri women as the team lost 3-1. The Kazakhs tumble to #14.

The other surprising result was Poland's 4-0 thrashing of Serbia. Typically in the sixth round of an Olympiad, you don't find such scores since the teams are going to be competitive. The addition of Alina Kashlinskaya to Poland gave the team more confidence. They have been bolstered by Oliwia Kiolbasa.
Poland's Oliwia Kiolbasa is on 6/6
Photo by Lennart Ootes.
After the Bermuda Party, all the teams will refuel for the rest day and take in some of the local sights of Chennai. This Olympiad will go down in history as monumental, not only for its organization, but for the way India has shown the world the passion of chess. Back in 2014, The Chess Drum asked bronze medal team member Baskaran Adibhan about India's emergence as a chess superpower. He was not willing to admit to this, but eight years later, it has become obvious.

Round #7 Pairings
Azerbaijan-India 1
Georgia-Romania
Ukraine-Netherlands
Poland-Bulgaria
Armenia-Israel
Photo Expressions: Chess IS a Global Sport!
Honored to be "challenged" by five time former World Chess Champion Vishy Anand. Don't ask me who won. Please. pic.twitter.com/OULEI9b5Me

— LEKAN ADEYEMI (@adeyemilekan) August 3, 2022