Black History Month 2022-Day 21: Alfred Blake Carlin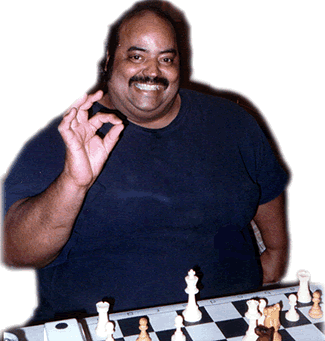 Alfred Blake Carlin was larger than life figure in New Orleans chess. Carlin's large physical size matched his personality and he was a well-respected chess player and coach. He was one of the few Black masters (Senior Master) in the south and was a five-time Louisiana state champion (1981, 1983, 1990, 1991, 1996).
Carlin was one of the most active players in the state, clocking 200-250 games a year. His peak USCF rating was 2439 achieved in 1988 and played in major tournaments across the country including New York, Chicago, and Las Vegas. Carlin was a gentle soul, but a battle-hardened chess competitor.
There are many stories about his persona. The legendary Jude Acres tells us…
I played 15 chess matches in Louisiana 1962-2000 with local master-rated players. Mr. Carlin was the only one who got to round 5 still alive with chances to at least draw… and serious health personal problems kept him from going much further. His win versus Grandmaster Christiansen deeply moved/thrilled the chess community here.
His win over Grandmaster Larry Christiansen was certainly a highlight. The legendary Grandmaster Arthur Bisguier wrote about this game in the June 1986 Chess Life:
Carlin's victory over Christiansen had a poignant sidelight. Although the organizers provided clocks for use on the top boards, Carlin insisted on using his own. Naturally, a tournament director asked why he was being so stubborn. Carlin replied that the clock in question had been given to him by a lower-rated friend who had subsequently died. He wanted to honor this friend by using this clock while playing a world-class opponent. Carlin was permitted to use his own clock, and the Louisianan showed his gratitude in striking fashion.
Carlin was one of the strongest Black players for many years and he was an invitee of the Unity Tournaments that Maurice Ashley was organizing. He was very impressed with Emory Tate and they played at the 1992 New York Open. Tate played with his usual energetic style, overwhelming Carlin in a King's Indian Attack. However, he played a masterful game against IM Angelo Young, at the same tournament.
Escaping Death
On August 30th, 2005, a Category 4 hurricane was barrelling down on New Orleans. The mayor told all residents to brace for the worst. However, the city known for its seafood and carnival revelry was unprepared for what lay ahead.
The hurricane rumbled across the Gulf of Mexico, slammed mightily against the shores, toppled the levies, and sent water rushing into the soup-bowl terrain. When I finally got in contact with Carlin, he told me the story of his escape in vivid detail. Awakened at 3:00 am from the hurricane's howling winds, he decided to make his way out. What he saw and heard was a nightmare.
Wading through waters stomach-deep, he managed to get out of the city and found refuge in Dallas, where his brother Blanchard Carlin lived. The hurricane put 80% of the city underwater, exceeding depths of 25 feet in some places. Mayor Ray Nagin blasted the Governor's response to the disaster.
(Nagin interview at WWL radio)
Jude Acres mentioned that Carlin told him that he heard screams in the distance of people dying. There were many casualties, but fortunately, Carlin and fellow master Rene Phillips survived. Phillips was stranded in Sulphur, Louisiana and ended up in Philadelphia where the chess community assisted his family.
On September 19th, I got a call from Carlin, who expressed his heartfelt thanks to those who had concern for his well-being through The Chess Drum. He was surprised at the outpouring and humbly submitted that he did not realize he was such a big deal in the chess community! I put Carlin in contact with Herminio Baez,
Years later on January 16th, 2014, Carlin posted this kind message…
Hi Daaim,

I know I,m a little late (LOL) sending this reply. I want you to know I,m still in Dallas teaching chess. I,m working hard and enjoying teaching all the fantastic little kids here. Still trying to get where I want to be but far better than right after Katrina! One of the main things I think you for is helping me connect with Herminio Baez! He has proven to be one of the best friends I have here in Dallas. I think of him as more than just a person I work for. He has been there for me many times when I needed help. Also he,s a great chess instructor and all around great guy. Thank you for mentioning him to me and also for you being the guy you are! Keep up the good work Daaim!
Carlin experienced happier days in Dallas after Hurricane Katrina.
A New Lease on Life
Carlin was a rather overweight man and told Baez he suffered verbal abuse in New Orleans because of his obesity. However, in Dallas, he was accepted. Baez tells me that Carlin was also known as "Mr. C" by his students in Plano, Texas, and they adored him. He created "The Carlin Method," which is, first of all… TO HAVE FUN!!
Baez insisted that Carlin was undercharging for his coaching services ($20/hour), being a master-level player. Unfortunately, Carlin had developed a number of health conditions and gained additional weight prior to his death. He died in Dallas Presbyterian Hospital on April 1st, 2018, of congestive heart failure.
After his death, there were so many kind words said about him. To those in Louisiana and Texas, they were able to gain an appreciation for his dedication. When he was sick for the last time, Baez told me he had the nurse to call to ensure he wouldn't lose his job! Dedication.
Many in the African Diaspora may have never encountered him in a tournament. I saw Carlin only once in action at the 1990 World Open but only spoke to him over the phone, communicated through e-mail and The Chess Drum. He had no idea how important he was, but Alfred Blake Carlin was an inspiration to many!

Daaim Shabazz, "New Orleans chessplayer tells of Katrina devastation," The Chess Drum, 2 September 2005. Rene Phillips story mentioning Carlin.
Daaim Shabazz, "5-time Louisiana champ Alfred Carlin passes away," The Chess Drum, 3 April 2018.