Black History Month 2022-Day 16: Pan-African Chess
Marcus Mosiah Garvey
The Chess Drum is billed as a Pan-African website. One of the biggest inspirations for this site was the Honorable Marcus Mosiah Garvey. This Jamaican visionary immigrated to the United States and set forth one of the most important social movements in American history. It started as a small grassroots movement with 17 members. At its height, the Universal Negro Improvement Association boasted 2-4 million members (claimed in 1920 at its first convention).
His vision was to create a Pan-African utopia in a world where the Black man and woman can claim their honor among nations of the world. He sought political, economic, and social cooperation within the African Diaspora. Unfortunately, his ill-fated Black Star Shipping Line met an unfortunate end leading him to be indicted and imprisoned on mail fraud charges. He was later deported back to Jamaica and died in London in relative obscurity. Nevertheless, his ideas of Pan-African nationalism still capture the imagination of those who work to see Black people shine as contributors to the greater society.
Chess journalists: Haydn Gill (Barbados), Daaim Shabazz (USA),
Jacinta Odongo (Kenya), Ian Wilkinson (Jamaica).
Photo by Daaim Shabazz/The Chess Drum
Many years ago, I wrote a piece titled, "
Can Pan-Africanism Work in Chess?
" I recounted the histories of Pan-Africanism, the aims and objectives and wrote,
Today, many Black scholars have begun to revisit Garvey's Pan-African view as one worthy of reconsideration. The repatriation plan may not win many followers, but the idea of cooperation between Blacks in Africa, the Caribbean, the Americas and Europe seems to be a logical thought.
I have conducted The Chess Drum as a platform to embrace African identity and show how this overlooked segment contributes to the game's universality. Following are a handful of the images and videos that I believe embody the Pan-African chess spirit!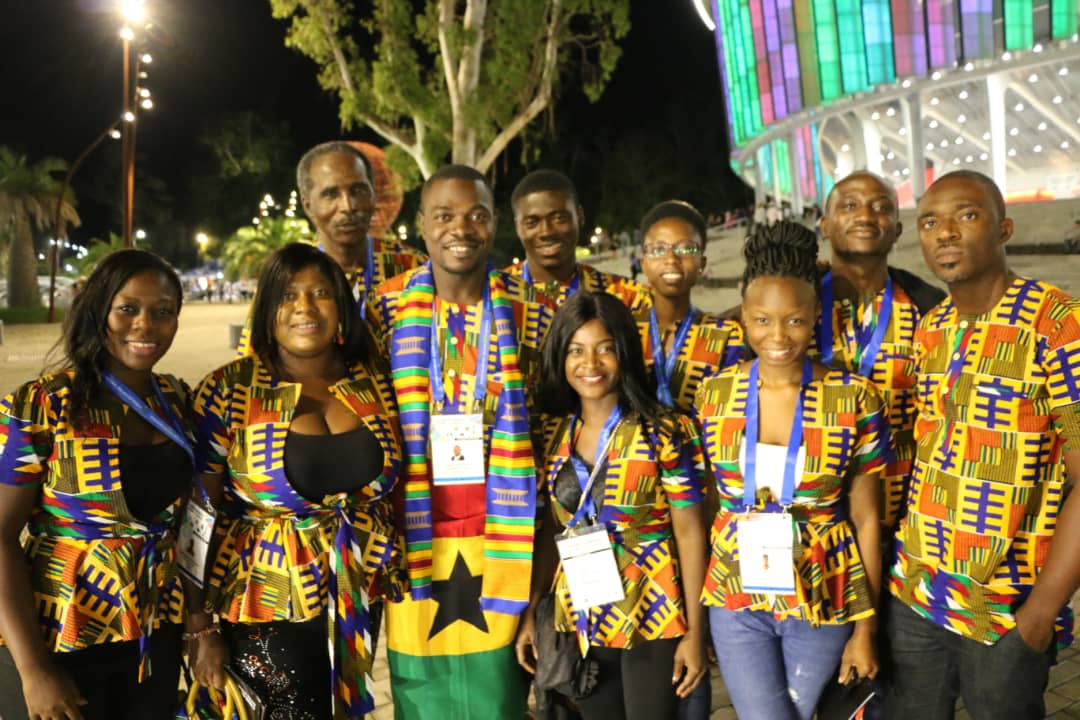 GHANA!

Photo by Ambrose Amexo
Impressions of 2018 Chess Olympiad
Daaim Shabazz, The Chess Drum

Cote d'Ivoire, Togo, Kenya and Nigeria!

Mali vs. Central Africa Republic

Cape Verde

Clash of Caribbean… Antigua & Barbuda vs. Curacao

WIM Ingris Rivera (Colombia)

Ian Wilkinson QC (Jamaica) & Dr. Daaim Shabazz (USA)

Malawi's Desiderata Nkhoma and Linda Jambo
Read Desiderata's story here!

IM Rodwell Makoto and Spencer Masango (Zimbabwe)

Enyonam Sewa Noël Fumey (Togo) and Lorng Charles (Cote d'Ivoire)

Marwa Jadalla (Sudan)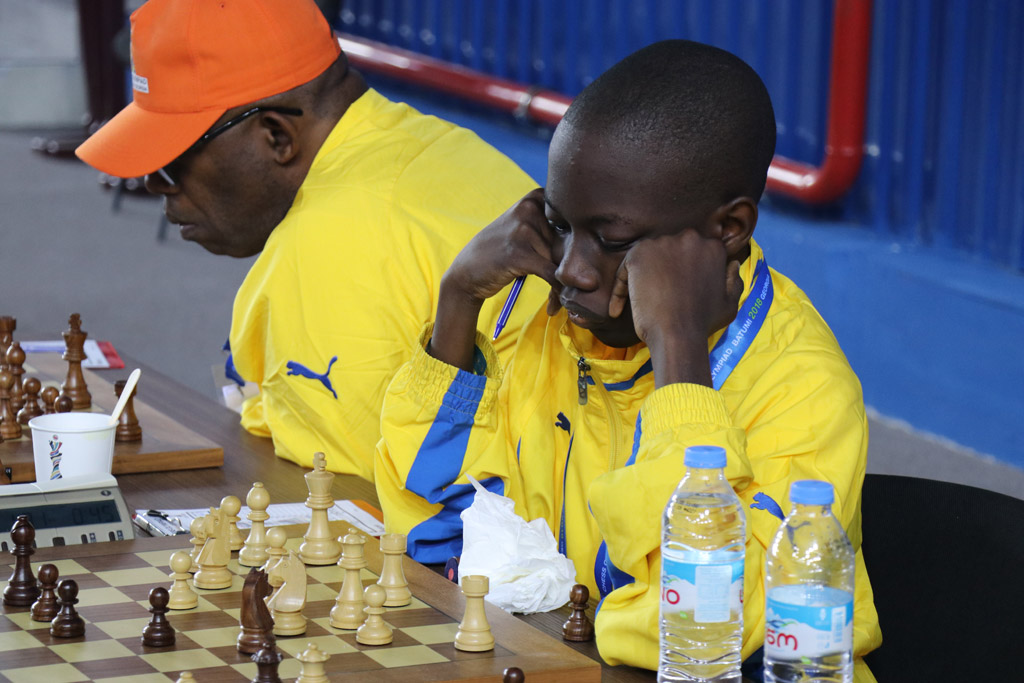 Gabon's Barthelemy Bongo Akanga Ndjila & Tary Bongo Ngombele
Photos by Daaim Shabazz/The Chess Drum
Miscellaneous Impressions
Morocco's GM Hichem Hamdouchi battles IM Emory Tate at Calvia Chess Festival. Hamdouchi is the second player of Africa to earn the GM title in 1994. Tate is the attacking impresario known for his tactical style of play. Hamdouchi won in 66 moves. Photo from calviafestival.com.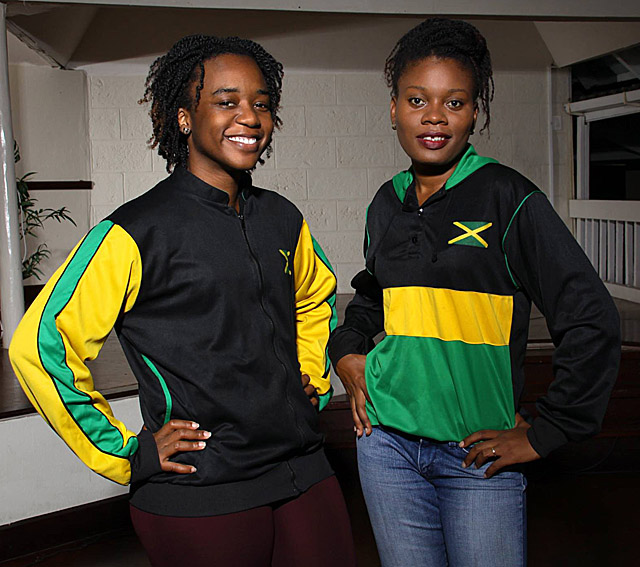 Olympiad teammates Ariel Barrett and Deborah Richards-Porter
during 2016 Olymipad in Baku, Azerbaijan.
Photo by Jamaica Chess Federation
Philip Ameku (Ghana), Angela Ayiku (Ghana), Christiana Naa Merley Ashley (Ghana), Daaim Shabazz (USA) and Ogunsiku Babatunde (Nigeria) at Abidjan, Ivory Coast for 2019 Grand Chess Tour.
GMs Pontus Carlsson and Maurice Ashley
at 2016 Millionaire Chess, Atlantic City, New Jersey
Photo by Daaim Shabazz

Daaim Shabazz and Adia Onyango, 2014 Millionaire Chess Open in Las Vegas
Photo by Daaim Shabazz
2001 World Open: Kneeling (L-R): FM William Morrison, NM David Allen, Sr., Daaim Shabazz, David Allen, Jr., Sulaiman Smith. Standing (L-R): NM Charles Covington, NM Frank Street, FM Emory Tate, GM Maurice Ashley, Jones Murphy, Jr., FM Kenny Solomon, NM Grace Nsubuga, NM Ernest "Steve" Colding. Photo by Frank Johnson.
Aurélie Dacalor (France)
Video by Echecs & Stratégie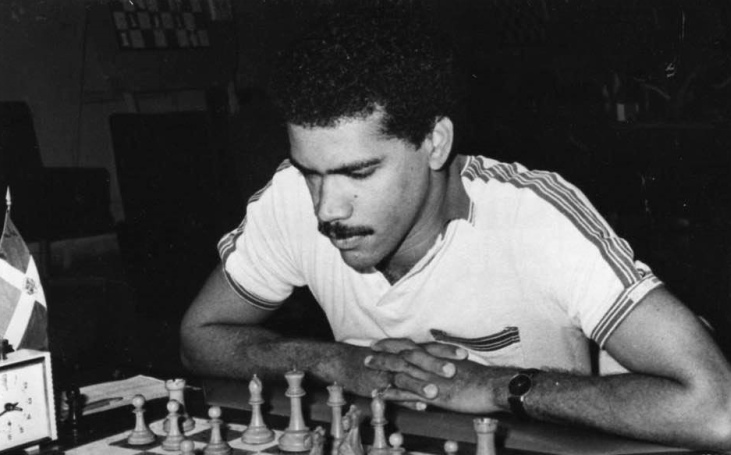 GM Ramón Mateo




Video by ChessBase India