Black History Month 2022-Day 9: Robert Gwaze's Gold!
At this year's 2022 Chess Olympiad in Moscow, Russia, we will commemorate the 20th year of Zimbabwean IM Robert Gwaze winning the gold medal for his 9/9 performance. This feat took place in the fall of 2002 in Bled, Slovenia, and sent triumphant tremors throughout the continent and the African Diaspora. Gwaze stood on the podium in a very proud moment for the African Diaspora and it is still celebrated to this day.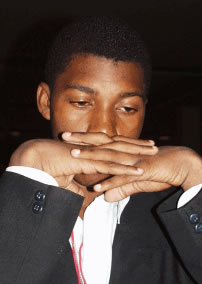 IM Robert Gwaze at 2002 Chess Olympiad in Bled, Slovenia
Photo by Jerry Bibuld
The Chess Drum
was covering the proceedings from afar, but chess media paid little attention to what was brewing. There are no photos made public of Gwaze during his run. However, I did notice that someone had been playing the national anthem I had included on the Zimbabwean team profile!
Zimbabwe Men's 2002 Olympiad Team: (front row, from left to right), IM Robert Gwaze (Bd. 1), Takaedza Chipanga (Bd. 2), Michael Luberto (Bd. 3) and Charles Chakanyuka (Bd. 4); (in the rear, from left to right), Wisdom Chikwanda (Bd. 5), Rangariral Karumazondo (Bd. 6) and Charles Kuwaza, (captain). Photo by Jerry Bibuld.
In a profile of Gwaze, I set the scene:
The historic chess town of Bled, Slovenia was the site also known for its famous 1959 Candidate's tournament as well as the 1961 tournament. A distinguished list of players have trod these grounds including the likes of GMs Bobby Fischer, Mikhail Tal, Tigran Petrosian, Paul Keres and many other chess luminaries.
One opponent after another, the young Zimbabwean kept his march. His games against FM Abdul Hassan (UAE), FM Wong Zi Jing (Malaysia), Dewperkash Gajadin (Suriname), Dafi Almannai (Brunei) made lasting impressions. During his last game against the Bahraini player, Gwaze noticed that his opponent was smiling the entire game, even while the tide was turning toward another victory.
After resigning, his opponent congratulated him on the gold medal. Gwaze tallied a 2690 performance and overcame the brilliant performance of GM Alberto David of Luxembourg who scored 11-2 but had to settle for the silver medal on board 1. Gwaze told me later he had been visiting The Chess Drum for motivation.
In the end, I did win the gold medal for my country. Besides the medal, I later discovered that I had made history at the Olympiads and set a record when I scored a perfect nine out of nine, a rare feat which was last achieved in 1931. The weight of my achievement made my knees all jelly and inwardly I prayed I wouldn't fall as the then Slovenian President Janez Drnovsek handed me a crystal trophy to honor this deed at the prize prize-giving ceremony.
Gold: IM Robert Gwaze, Zimbabwe 100%
Silver: GM Alberto David, Luxembourg 84.6 %
Bronze: GM Mohamad Al-Modiahki, Qatar 83.3%
Such feats are a distant memory since FIDE changed the medal criteria to suit professional players in 2008. After Gwaze's career accomplishment, one famous player half-jokingly claimed that "Africans were stealing the medals." The medals were based on winning percentage (with a minimum number of games), but are now based on performance ratings which would only favor the high-rated teams and players. Imagine that six years later Gwaze's 2690 performance would not have even received a mention.
Robert Gwaze in Malaysia

Video by ASEAN Chess Academy
After winning the gold, Gwaze sought greater exposure in England but later moved to Malaysia to work at the ASEAN Chess Academy. After his continental title, there was discussion on whether Gwaze would be the next Grandmaster and I wrote a piece on this subject. In communicating with him, he stated that air travel was the greatest impediment to competing overseas.
Gwaze recently released a book titled, Life and Games of Robert Gwaze in which he details his chess career including his golden moment. However one of the most intriguing chapters was when he detailed his challenges of traveling from Zimbabwe to Namibia for the 2007 African Individual Championships in the back of a semi-trailer truck.
"It was a rough journey, one which forged a bond between all the passengers, as we all silently reflected on our pitiable backgrounds which had necessitated us to travel to Windhoek in such a demeaning manner. I remember at one time during the trip, when the truck drove along rough terrain, how it violently bumped and we were tossed about to and fro like ragged dolls and a person would accidentally end up in someone else's lap. That's how demeaning it was. As a result, I chose to sleep the entire trip, only to awake at the border for inspection. A few hours later, we reached our destination, as soon as I got out of the container which served as our carriage, I smiled as I inhaled fresh air. It was a sweet moment but short short-lived as I now had to figure out how to partake in the games."
Even without knowing how he would participate in the tournament, Gwaze arrived, settled in and won the tournament! Gwaze is now coaching in Namibia where he has proudly launched the book and having proofread the manuscript, it will be a wonderful addition to African literature! We will always remember the 2002 moment that Gwaze made us all proud!