FIDE President Arkady Dvorkovich making the first move in the World Chess Championship between defending champion Magnus Carlsen (left) and challenger Ian Nepomniacthchi. Photo by IM Eric Rosen
The 2021 World Chess Championship took part as one of the features of the 2020 World Expo taking place in Dubai, UAE. Magnus Carlsen defended his title for the 4th time winning in dominant fashion over Russia's Ian Nepomniachtchi by 7.5-3.5. While the match was over in a couple of weeks, the World Expo started in October 2021 and will end March 31st, 2022. The six-month festival features 192 country pavilions and many organizations touting various initiatives such as sustainability, mobility, and opportunity.
Chess was featured prominently at Expo 2020. This is the Spanish chess pavilion where the chess broadcasts took place. Photo by Daaim Shabazz
One of the attractions for me attending the World Chess Championship was the Expo and all that it represents. Teaching my students to think globally is one thing, but actually being a global citizen is another matter. It takes time to build up a travel portfolio and develop a comfort to interact with cultures so different from what you're accustomed to. However, the experience is rewarding on so many levels.
As far as chess is concerned, it was on display at the Expo and included an exhibition at the al-Wasl Plaza on the center stage. Former women's champion Nona Gaprindashvili and two-time challenger Nana Ioseliani played a game that was projected onto the massive dome structure overhead. In addition, to video imagery of the players, there was creative chess animation. Nice touch!
Nona Gaprindashvili playing Nana Ioseliani in an exhibit
as part of "Chess Day" festivities.
Photos by Daaim Shabazz/The Chess Drum
Video by Daaim Shabazz/The Chess Drum
Nona Gaprindashvili greeted Judit Polgar after the exhibition.
The exhibition of two legendary Georgian champions was a pleasant surprise for me because I happened to be leaving the Expo for the evening. The first thing I saw was Gaprindashvili overheard. I then heard chess commentary and moved quickly to see what was happening. I later see an entire audience watching the game and I was impressed at the level of interest.
Perhaps it was a "Queen's Gambit" effect, but the visual appeal was certainly there. It should not go unnoticed that Gaprindashvili actually filed a lawsuit against the series because it implied that she did not compete against men. The case was ultimately dismissed.
While I didn't see much of the game, I listened to the commentary and several people asked me the names of the players and other details. It was quite a scene. Ioseliani won the game and afterward, there were gifts presented and then photo-op including Judit Polgar, who did commentary for the match. Maria Emelianova was capturing the event with her usual professional touch. It was a night that the world noticed chess once again.
---
"We are here in a very special place, where Expo 2020 Dubai is treating chess in a wonderful way, and I thank the Spain Pavilion for hosting the tournament."
~GM Judit Polgar
---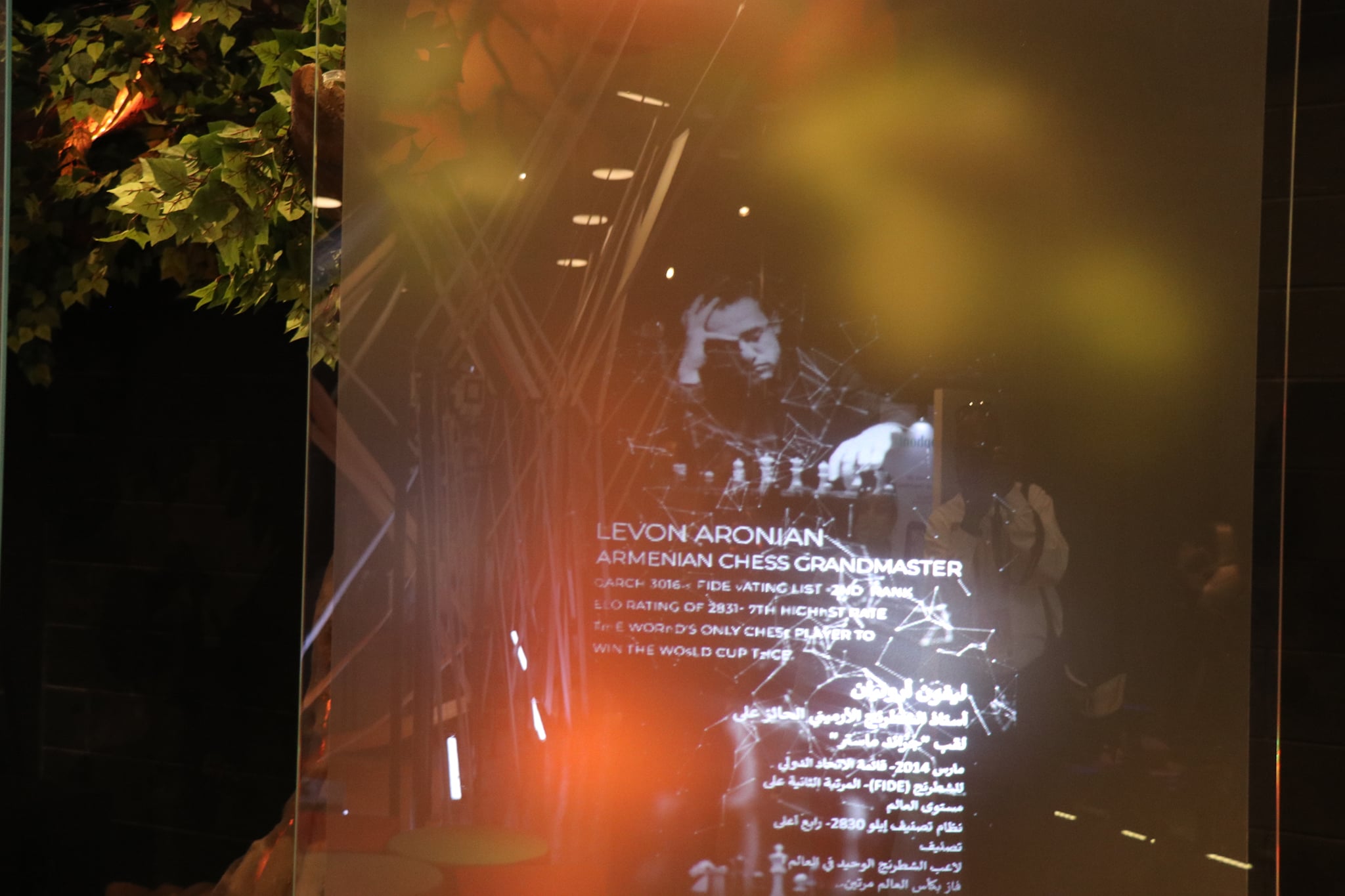 Levon Aronian




Antoaneta Stefanova

As I visited country pavilions, many offered that they heard about the world chess championship match. For some pavilions, chess was an integral part. Both Levon Aronian and Antoaneta Stefanova were honored at the Armenian and Bulgarian pavilions. Spain hosted a broadcast from the pavilion and had a giant chess set in the front of the pavilion along with videos on chess history after Moorish rule.
The pavilion hosted the World School Chess Tournament during the match featuring 108 players from 10 countries. Both 16-year-old Rameshbabu Praggnanandhaa and 15-year-old Dommaraju Gukesh were high-profile participants. There were also a number of chess celebrity visitors to the Spanish pavilion.
Video by ChessBase India
Surprisingly there were other pavilions that had chess sets in their pavilion including Zimbabwe, Mongolia, and Mauretania. The latter country had unique versions of "chess" that looked nothing like the chess we know.
Zimbabwe
This Mongolian set was from an empire 3000 years ago hand-crafted with marble, redwood, silver, and gold. This work of art took two years to make.
Video by Expo 2020 Dubai
There is always the question of the origins of chess. For the most part, the chess community is in agreement that India was the genesis, but of course, there were many variants. One unique form of chess was seen at the Mauretanian pavilion alongside the popular African game "Warri".
I could not get any details on this West African version, but it appears to be more of a wargame with immediate hand-to-hand combat. Many of the strategy games seen in Africa were categorically called "chess" despite having no relationship with the game we have come to know. In Mauretania, they even have specific games for men and women.
Chess for Men (Mauretania)
Chess for Women (Mauretania)
Indeed chess was a major fixture in Expo 2020. The chess match received generous coverage and it was part of an overall theme of connecting people. The issue of chess reaching millions has accelerated due to technology and has even ignited debates on parliament floors. Let us hope that chess will not disappear from the Expo. There are still four months remaining to use the event as a platform!