2021 World Chess Championship: Game 9
2021 World Chess Championship
Dubai, UAE (November 24th-December 16th)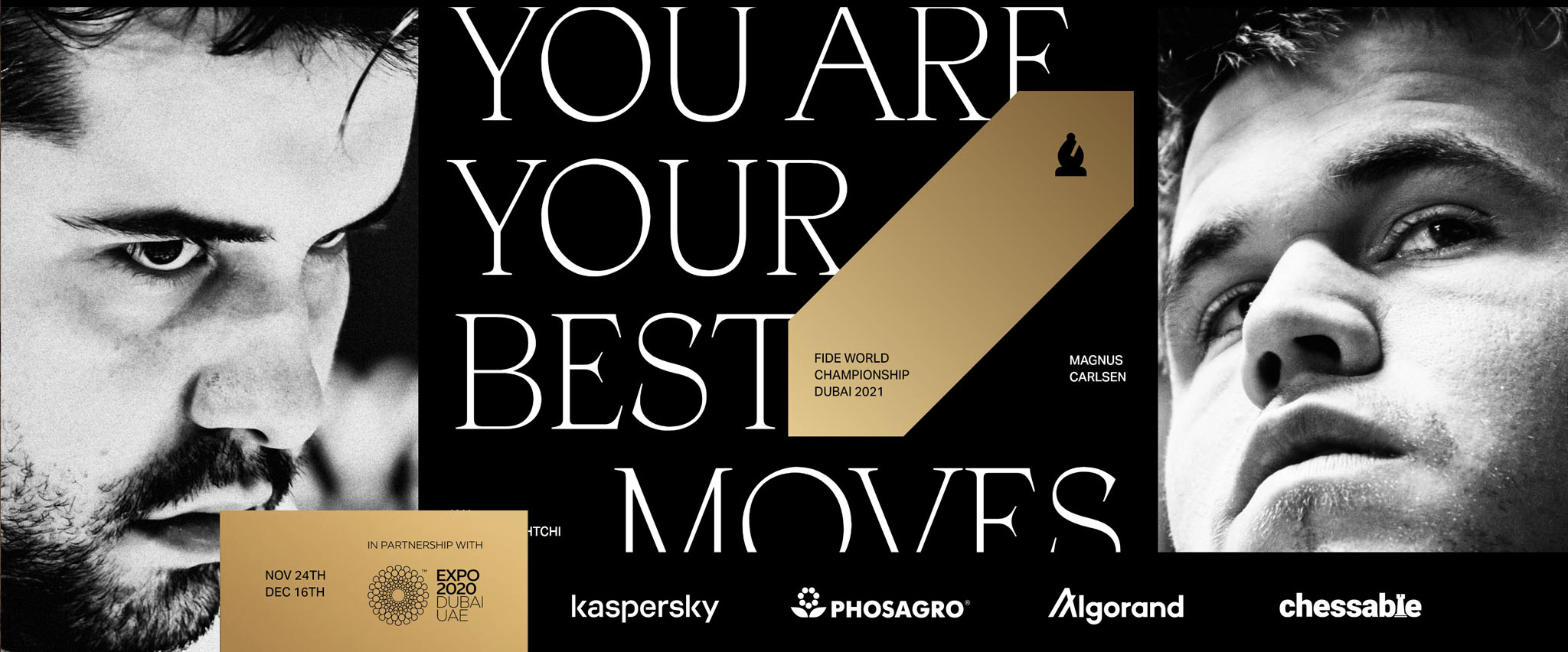 Game 9
Match Score: 6-3
Official Site:
https://fideworldchampionship.com/
2021 World Chess Championship: Game 9
Tuesday, 7 December 2021
Nepo blunders piece… Carlsen has a 3-point bulge
Chess can be brutal at times. There is nothing that crushes the soul more than losing a completely winning position. Perhaps the second is making a simple blunder. There were not too many who were not sympathetic to Ian Nepomniachtchi after today's game that featured a terrible blunder.
This was after he also blundered a pawn yesterday. His blunder will go down as one of the most careless in recent times and harkens back to Bobby's Fischer famous Bxh2 blunder getting his own bishop trapped. The loss gives defending champion Magnus Carlsen a three-point lead with five games remaining.
Perhaps the most mysterious move in the history of chess! What is your theory behind Fischer's decision to play the astonishing Bxh2?https://t.co/gZWPK4Iqz1 pic.twitter.com/9kgbmWu1dJ

— FollowChess (@FollowChessApp) July 12, 2020
Nepo came to the board with a new hairstyle minus the "man-bun" and actually looked very sharp and relaxed. Both players settled into their chairs for the ninth game and GM Rameshbabu Praggnanandhaa made the ceremonial move of 1.c4. Interestingly enough, Nepo kept the move!
After the game, Carlsen didn't know whether the Indian prodigy had a sense of foreboding that Nepo would try something new or that he was providing inspiration. Either way, Nepo kept the move and the game began.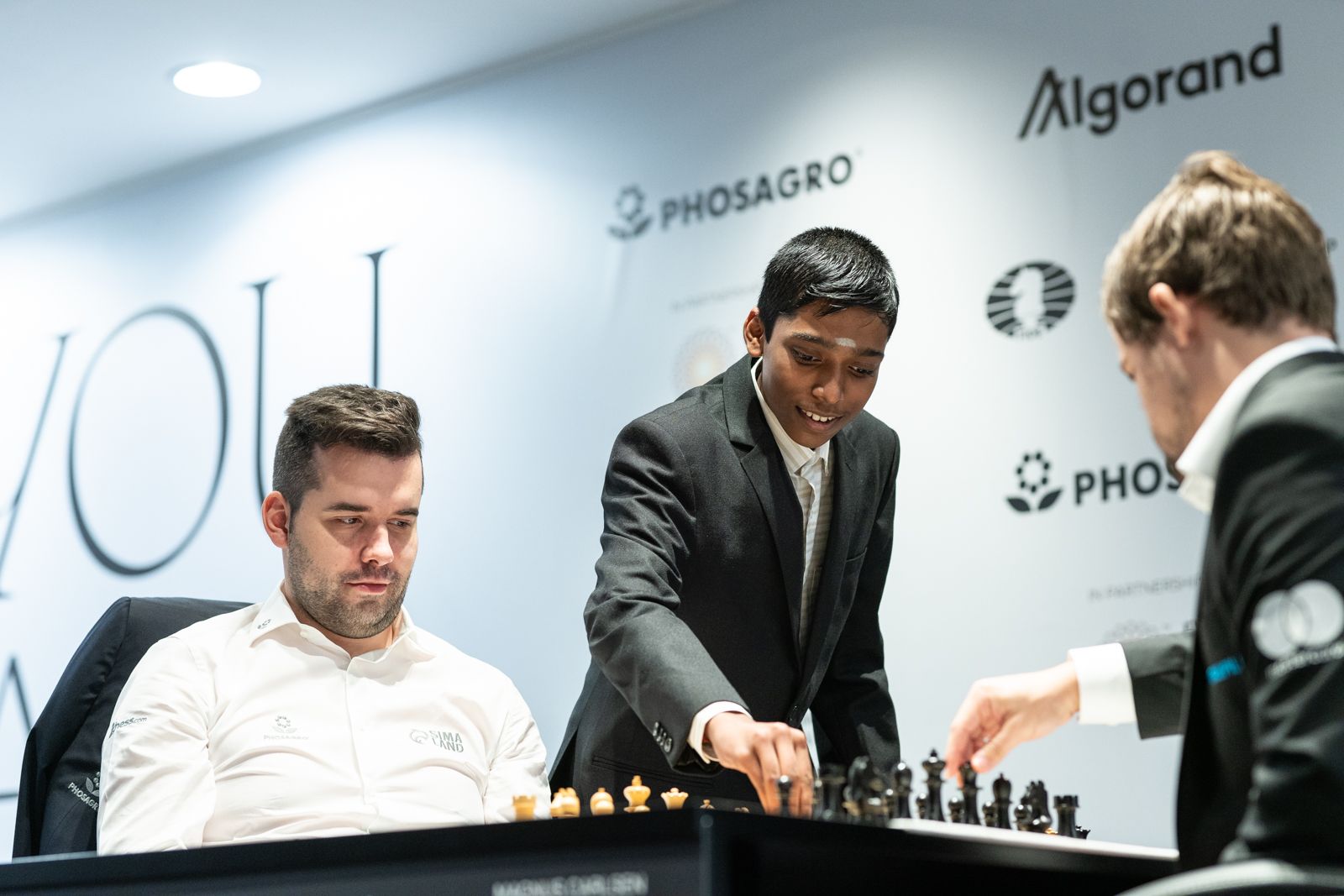 Rameshbabu Praggnanandhaa making the first move for Ian Nepomniachtchi.
Photo by Maria Emelianova/chess.com
As the game entered the opening phase, Nepo's 9.e3 gave the appearance of a Reversed Benoni. He ended up getting good play. Fast forward to 23…Ng4! Carlsen figured that he wanted to reroute the knight, but missed 24.Qe1! White threatens f3 and black must trade queens. On 25…h5 Carlsen was looking to place the knight on f5. Then disaster struck Nepo. After five minutes of thought, Nepo banged out 27.c5?? and left the room. Carlsen had an incredulous look of disbelief.
"Magnus's face suggests that Ian has just blundered a piece." #CarlsenNepo pic.twitter.com/87PwEUKE7r

— International Chess Federation (@FIDE_chess) December 7, 2021
So what gives? Nepo may have had a blindspot thinking that he could simply play Nc5 to protect the bishop, but the square was now occupied by the pawn. After 10 minutes Nepo came back to the board, looked off, looked into the camera, and then came to the realization that he had blundered badly. After the game, he admitted that he missed 27…c6. Carlsen made some interesting comments after a question about the method of winning by FM Mike Klein (chess.com).
In the standings, they look the same, but I think that goes for everybody, that earning a victory through really hard work is more rewarding than getting one handed to you by your opponent.
He then cited Jan Hein Donner who stated that winning a game through a swindle is more gratifying than an attacking game. What is clear is that a win is a win, but a loss is not a loss. Losing a game with an inexplicable blunder two games in a row means something has gone gravely wrong. It is a lot harder to figure out why one is blundering material than "winning ugly."
Some commentators have noticed how much Nepo gets up from the board after he moves. Is this habit detrimental to his focus? Perhaps not, but he took only five minutes before making the fatal error in the game. The Russian's post-game demeanor has been impeccable as he has been calm, compliant, and never ruffled with questions even after a tough loss.
A disastrous moment for Nepomniachtchi as he drops Game 9 after blunder. Carlsen now leads the match 6-3 with five games remaining needing only 1.5 points to retain his title. #CarlsenNepo @thechessdrum pic.twitter.com/dA4bSk7mEO

— Daaim Shabazz (@thechessdrum) December 7, 2021
Game #9 (Annotations by ChessBase)

Video by FIDE
Video by GM Daniel King
Video by FIDE
Video by Fabiano Caruana/chess.com