Tani Adewumi wins North American Youth under-12
Tani Adewumi winning under-12 at North American Youth Chess Championships.
Photo by Kayodo Adewumi
Tanitoluwa Adewumi has been in the public eye since his story hit the news two years ago. He has also been popular is social media and appeared last year in a Puzzle Rush challenge match on Hikaru Nakamura's Twitch channel. Since then, "Tani" has continued to make progress and earlier this year, earned the title of National Master. To follow this, over the weekend he won the under-12 North American Youth Chess Championship (NAYCC) with 8/9 provisionally qualifying for the title of FIDE Master.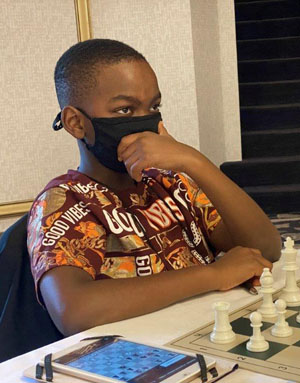 Tanitoluwa Adewumi
Photo by Renaissance Knights Chess Foundation
(Note: According to FIDE regulation .62 on "The Award of Titles," there is a rating provision to complete the requirement. Tani is an FM-elect.)
With the tournament schedule opening up, we will see what the last quarter of the year brings for Tani.
Results (under-12): https://chess-results.com/tnr571464.aspx?lan=1
Official Site: https://naycc2021.com/