Caribbean vs. Chicago is a massive hit!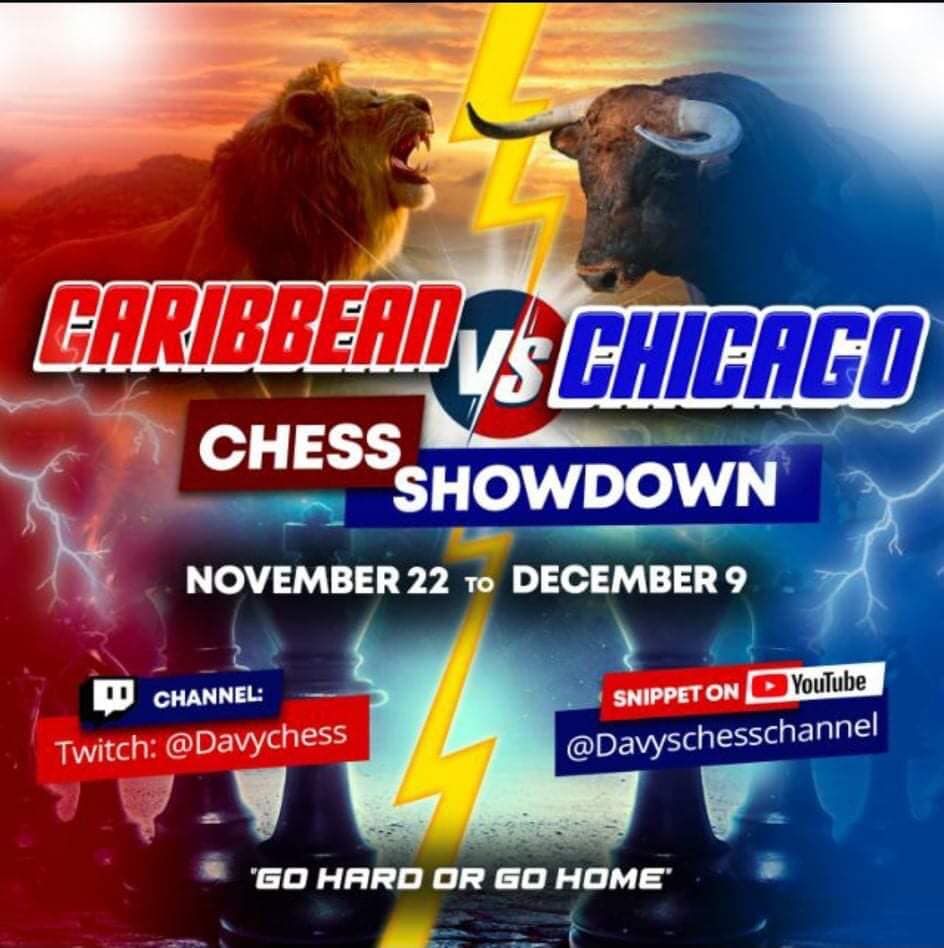 A wonderful development has resulted during the past few years and spearheaded by the Chicago Chess Blitzers (CCB). It started with traveling matches (Detroit, Cleveland, St. Louis, New York) and when the distance was an issue, online cage matches were arranged.
After the National Blitz League was launched in 2017 (Site, YouTube) parts of the world and thus, some foreign players became part of cage matches. IM Orlando Husbands (Barbados) and FM Kevin Cupid (Trinidad) joined the long list of competitors.
During the pandemic this year, chess players were looking for outlets to entertain themselves and widen their chess network. With the African Diaspora, boards were burning as 4-time Jamaican champion Damion Davy was hosting thrilling matches featuring Caribbean's finest. The NBL was continuing to blaze the trails and finally, Nathan Kelly and Davy negotiated and agreed to organize a historic match.
There was a lot of trash-talking before the match with Jamaica's color commentator Raggie Wynter making bold predictions of a decisive Caribbean victory. Of course, both sides had their partisan views, but what would result was a historic event with lasting bonds created.
In the final analysis, the Chicago team was simply better-suited for the match and players much more experienced. The Caribbean trotted out their young stars (Husbands, FM Joshua Christie and FM Shreyas Smith) and many former and present national champions. FM Ryan Harper is a 9-time national champion of Trinidad. FM Justin Blackman is the reigning Barbados blitz champion.
Chicago had no such pedigree as far as national champions or even an abundance of FIDE titles (Caribbean 14 – Chicago 4). "National Master" and "Senior Master" are the only awarded U.S. titles. "Candidate Master" in the USCF (2000-2199) is not the same as "Candidate Master" of FIDE (2200+ or awarding during an international event). Given the disparity of titles, would the Caribbean reign supreme? What resulted was a shock to some.
Chicago started quickly and with convincing wins by Sedrick Prude (14-1 over Davion Mars) and Stephen Jennings (12½-2½ over Alethia Edwards). Wynter quipped that these were the Caribbean junior players, and that the Caribbean would catch up when the "heavy hitters" were playing. As the Caribbean titled players kept losing, it was clear that the format was more conducive to the seasoned blitz players of Chicago. At one point, Chicago had doubled the score 130-65 and eventually coasted to a 166-104 win. Raggie Wynter had to bear the brunt of memes posted throughout the match, but displayed a great sense of humour throughout.
Nathan Kelly serving an "L" to Raggie Wynter.
These memes became one of the highlights of the match.
There were some crass comments made in social media about Caribbean players. In all fairness, players from the region play in an entirely different reality. The Caribbean lacks the environment to test themselves on top-flight competition locally. The emphasis continues to be on youth chess which is able to draw investors. Many of the players on the respective islands have played each other a hundred times and rely on regional youth tournaments, subzonals, and the biennial Olympiad as the way to measure themselves.
To date, there has traditionally been little access to Grandmasters in the English-speaking Caribbean. There is only a handful of International Masters (Barbados-4, Jamaica-2, Trinidad-2), and a lack of strong tournaments. Strong tournaments in Bermuda and Curacao have been discontinued. Of course, Cuba is the region's powerhouse, but access to tournaments are difficult.
The subzonal tournaments are anticipated and titles earned for a single result (FM title for 50% and IM title for clear first). Thus, there needs to be more ways to attract competition to the region. Several Caribbean players have traveled to the U.S. to compete in the World Open, but consistent travel to the U.S. (and Europe) is cost-prohibitive. It is time for another visit to the Caribbean. One fun fact is FM Josh Colas (then aged 11) traveling to his first international tournament to Trinidad and Tobago where he scored a respectable result.
FM Joshua Johnson (Trinidad & Tobago)
The Caribbean had bright spots with FM Joshua Johnson winning convincingly against NM Nikhil Kalghtgi and Davy winning against IM Angelo Young. Despite Young being favored due to his phenomenal blitz skills, it was apparent that he was not as used to online blitz as OTB blitz.
After failing to employ "premoves" and other blitz nuances he was down 4-0 to Davy. Young roared back and actually took the lead 7½-5½ when a controversy broke out in the 14th game of the match. As Davy and Young were frantically blitzing their last seconds, the game was K+Q vs. K+Q. Young let up believing it would be declared a draw while Davy kept checking repeatedly and won on time.
Young was upset at what he felt was a lack of sportsmanship, but Davy countered that time was an element of the game, especially having no increment. Others commented that it was a team match and Davy was obligated to continue playing. A draw for Chicago still could've clinched the match, but Young also lost the last game on time and refused to play the tiebreaker bullet series. Arbiters ruled that he would forfeit the tiebreaker and thus lost the match 7½-7½ (0-2). The finale was a highly-anticipated match with IM George Li upending IM Orlando Husbands 10-5.
This match was important for many reasons. First, there were new relationships created and many rivalries were established in good spirit. There was talk about taking the fight directly to the Caribbean once the pandemic has eased. Secondly, the chats during the matches were sizzling with comments by many legends including Jamaican champions IM Shane "The Magician" Matthews and FM Warren Elliott.
The commentary duties were shared by various personalities including Davy, Wynter, NBL co-founder Daniel Muhammad and Jimmy "Jedi" Canty. Technical Director of NBL Lou Green was also "in the building" during many of the matches. Thirdly, the match gave an opportunity for players to expand their competitive circle. After the matches, there were additional challenges made and Detroit and New York also wanted to get into the international action. Are African countries ready to throw their hats in the ring?
As the NBL gets ready for the 4th season, perhaps there will be some new players drafted. Stay tuned for another Chicago-Caribbean match!
2020 Chicago vs. Caribbean Match
November 22nd-December 9th, 2020
MATCH PAIRINGS (official titles noted)

1
IM George Li

CHI

10-5

IM Orlando Husbands

BAR
2
FM Jacob Furfine

CHI

8-7

FM Joshua Christie

JAM
3
FM Mario Ampie

CHI

13½-1½

FM Justin Blackman

BAR
4
NM Misha Vilenchuk

CHI

12-3

FM Ryan Harper

TRI
5
IM Angelo Young

CHI

7½-7½ (0-2)

FM Damion Davy

JAM
6
NM Max Zinski

CHI

8-7

FM Raheem Glaves

JAM
7
NM Nikhil Kalghatgi

CHI

3-12

FM Joshua Johnson

TRI
8
NM Daniel Muhammad

CHI

9-6

FM Shreyas Smith

USA
9
NM Michael Auger

CHI

10½-4½

Adrian Winter

TRI
10
WCM Aria Hoesley

CHI

2½-12½

CM Kevin Merritt

JAM
11
NM Aakaaash Meduri

CHI

8-7

CM Akeem Brown

VIE
12
David Franklin

CHI

11½-3½

CM Nathan Hinds

JAM
13
JJ Lang

CHI

10-5

FM Anthony Drayton

GUY
14
Tim Donahue

CHI

13-2

WCM Raehanna Brown

JAM
15
Sedrick Prude

CHI

14-1

Davion Mars

JAM
16
Stephen Jennings

CHI

12½-2½

Alethia Edwards

JAM
17
Malik Brewley

CHI

4½-10½

Christopher Lyn

JAM
18
NM Akhil Kalghatgi

CHI

8½-6½

FM Malaku Lorne

JAM

Final Score: 166-104