12th All-Africa Games: Individual Rapid – Day 4
Egypt Double Gold in Rapids!
In individual rapid event at #AfricanGames2019
Open
GM Ahmed Adly Egypt ?? GOLD ?
GM Bassem Amin Egypt ?? SILVER ?
FM Harold Wanyama Uganda ?? BRONZE ?

Women
WGM Shrook Wafa Egypt ?? GOLD ?
WFM Lorita Mwango Zambia ?? SILVER ?
WIM Sabrina Letreche Algeria ?? BRONZE ? pic.twitter.com/raxfHom1SO

— Daaim Shabazz (@thechessdrum) August 28, 2019
It goes without saying that Egypt remains the "Valley of the Kings and Queens" in chess. In today's action, they continued their onslaught on the field with Ahmed Adly and Shrook Wafa taking the Open and Women's titles. However, one could argue that it is no longer a forgone conclusion that Egypt will waltz onto the medal stand and haul the medals back to a triumphant crowd in Cairo.
Shahenda Wafa faded in the crucial rounds. Photo by Mohamed Bounaji
In the women's section, we saw a dominant performance by Shrook Wafa creating a bit of distance by first winning the game against her sister, Shahenda Wafa. This result came as a surprise to some, but these two would rather compete than to agree to prearranged, 10-move draw, which is antithetical to the spirit of competition.
Even after the loss to her elder sister, Shahenda was still in the second position after six rounds, but then lost to Nigeria's Toritsemuwa Ofowino which opened the door for several players. Ofowino, Algeria's Sabrina Letreche and the optimistic player from Zambia, Lorita Mwango were in hot pursuit.
Lorita Mwango (Zambia) and Toritsewuma Ofowino (Nigeria)
Photo by Mohamed Bounaji/FIDE
Going into the last round, Shrook Wafa was only one-half point ahead of the field, but had superior tiebreaks. Ofowino's consecutive wins against Shahenda Wafa and Sabrina Letreche meant someone would need to beat Wafa in order to catch her. That did happen when Wafa lost with the white pieces to Lina Nassr in a massive upset. The Algerian simply outplayed Wafa in every phase of the game in a Sicilian.
White's play was questionable and 17.f4 is not in the spirit of the position. Black could've won the exchange with 17…Qb6+ (first), but after the text 17…Ng4, black pushed white into a defensive posture. Black established a positional grip by playing 19…a5! and then placed her Godzilla knight on e5. White's position was in shambles and after 22.Ng3?? engines gave Nassr +7.32 since it loses material to 22…Rb3!
Click to watch!
Wafa continued on hoping that time would become a factor. Shrook did attempt a snap mate after 29.Qh4 threatening Qh7+! That threat was parried with 29…h6 and black's position was granite solid. As Shrook tried getting at the black king with 34.f6, Nassr had conjured up a mating net of her own. White had to donate material to stave off mate. All that was left is for the Egyptian to resign and watch the outcome of Mwango-Ofowino. The game between two of the leading Anglophone chess nations was intense!
Tension had built up to a fever pitch when in an equal position, Ofowino played 24…Nxb2?? There is nothing that would explain this other than chess blindness. It was a clear piece for nothing. The game went 79 moves, but the result was academic. Despite the loss, the Egyptian breathed a sigh of relief after the tertiary tiebreaks determined she was the winner. Mwango would secure the silver and Letreche would get the bronze over Ofowino.
Zambia's WFM Lorita Mwango

Highly-regarded in Zambia and respected in the African women's circuit, Mwango has proven to be one of the elite players on the continent. She came into the individual rapid having won her last four games in the mixed team event. This momentum helped her to gain confidence and remain a medal contender. Zambia is celebrating!
Algeria's Sabrina Letreche had lost both of her games to Shahenda Wafa and had a subpar performance in the mixed team, but roared back in the individual rapid closing with a win and getting the bronze. Shrook Wafa has been the star of the women's event and has suffered only two losses in 18 games thus far (+14-2=2). She adds to her prodigious medal count in her esteemed career. It may very well be that women will have to compete in the open section more frequently to gain the confidence to reach the international titles of FM, IM and GM. It would be great to see at least a few of them competing against the continent's best.
Lorita Mwango (Zambia), Shrook Wafa (Egypt), Sabrina Letreche (Algeria)
Photo by Mohamed Bounaji/FIDE
Women (Rapid Chess)
As far as the open section, Ahmed Adly showed his form by decimating the field with +8 only ceding a draw to Bassem Amin. In watching his play, one can see the difference in levels of understanding as the Egyptian routinely outplayed his opponents from all types of positions. Of course Amin is always a threat to win in Africa and got a 8/9 against the rapid field.
GM Ahmed Adly is the King of selfies in chess! ?? ? With @FIDE_chess President Arkady Dvorkovich, Bassem Amin and Harold Wanyama. Photo: Mohamed Bounaji #AfricanGames2019 #AfricanGames pic.twitter.com/nmOXu85bpW

— Daaim Shabazz (@thechessdrum) August 28, 2019
The surprise of the tournament may have been FM Harold Wanyama who had announced his retirement a few years back only to return only months later with renewed vigor. He ended the rapid on 6.5/9 including a win over Moroccan veteran Grandmaster Hicham Hamdouchi.
Click to watch!
Wanyama brought up a very sound point when he stated the lack of financial opportunities in African chess. Hopefully under the new administration, there will more investment in the vast continent that possesses no shortage of talent.
FM Harold Wanyama about to receive his bronze medal from FIDE President Arkady Dvorkovich. FIDE Vice President Mohamed Al-Modiakhi looks on. Photo by Mohamed Bounaji/FIDE
Open (Rapid Chess)
Standings
Open (Rapid Chess)
Standings
Women (Rapid Chess)
Click for full standings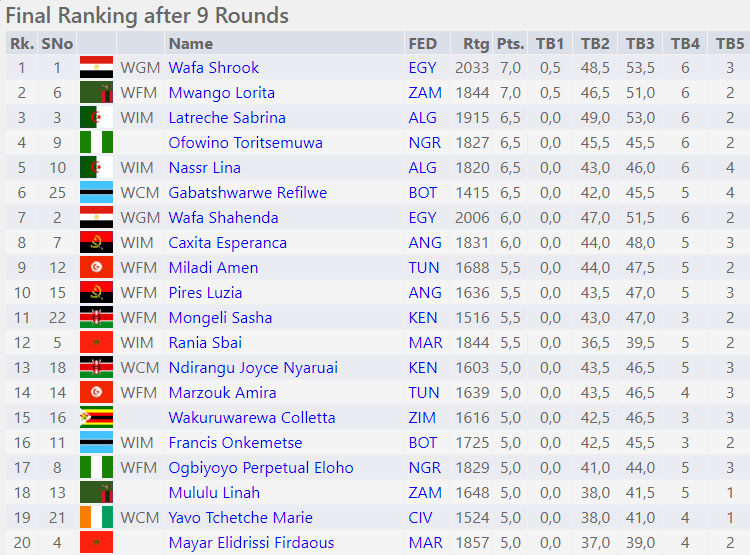 Official Site: (English, French, Arabic)
Drum Coverage: https://www.thechessdrum.net/blog/2019/08/24/12th-all-africa-games-rabat-morocco/
Chess: (Schedule)
Chess-Results: https://chess-results.com/tnr465340.aspx?lan=1&art=2&rd=1
Chess24: https://chess24.com/en/watch/live-tournaments/african-games-team-championship-2019/
Photos (FIDE): https://www.flickr.com/