2019 African Championships: Round #8
Round #8:
Shrook Wafa wins the 2019 African Women's Championship!!
Shrook Wafa is the 2019 African Women's champion! In what has been a truly dominating performance, the 22-year old Egyptian wins her 3rd continental title winning consecutively in 2013 and 2014. Mabrouk! Photo courtesy of Babatunde Ogunsiku (Africa Chess Media)
WOMEN
It appears that the Egyptians and the Algerians are battling once again for positions on the medal stand and for spots in the World Cup. The showdown will come to a culmination tomorrow as the two countries will battle for silver and bronze. Tiebreaks will be a big factor in the final tally.
Today, Shrook Wafa clinched her third title with one round to spare by dispatching of Algeria's Lina Nassr in a game where she maintained pressure throughout. One of the trademarks of Wafa's play this tournament was her consistency. She was well-prepared, played sharp lines and was in great form.
In her game against Nassr, they enter a Scheveningen Sicilian, but both white's 8.Re1 and black's 12…Nb4 were a bit off. Black actually got good play with 16…d5! and took advantage of Wafa dithering with her f-rook. However, Nassr allowed Wafa to recover with a 24.Bg3 Ra8 25.Rac5 maneuver. From that point on, white was better and even doubled rooks on the 7th. Black's pawns disappeared and in an ending three pawns up, she had enough to clinch her third continental title.
Latreche-Elansary had an interesting game before it fizzled out into a draw. It appeared that white had a grip on the position with a pawn on d6 and a rook on the 7th rank. Black solved her problems tactically with 27…Bd4! 28.Bxd4 Rxd6! Black's active pieces saved the day.
One of the things, about the women's games is that the "London System" is a very popular opening. It is an easy opening to play, but it doesn't give white a chance to play for a lasting advantage. Some of the games appear that white is playing 1.d4 and 2.Bf4 by reflex without regard to what setup black is using. Watch how black dominates without white giving much of a fight in Sabine Ravelomanana and Amina Mezioud's game.
In February-Moaataz, the South African was trying to win her second consecutive game, but overextended her attack. February has somewhat of a crude style of attacking demonstrated by 21.Nf1 and 22.g4. Black seized on this by playing 24…Qh4 and raiding the weakened kingside. White later tried sacrificing the exchange after 31.Rxd5, but after 31…Qxd5 there was nothing but a prayer.
On 32.Bxh6 g6 33.Bg7 black's 33…Qd2! put an end to white's attacking dreams. To add insult to injury, February overlooked mate in two. Again… a rest day should be mandatory in continental championships. Some of the play points to fatigue and it's obvious that some players have "hit the wall" at the midway point.
In another London System in Mwango-Moaataz, white failed to get a tangible advantage and fought hard to equalize black's initiative. The game went on for 84 moves with white finally being able to equalize. The Zambian certainly dodged a bullet and is now on 4.5/8 and plays the champion Shrook Wafa.
Round #8 (All Games)
Top Pairings for Round #9
WFM Mwango Lorita (Zambia) – WGM Wafa Shrook (Egypt)
WGM Wafa Shahenda (Egypt) 2175 – WIM Latreche Sabrina (Algeria)
WIM Moaataz Ayah (Egypt) – WIM Mezioud Amina (Algeria)
WIM Elansary Eman (Egypt) – WFM Marzouk Amira (Tunisia)
WIM Nassr Lina (Algeria) – WFM Miladi Amen (Tunisia)
Ofowino Toritsemuwa (Nigeria) – WIM February Jesse Nikki (South Africa)
Milena Daniel Welderufael (Eritrea) – WFM Ravelomanana Sabine (Madagascar)
WCM Ampaire Shakira (Uganda) – Ntolo Darla Charlhess (Gabon)
WCM Chihi Malek (Tunisia) – Ibrahim Aishat (Nigeria)
Mululu Linah (Zambia) – WCM Hilali Wissal (Tunisia)
WCM Hwass Zaineb (Tunisia) – WCM Yavo Tchetche Marie (Cote d'Ivoire)
OPEN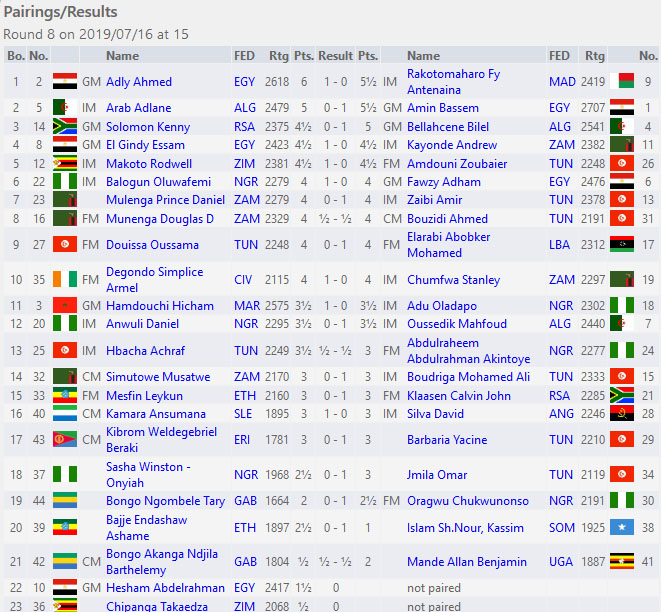 Grandmaster Ahmed Adly has a decorated chess career for Egypt and he is poised to had another landmark in his career. His win in round eight puts him at 7/8 with his sole loss to Bassem Amin. Thus, he will need a win tomorrow against Rodwell Makoto of Zimbabwe who has won his last four games.
In his game against an undefeated Fy Rakotomaharo, Adly played an irregular opening and opted for a game where he could outplay his less-experienced opponent. That's exactly what happened. The middlegame was very complicated, but white had developed a tremendous space advantage. Black's pieces were a bit cluttered.
Black sacrificed an exchange with 21…Rxc3 22.Bb2 Rxg3+ but white still maintained control despite exposed king. Adly employed an "Alekhine's Gun" on the d-file, but the Malagasy player held his poise. That was until he fell into time pressure. Last round, his opponent blundered at move 40 and this time he would be the victim. After 39…Ba3?? 40.Rf4 Rf8 41.Rc4 wins material and black resigned.
Most of the Grandmasters won today… all except Kenny Solomon and Adham Fawzy , the latter losing his third consecutive game. In the winner's circle, Amin won his game after thoroughly outplaying Adlane Arab. It was a finachetto King's Indian, but somewhere along the way, white never got any queenside play going. As the script goes, black headed for a kingside attack. Even a trade of queens didn't lessen black's pressure and he crashed through.
As far as norms are concerned Adlane Arab has played four GMs and tallied a solid 5/8, but his performance rating is 2494, so he will most likely need to get a win to approach 2600 TPR. Simplice Degondo and Mohamed Elarabi Abobker are on 5/8 and a win will get him to 6/9. It is unclear whether they will get the performance rating to qualify. Bassem Amin will need to win out in order to claim the title with Makoto at least holding Adly. There are a lot of combinations that will determine who get the top three spots, but the certainty is that an Egyptian will secure gold. Should be an exciting round!
IM Rodwell Makoto and Spencer Masango in at Batumi Olympiad. Makoto has a chance to affect the medal positioning in the final round. Photo by Daaim Shabazz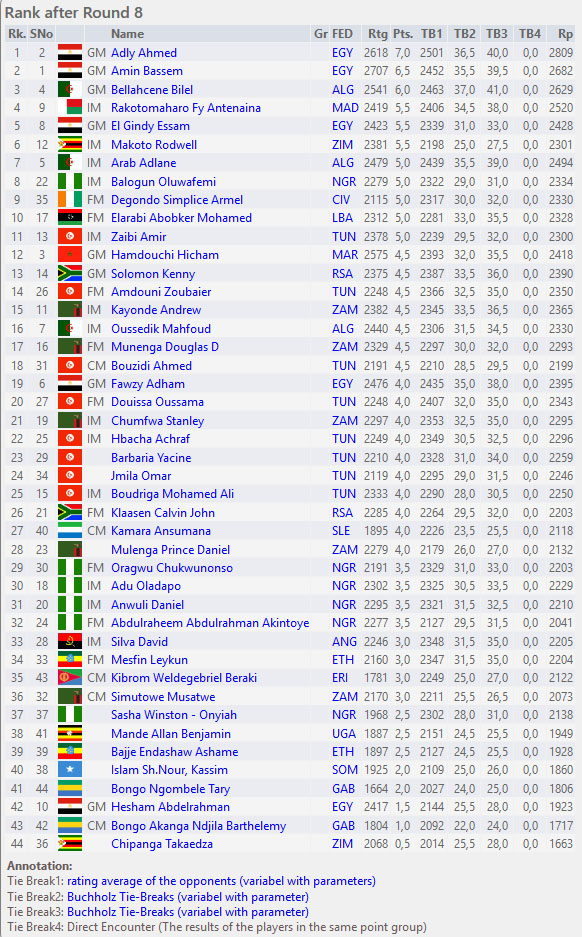 Top Pairings for Round #8
GM Adly Ahmed (Egypt) – IM Makoto Rodwell (Zimbabwe)
GM Amin Bassem (Egypt) – IM Rakotomaharo Fy (Madagascar)
GM Bellahcene Bilel (Algeria) – GM El Gindy Essam (Egypt)
IM Zaibi Amir (Tunisia) – IM Arab Adlane (Algeria)
FM Elarabi Abobker Mohamed (Libya) – IM Balogun Oluwafemi (Nigeria)
Drum Coverage: https://www.thechessdrum.net/
Chess-Results: (Open, Women)
PGN Games: (Open, Women)
Regulations: https://www.fide.com/