2019 African Championships: Round #5
Round #5:
Amin beats Adly moves back into joint first… Shrook Wafa on 5/5
OPEN
GM Hesham Abdelrahman has exited the tournament after five rounds. The 2016 African Champion suffered three losses and one can only imagine that something is not well with the Egyptian player. Takaedza Chipanga of Zimbabwe also exited the tournament after forfeiting his last game. More details on these developments as they become available. We wish the best for them in the future.
In round five action, the situation has become very intense at the half-way mark. It's now a five-way tie after top seed Bassem Amin toppled Ahmed Adly. In this Egyptian derby, they battled in a Rossolimo and the queens came off after 14 moves. The position was a bit imbalanced, but white had the better structure.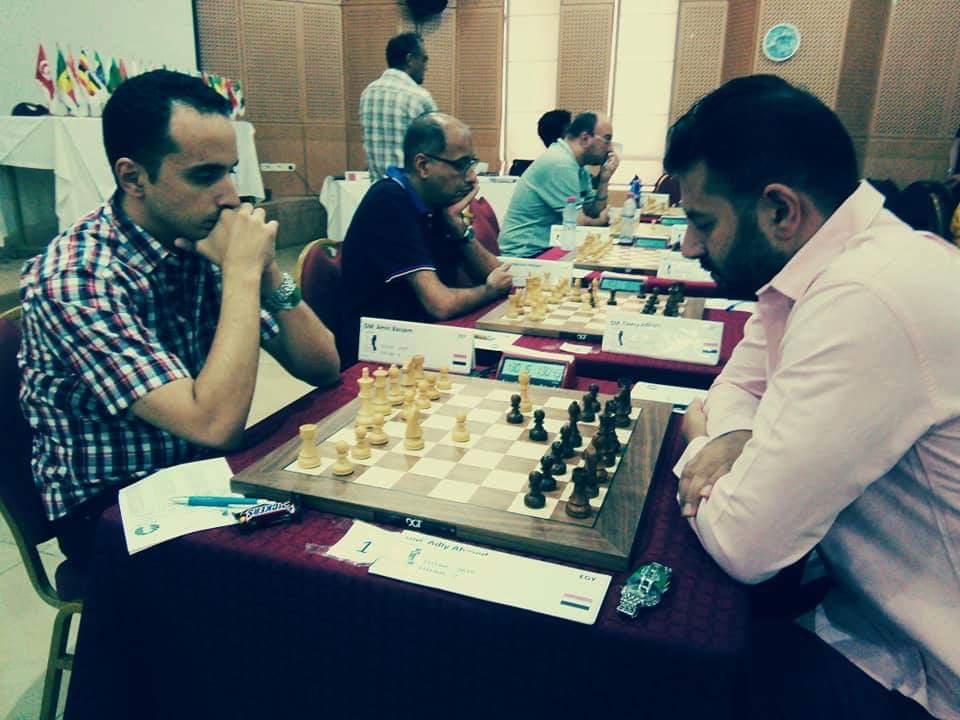 GM Bassem Amin vs. GM Ahmed Adly, 1-0
As white's knights held sway over black's territory, Adly sacrifice a pawn to free his bishop. Amin pocketed the pawn, but later Another skirmish broke out. When the smoke cleared white had three passed pawns for a knight. It appears in this position Adly should be able to hold (after 52.Rxh6), but his knight begin to wander around on the queenside and even gobbled a b2-pawn… far away from the steamrolling fgh-pawns.
As it turned out the pawns were simply too fast and Amin finished off with a cute 71.Rxe8! Adly may have missed a chance to maintain his one point lead against the field. With four rounds remaining it will be a dog fight.
Adham Fawzy has been in good form so far. The relatively-new Grandmaster has long been one of the bright talents in Africa and is perhaps remembered for his sparkling win against Parham Maghadsoodloo which included a queen sacrifice.
GM Adham Fawzy
Photo by https://ajedreztricolor.com.ve/
In Hamdouchi-Fawzy, white was very unambitious in the opening and allowed black to equalize quickly. As black begin to mobilize for a kingside onslaught, the Moroccan had to sacrifice a pawn to free his position. Both sides kept sacrificing pawns to gain time and the game was very dynamic. Then the tactically-alert Fawzy uncorked 33…Bxf3! and all of a sudden, black was completely winning. Black won yet another pawn and after a few more moves the Moroccan had seen enough. Hamdouchi has yet to find his footing, yet he is only a point out of contention.
Bilel Bellahcene faced Andrew Kayonde's Caro Kann and the strategical battle ended in the Algerian's favor. In the middlegame with most of the pieces still in play, white started to find crack's in black's position and after 37.Bf5! black scrambled to plug up the holes. It was too late. White had already netted two pawns… then a third. The Grandmaster then sacrificed an exchange for a fourth pawn. In the end, the pawns were more than enough to secure the point.
In other games, Adlane Arab beat Achraf Hbacha to remained undefeated. The wily veteran is seeking to remain in the hunt and it seeking to vault closer to 2500. He faced his opponents Stonewall Dutch, but had to grind out a win in a fascinating rook ending. Looking at the ending, it's hard to understand how black could lose such a game. Take a look.
Mahfoud Oussedik scored against Nigeria's Femi Balogun to remain undefeated and only a half-point off the pace. Fy Rakotomaharo split the point with Kenny Solomon in a very typical intense Sicilian battle. Douglas Munenga of Zambia beat Chukwunonso Oragwu to also pull within half-point of the lead (3.5/5 with Oussedik and Rakotomaharo).
GM Kenny Solomon (South Africa)
Photo by Aishat Ibrahim
Zambia is without question one of the strongest African federations. Home to the Amon Simutowe, the first African GM south of the Sahara, they have a number of hopefuls looking to score the title. While IMs like Daniel Jere and Chitumbo Mwali are not on the trip, they have more than enough. Stanley Chumfwa is one of the long-standing veterans and his win over the promising Angolan David Silva put him just a point of contention. Speaking of Zambians Prince Mulenga suffered three losses, but has scored two wins including a win over compatriot Musatwe Simutowe.
One intriguing story (besides the father and son duo from Gabon) is the upset of Hesham Abdelraham (2417). Nigeria's Sasha Winston-Onyiah (1968) beat the Egyptian GM bringing to question the state of his health. Three losses to players 2191, 2248 and 1968 is extremely unusual. Even at his worse form, such an event is unlikely to occur. Nevertheless, it may show that the rating pool remains depressed in Africa and such lower-rated players are far above their advertised rating.
Round #5 (Selected Games – Open)
At the halfway mark, there are the rankings…
Top Pairings for Round #6
GM Adham Fawzy (Egypt) – GM Bassem Amin (Egypt)
GM Ahmed Adly (Egypt) – IM Adlane Arab (Algeria)
GM Bilel Bellahcene (Algeria) – IM Mahfoud Oussedik (Algeria)
FM Douglas Munenga (Zambia) – IM Fy Rakotomaharo (Madagascar)
FM Oussama Douissa (Tunisia) – GM Hicham Hamdouchi (Morocco)
WOMEN
Jesse February faced the wrath of Shrook Wafa's Dragon Sicilian.
Photo by Tunisian Chess Federation
Again… the women's field only had two decisive results. Surprisingly, players with the black pieces scored 9/11. Shrook Wafa has been in good form. Following her demolition of Amina Mezioud, she obliterated Jesse February with her pet Dragon. The game was actually following many theoretical discussions from the past. All the moves up until February's 16.Bd4?? had been played before. The finish is brutal.
Sabrina Letreche and Amen Miladi produced one of the most exciting games of the tournament. Pieces zipped around the board and at some points it appears as if someone emptied a container and dropped pieces on the board. In this tactical slugfest, both sides missed chances, but what more can be expected in this Sicilian games.
The game started as a Paulsen and white adopted the Maroczy Bind. Black was fixing for a fight after 8…d5!? This game exploded in the middlegame and the evals definitely changed from move-to-move. White's king safety was more important than any material advantage it had since black's pieces were well-placed and ready to enter battle. Letreche did well to hold the position and dodged many bullets. It would remind one of Neo in the movie, Matrix.
Watch this battle and hold onto your hats!
What an adrenaline rush!
So many of the women players are opting for the London System. It's not clear if they are seeking to avoid the huge volumes of preparation, but it is not going to be an opening that you can hope to get much of an advantage. Shahenda Wafa is defending her title, but had already lost to Amina Mezioud. She needed a win to keep pace with her sister who is in great form. Toritsemuwa Ofowino, the 4.4 women's zonal champion, is looking for greater opportunities in chess and is perhaps extra-motivated to have a good showing.
Wafa trotted out the London System and black had no problem equalizing the position. Wafa was confident as the Elo favorite and her 32.Kc1 was to prevent a trade. In fact, white should have been happy to trade queens. Wafa got her king stuck in the center of the board with heavy pieces trolling the board. Ofowina's 41…d4! was a powerful move exposing the white king to danger.
Black ended up with passed a- and h-pawns which the lone white bishop and king would never be able to stop, but the Nigerian allowed white to keep her rook with 58…c5 instead of trading down with 58…Rxd4! when white can resign in a few moves. Ofowino managed to win the game and is now joint second with three other players on 3.5/5.
Round #5 (All Games – Women)
There are still many rounds remaining and there are some interesting matchups for the next round…
Top Pairings for Round #6
WGM Wafa Shrook (Egypt) – Ofowino Toritsemuwa (Nigeria)
WIM Latreche Sabrina (Algeria) – WFM Ravelomanana Sabine (Madagascar)
WFM Miladi Amen (Tunisia) – WIM Moaataz Ayah (Egypt)
WIM Mezioud Amina (Algeria) – WFM Marzouk Amira (Tunisia)
WIM Nassr Lina (Algeria) – WIM February Jesse Nikki (South Africa)
Drum Coverage: https://www.thechessdrum.net/
Chess-Results: (Open, Women)
PGN Games: (Open, Women)
Regulations: https://www.fide.com/