2019 African Championships: Round #4
Round #4:
Adly and Shrook win… both lead the field on 4/4
OPEN
Tunisia is sizzling right now. It is not the heat of the weather, but it is the action at Hotel Caribbean. After the top seed went down yesterday, the player who beat lost to Ahmed Adly leaving him with the only perfect score.
GM Ahmed Adly five years ago in Tromso, Norway.
Will he be able to take the world stage again?
Photo by David Llada
Adly trotted out a Catalan and Bellahcene entered a sharp line entailing a pawn sacrifice with 7…Nc6!? 8.Bxc6 bxc6 9.Nxc6, but must have forgotten his preparation. Black would give up a pawn for the two bishops, never got enough and his compromised structure suffered. In the ensuing endgame, black had a lot more space but a compromised pawn structure. Eventually white collected a few pawns and was able to push for the win.
Interestingly enough, none of the seven GMs qualified for second board which was a battle of International Masters. Both Andrew Kayonde and Fy Rakotomaharo have shown considerable talent on the international stage and aspirants for the GM title. Both both having led their respective countries in the 2018 Batumi Olympiad. Kayonde became a sensation for drawing with Vassily Ivanchuk.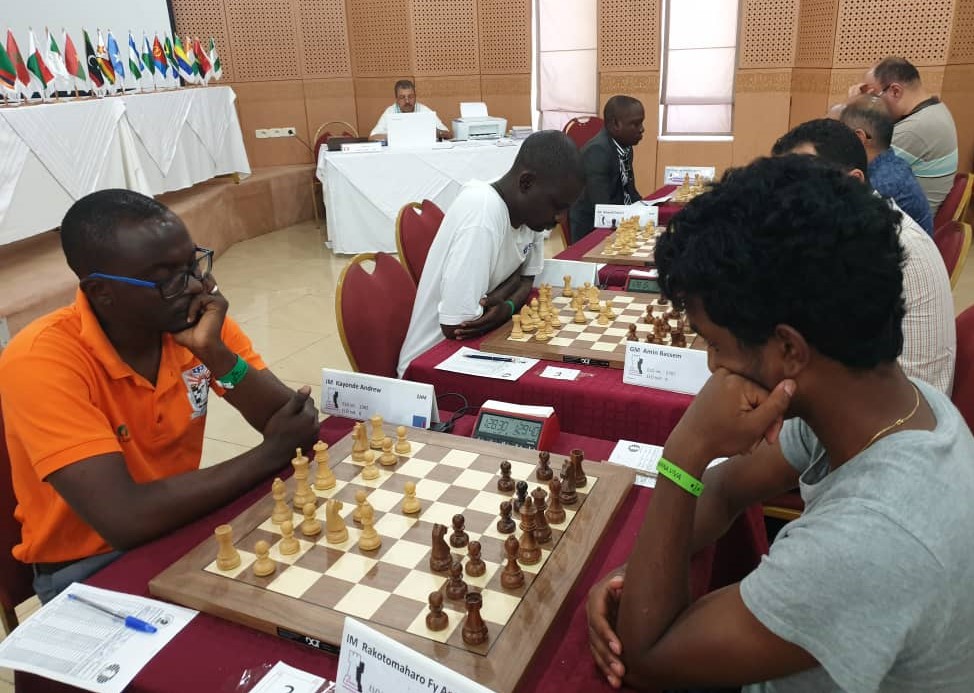 Andrew Kayonde battling Fy Rakotomaharo, 1/2
Photo by Aishat Ibrahim
In their game, the Zambian trotted out a type of London System and the player from Madagascar adopted a very solid setup before lashing out with 18…f5. It seemed to be the typical race on the wings… white trying to crash through on the queenside and black trying to checkmate on the kingside. In the tense battle, white decided to sacrifice the exchange with 33.Rc6, but did not gain an advantage. The game later clarified in a drawn knight ending.
Bassem Amin got back on track with a masterful endgame technique against Zambia's Stanley Chumfwa.
Hicham Hamdouchi also won his game against Nigerian hopeful Daniel Anwuli. While Adham Fawzy and Essam El-Gindy contributed to the resurgence of the GMs, Hesham Abdelrahman lost again to FM Oussama Douissa of Tunisia. The Tunisians have been defending their flag quite well.
GM Essam El-Gindy
Photo by James Mwangi
Overall the field remains tight with Adly on 4/4 but a pack of eight players follow on 3/4. Adly will face Amin in round 5 which means he will have faced the top three in the field. Lot of interesting battle on tap!
Round #4 (Selected Games – Open)
Round #5
GM Bassem Amin (Egypt) – GM Ahmed Adly (Egypt)
GM Hicham Hamdouchi MAR – GM Adham Fawzy (Egypt)
GM Bilel Bellahcene (Algeria) – IM Andrew Kayonde (Zambia)
IM Adlane Arab (Algeria) – IM Achraf Hbacha (Tunisia)
IM Fy Rakotomaharo (Madagascar) – GM Solomon Kenny (South Africa)
WOMEN
Very nice head coverings and flowers over here!
The women field had two draws in round four. That is the most draws in any of the four rounds. Maybe someone should punish them for too many draws! The reality is that as more games are played people are finding their form and the players are more than likely facing their equals. Unfortunately for the African field, Shrook Wafa has not found her equal yet.
Wafa won her fourth game in a complete demolition of black. This was absolutely poor preparation by black as she opted to capture a pawn only to allow a winning initiative right in the opening. After 16.e6, black was already in dire straits. Latreche had to resign in only 22 moves.
Jesse February continues as she dealt Amina Mezioud her second loss. Black opted for a French and it went into a mainline, but white released the tension too early with 6.dxc5 and allowed easy equality. After 11.Ne5?! black was fighting for the initiative. With white on the retreat, black struck with 16…Ne4 breaking all resistance. In Ravelomanana-Moaataz, it is hard to understand how the game transpired, but black appears winning after 41…d4! This was the last move given and the game was drawn.
It appears that some of the players are not fully prepared in the openings, especially with the white pieces. Lina Nassr (1982) was upset by Amira Marzouk (1667) after being outplayed in the middlegame. Her play against white's hanging pawns was instructive. She unleashed a small combination winning a pawn with the alert 24…Nxd4! 25.Bxd4 Rxd4! 26.Rxd4 Nc3 and the ushered her pawn advantage to victory.
There are still many rounds remaining and there are some interesting matchups for the next round…
Round #4 (All Games – Women)
Round #5
WIM Jesse Nikki February (South Africa) – WGM Shrook Wafa (Egypt)
WIM Sabrina Latreche (Algeria) – WFM Amen Miladi (Tunisia)
WGM Shahenda Wafa (Egypt) – Toritsemuwa Ofowino (Nigeria)
WIM Eman Elansary (Egypt) – WFM Sabine Ravelomanana (Madagascar)
WIM Ayah Moaataz (Egypt) – WFM Lorita Mwango (Zambia)
Drum Coverage: https://www.thechessdrum.net/
Chess-Results: (Open, Women)
PGN Games: (Open, Women)
Regulations: https://www.fide.com/