Carlsen wins Abidjan Rapid & Blitz!
Congratulations to @MagnusCarlsen for winning Côte d'Ivoire, the first leg of 2019 #GrandChessTour with 2 rounds to spare!! pic.twitter.com/xbEc8RCkTo

— Grand Chess Tour (@GrandChessTour) May 12, 2019
After the election in the past FIDE election, there was an assertion that the international chess body would be more inclusive. While the Grand Chess Tour is not related to FIDE, the general atmosphere has been spurred by these sentiments. Africa is one region that has been slow in developing an enduring chess culture, but when it was announced that the Grand Chess Tour was moving to Cote d'Ivoire, it set off a sort of celebration.
This buildup of this tournament was epic given that it would be the first such tournament on African soil and also the first time a sitting World Champion had competed on the continent. The event was met with great anticipation and there was even a parallel tournament to ensure the highest level of interaction with the elite chess players.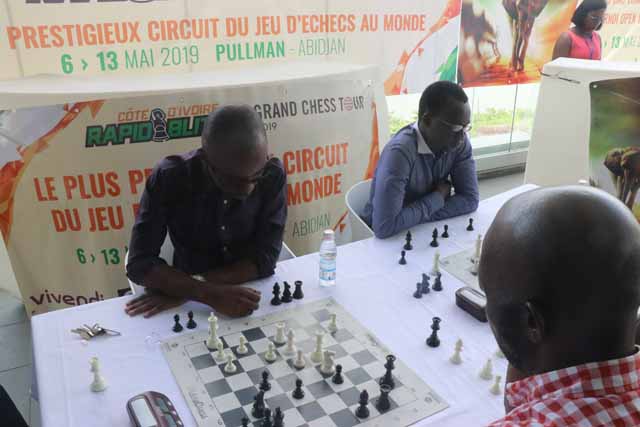 2019 ECOWAS Team Championship
The first event of the Grand Chess Tour was in very different venue, but the result was the same… Magnus Carlsen won. In what has been a dominating year for the World Champion, Carlsen was coming off of a list of wins aptly documented by Norwegian journalist Tarjei Svensen.
BREAKING: @MagnusCarlsen wins #GrandChessTour in Abidjan, that's his 5th straight tournament victory:
– World Blitz Ch' 2019
– Tata Steel Chess
– Shamkir Chess
– Grenke Chess Classic
– Abidjan Grand Chess Tour

— Tarjei J. Svensen (@TarjeiJS) May 12, 2019
While there was little interaction between the players and the locals before and during the event, there were always the impromptu autographs, selfies and happenstance encounters. Carlsen meant business disappeared soon after his games were over. The rapid segment gave Carlsen a comfortable cushion going into the blitz segment. Fortunately for him, both Maxime Vachier-Lagrave and Hikaru Nakamura were having problems closing the gap. In the end, Carlsen clinched the tournament with two rounds left.
With the title already decided, Carlsen watches Nakamura and Vachier-Lagrave fight for second. Photo by Daaim Shabazz.
Several players will be competing in the FIDE Grand Prix event beginning the 17th in Moscow and others will be competing in the next Grand Chess Tour event in Zagreb, Croatia. The Abidjan edition was an organization success. FIDEC President Dr. Essoh Essis and his team deserves credit for making the historic event memorable.
Magnus Carlsen receives the beautiful trophy from
the Minister of Sports Paulin Danho
Photo by Daaim Shabazz
Commentary Broadcast Links
The GCT will stream official commentary broadcasts in both English and French to YouTube and Dailymotion. The following links apply:
YouTube English Commentary (GM Yannick Pelletier, IM Tania Sachdev, GM Alejandro Ramirez & GM Maurice Ashley):
May 8 – Rapid Rounds 1-3: https://youtu.be/1MIr_bAzVDM
May 9 – Rapid Rounds 4-6: https://youtu.be/1l7frbLWSZg
May 10 – Rapid Rounds 7-9: https://youtu.be/XBDCXih6n1k
May 11 – Blitz Rounds 1-9: https://youtu.be/omQQc8Kzl4M
May 12 – Blitz Rounds 10-18 & Playoffs: https://youtu.be/IQm4q90LhxU
YouTube French Commentary (GM Edouard Romain & GM Laurent Fressinet):
May 8 – Rapid Rounds 1-3 https://youtu.be/4yAWe67yYik
May 9 – Rapid Rounds 4-6 https://youtu.be/s09-QGxfi2c
May 10 – Rapid Rounds 7-9 https://youtu.be/LPzfTPqAHis
May 11 – Blitz Rounds 1-9 https://youtu.be/L42hMGTmLIo
May 12 – Blitz Rounds 10-18 & Playoffs: https://youtu.be/BbHnzS3vYbU
Dailymotion (All days and rounds):
English Commentary: https://www.dailymotion.com/video/x76z1jy
French Commentary: https://dai.ly/x77byvh