Hometown: Chicago, Illinois
Education: B.A. Morehouse College (2012), M.B.A. Harvard University (2019)
Peak Chess Rating: 2215 (USCF) 2220 (FIDE)
Chess Accolades: National Master (2012), 2-time state champion (Whitney Young Magnet H.S.), beat GM Jaan Ehlvest
Activities: Phi Beta Kappa (honor society)
Current Profession: Investment Banker, full-time MBA student at Harvard University
Last tournament: 2011-04-06 JUSTIN OPEN (GA)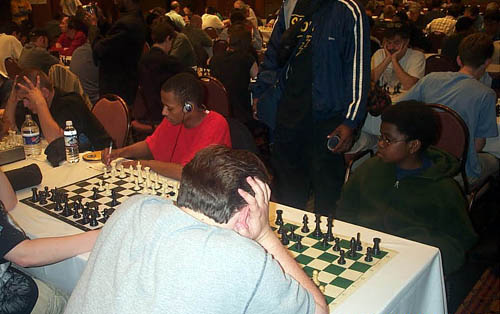 12-year old Kayin Barclay on "B" section's top board at 2003 Chicago Open.
Photo by Daaim Shabazz.
Kayin is a very unassuming young man. However, he had confidence that belied his humble demeanor. The first time I encountered him was at the 2003 Chicago Open when, as a 12-year old, he scored 6/7 in the "B" section. The early days saw coaching from legendary coach Tom Fineberg and session with local Expert Sam Ford.
Kayin Barclay
Photo Kayin Barclay (Facebook)
Kayin entered Whitney Young Magnet program as a 7th grader and led them to four state appearances. Prior to going off to Morehouse College, Kayin played in two Denker Tournament of High School Champions. He tied another year, but instead of playing the blitz tiebreak, he declined and allowed the other player to represent Illinois. Class personified.
Now married to the former Lauren Crim, Kayin worked on Wall Street at Barclays Bank as an investment banker for two years, then after a stint with RLF Equity he joined the Harvard Business School in Boston. Kayin told The Chess Drum that he will graduate from Harvard B-School in May 2019 and move to Dallas to work for a private equity firm called Insight Equity. He also gives some sage advice on how to approach chess.
"First of all, they must ask themselves if it is truly worth it. The time that I have invested in chess is probably equal to a college degree (in no way am I downplaying its worth). When I was intensively studying, I studied everyday about 5-6 hours. If you want to be a good player, you have to put in the time, learn how to study, and study the correct material. A coach is helpful but you have to go beyond what a coach does. Finally, I would say play as much as you can, there is no amount of studying that you can do that can help you react to that position that you have gotten in a random blitz game."
Additional links on Kayin Barclay
Leave a Reply!