Nigerian schoolboy Tani Adewumi making waves in New York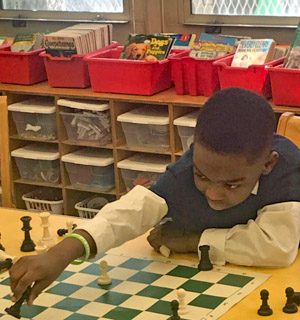 Tanitoluwa Adewumi
Photo by Nicholas Kristof
Nigeria has long been one of Africa's most heralded chess countries with an ambitious goal of producing the next generation of chess masters. Having already produced a number of International Masters, the country has recently launched a fundraising campaign to produce the first Grandmaster in history. There is a wealth of talent in Africa's most populous nation of 190 million.
While Nigeria remains a place of immense potential and intellectual capital, it is still striving to realize its true potential. For this reason, there is a very large Nigerian Diaspora seeking opportunities abroad. Many migrants have a variety of reasons, but all seem to be looking for better opportunities. The latest of these examples was presented in the New York Times, going viral.
Kayode Adewumi and wife Oluwayoyin left Nigeria to seek a better life for their two sons, Austin and Tanitoluwa. Unfortunately, they have been living in a homeless shelter since arriving in New York in 2017. This story may not have come to light if it were not for their youngest son, affectionately called "Tani."
The story that went viral!
Tanitoluwa which means "who is like God," has become somewhat an icon for his recent chess accomplishments. Since arriving in New York, he has worked assiduously on his chess game and recently won the New York Primary Championship with an undefeated score. He adds to his collection of trophies which give an interesting decor to a homeless shelter. A student at P.S. 116, Tani has received chess tutoring from local master Shawn Martinez.
---
"He is so driven. He does 10 times more chess puzzle than the average kid. He just wants to be better."
~Shawn Martinez, Tani's coach
---
Martinez, who earned his own 15-minutes of fame as part of the Edward Murrow High School powerhouse, beams about Tani. "I wanted to reach out about a student of mine who has risen the ranks in scholastic chess despite his everyday challenges." Challenges… indeed. Living in a homeless shelter is certainly not ideal for an immigrant family, let alone for two growing boys. However, Tani and his family is receiving support from the local chess community.
Adia Onyango, a pillar of the chess community in New York, excitedly posted the following stats.
Tanitoluwa Adewumi has hit the chess scene and he is an undeniable talent. Are we looking at the making of a grandmaster? Within one year this 8 year old went from 105 to 1587! If he makes similar gains within the next year he can be an A-player or EXPERT by next year.

Tani broke 1000 within 5 months. This alone is not unheard of. However, within another 2 months he was over 1200 and another 4 he was over 1400! Now we are at a year from his first tournament and he is at 1587. In the last year he has played 47 tournaments and in all but 7 events his rating increased!
While it is much too early to discuss breaking any records for the Grandmaster title, Martinez told The Chess Drum, "I believe in him tremendously!!" In fact, the chess community and supporters have more than doubled tripled the $50,000 goal set up by Russell Makofsky, who oversees the P.S. 116 chess program.
While scholastic is seeing a boon in the U.S., there are many youngsters in a sea of talent. The youngest master in the U.S. is 9 years, two months, 17 days (Abhimanyu "Abhi" Mishra), and the youngest Grandmaster earned the title at 12 years and 7 months (Sergey Karjakin). The current youngest Grandmaster is also earned the title in his 12th year, so Tani will have to work hard to reach these milestones.
Tanitoluwa Adewumi playing brother with parents looking on.
Photo by Russell Makovsky (Facebook)
Tani states that he desires to be the youngest Grandmaster ever, but of course chess development doesn't come without sacrifices and work ethic. Martinez noted in a New York Times interview, "He is so driven. He does 10 times more chess puzzle than the average kid. He just wants to be better." There will be many challenges, but Tani has a lot of time. Perhaps he just needs the chance.