Who will be the 1st Nigerian Grandmaster?
Africa is a massive continent with approximately 1.2 billion inhabitants. It has an incredible amount of natural resource and breath-taking natural beauty. The 54 countries that represent the continent are diverse in their makeup and span a spectrum of many religions, cultures, languages and traditions.
One tradition that has remained stable is friendly competitions. The continent is home to numerous games such as senet, oware, mancala, kharabaga, draughts and chess. Africa has an interesting contrast with French-speaking Africa taking to draughts and English-speaking Africa taking more to chess. Francophone West Africa boasts some of the strongest draughts players in the world including Ivory Coast's Joel Atse, Senegal's N'Diaga Samb and world contender Jean-Marc Ndjofang of Cameroon. In fact, Senegal can boast of a World Champion in Baba Sy.
At this point, draughts players have been able to crack the upper-echelon of the sport having boasted players to break into the top ten. The question is why chess cannot see the same success from the same brilliant minds in West Africa? As far as chess, the balance of power still lies in the north with Egypt leading the way with dynamic duo Bassem Amin and Ahmed Adly.
IM Oladapo Adu (Nigeria)
Photo by Alina L'Ami
South of the Sahara, there is a rumbling of activity attempting unseat the players in the Valley of the Kings. Countries like Zambia, Botswana, South Africa produced tremendous talent, but in Nigeria there has been a pledge to produce the first Grandmaster with an initiative called, "The Go for a Nigerian Grandmaster." It is an appeal of support to help in building a training ground for chess excellence.
Nigeria, with approximately 196 million people, has long has a tradition for producing talent and has in its ranks a cadre of International Master looking to make the next step. Ironically, IM Oladapo Adu incredulously stated in a recent Facebook comment that he is shocked that he is now the top-rated player after 20 years and that no one else is replacing the old guard. There are rising stars like FM Daniel Anwuli, but of course with 12-year old GMs sprouting, the cycle has accelerated. Thus this initiative is timely.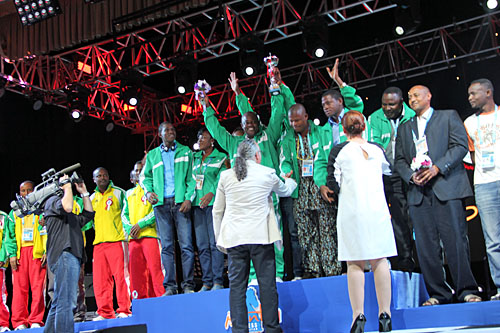 Nigeria wins Category E gold medal!!
Photos by Daaim Shabazz.
Link: https://www.facebook.com/Go-for-a-Nigerian-Chess-Grandmaster-initiative-538970613274468/