Who will challenge Carlsen in 2020?
The 2018 World Rapid and Blitz Championships ended a couple of weeks ago. World Champion Magnus Carlsen was in the field facing many of the elite players. It is his first event since successfully defending his title against Fabiano Caruana. While he lost his rapid title, he totally dominated the blitz event with a +13 score. It may have reassured Carlsen fans that he has not lost his edge.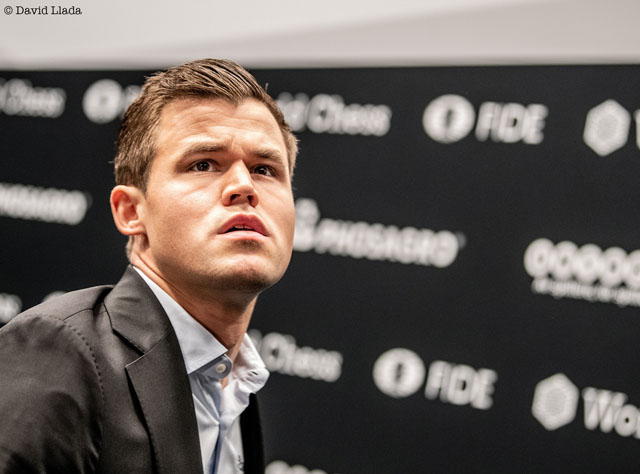 Magnus Carlsen
Photo by David Llada
After the championship match in which all 12 classical games were drawn, one of the arguments has been that the faster time controls should be integrated. The longing for more rapid and blitz in light of the increasing amount of preparation required in classical has caused organizers to look at different formats.
It should be known that many of these draws in classical tournaments were cases where players simply failed to convert. British Grandmaster Nigel Short wrote an op/ed piece in the latest New in Chess titled "Deadlocked." Short's question is "…how the World Championship can be reinvigorated, preferably without making a bonfire of tradition."
The Draw Question

The entire tone of the match may have been totally different if Carlsen had converted a win after 38…Rg3! in Game 1.

In the world championship match, there were at least four games in which a decisive result seemed imminent. Is the argument that the games lack excitement or the draw is simply an undesirable result despite the nature of the games? A recent article on chess.com showed that the draw rate has risen dramatically in the past ten years.
In my opinion, one of the reasons for the high incidence of draws may be that top level players play each other almost exclusively and have developed a bit of familiarity in the opposition. This makes it much harder to get an edge against their peers. With the skill level comparable, mistakes are much smaller. In the last two championships match there have been two wins in 24 classical games. The two wins came in the Carlsen-Karjakin match. The Carlsen-Caruana match was hard-fought with exciting games, but no decisive results.
2018 World Chess Championship
Holborn, London, England (November 9th-28th)


pts.

Carlsen

6

Caruana

6
The question in this new year is who will earn the right to challenge Magnus Carlsen for the world title in the magical year 2020? Will the next opponent provide more variability in the results? Twelve draws was unprecedented and perhaps was unfairly maligned as uninspiring. It may simply be that with such a short duration of 12 games, players tend to be risk-averse.
Draw Death?
There seems to be an uncertainty in the chess community. Do they want more decisive results at the expense of quality chess? What is being implied is that draw is not a desired result and that players at this level play near perfect chess because there is no winner. However, that is not what we saw in London. The chess world understands the legitimacy of a draw, but in a heavyweight battle, they are seeking decisive results.
In international football (soccer), a 0-0 draw after 90 minutes is sometimes seen at the highest levels. The match could have been very exciting and many fans will appreciate the hard-fought match. However, in the World Cup elimination rounds, teams go to "shoot outs". Not optimal, but deemed necessary to get a decisive result and to prevent fatigue.
Anatoly Karpov hovers as Garry Kasparov ponders next move in 1984 match that featured 40 draws including 17 consecutive. The format was the first to win six games. The match was controversially halted by FIDE President Florencio Campomanes due to fears of player fatigue.
For chess, rapid/blitz has become the tiebreak method despite fatigue not generally being a factor in the 12-game match with accompanying rest days. Fans generally accept a draw in a chess match, but not a long series of them without a decisive game. Karpov-Kasparov 48-game match had 40 draws (including 17 in a row), but Kasparov's comeback (from a 5-0 deficit) gave fans adequate drama.
Regardless of the format let us think for awhile about 2020. Which contender would produce a different type of championship match or are we simply at the end of the line for classical matches? Carlsen said himself that he doesn't believe that he is playing at the same level of two years ago and that Caruana is already his equal. So who (besides Caruana) will be in position to wrest the mantle from Carlsen?
Who's Next?
A few years back, Anish Giri wrote a small book titled, After Magnus. He profiled ten players who could possibly dethrone Magnus Carlsen. While Caruana was mentioned, Karjakin was not. Both have had one shot so far. Anand, also mentioned, had two chances. Other listees such as Wei Yi and Richard Rapport seems to have slowed… or slowing. Levon Aronian and Hikaru Nakamura are still looking for a chance. Players like Alexander Grishchuk and Peter Svidler are still battling, but perhaps Russia's best chance is for the next generation players.
It would appear that three conditions will have to take place to make the match more intriguing…
The next challenger will have to have superb all-around skills in the different disciplines (classical/rapid/blitz) to challenge Carlsen. Caruana struggled in keeping pace in the rapid tiebreaks and lost three consecutive rapid games although all were competitive. There were many predictions that proved to be prescient… the fact that Caruana had to win in the classical if there was to be a good chance of winning. Nakamura took flack for his prediction that Carlsen is 90% chance to win if the match went into tiebreaks, but he proved to be accurate.
The match should be lengthened to allow for more risk, but… would Carlsen or Caruana take any more risks than they did? Doubtful. The games were unbalanced with a variety of openings including Sveshnikovs, Rossolimo Gambits and other sharp lines with deep preparation. Perhaps there should be a Fischer Random component which would solve the element of over-preparation and show who has the best understanding of chess positions. Fischer Random is regular chess with the exception that 1/960 chess positions would be featured without players benefiting from centuries of theory and games. Incidentally, Magnus Carlsen is unofficial World Champion in Fischer Random as well. If rapid/blitz is to be used, make it part of the main match instead of as a tiebreaker. For example, they could play a combination of classical, Fischer Random, rapid and blitz games. Purists will scoff as this notion and fear that it may create the bonfire that Nigel Short is mentioning. In my view, lengthening the match is necessary, but not sufficient.
While I don't agree with suggestions such as having the tiebreaker before the match or having the players force a decisive result by playing the next game with time remaining from previous game, I do believe there has to be a way to raise the stakes from the beginning. Not long ago, when the match was drawn, the champion kept the crown. That also seems inadequate as we saw with Kramnik-Leko in 2004. In this 14-game match, Leko played cautiously after getting a one-point lead and lost the last game allowing Kramnik to retain the title with a 7-7 tie. We could go back to the match having "first win x number of games" but there has to be another element to raise the stakes in each game. If there is still the opinion that white has an advantage with the first move, there could also be a tiebreak penalty for drawing with white. Black would essentially get a type of "draw odds" each game. Obviously if all the games are drawn, it will not solve the issue, but it puts more pressure on the white game.
The Debate Continues
We have a year to figure out a more suitable format for determining the world champion. Lengthening the match is necessary, but not sufficient. Arkady Dvorkovich and his Executive Board have already made changes to the women's cycle and there is certainly a discussion about the Carlsen-Caruana drawfest. The attraction of corporate sponsorship is also a factor.
Fabiano Caruana in Game 4 at the World Chess Championships in London.
Photo by World Chess.
As far as who will challenge Carlsen in 2020, the format will make a big difference in which player would have the best chance. Fabiano Caruana will certainly be looking to redeem himself and will most likely put more effort into faster time controls. All-around players like Levon Aronian would be an interesting opponent for Carlsen.
Aronian is dynamic, courageous and can be deadly in faster time controls. Shakhriyar Mamedyarov has similar traits, but tends to take more risks than a match would necessitate. Hikaru Nakamura and his Red Bull sponsor would create a media bonanza. Apart from the Carlsen's domination of Nakamura in classical tournaments, a match would have a different character… and much closer than anticipated!
Will Hikaru Nakamura or Levon Aronian finally get their chance?
Photo by Eteri Kublashvili.
Maxime Vachier-Lagrave could also be an interesting choice with his enterprising, theoretical style, but what about Ding Liren? The Chinese has a very solid style and would have immense government support reminiscent of the old Soviet days.
Giri stated,
… I know quite a bit about the Chinese grandmasters, and Ding Liren is definitely one of the most talented and hardworking ones. He is slowly expanding his narrow opening repertoire, and with the white pieces he has always been quite deadly.
Indeed. Combine that with his string of 100 unbeaten games, he may be the type to capitalize off of Carlsen's occasional lapse. If you're looking for a prediction here (one year out), sorry to disappoint. Let's see what developments occur with the format and maybe we will make a more definitive assessment.
It could be someone we least expect, but mostly likely will be someone seasoned and strong in various time formats. One thing for certain, we will see some changes in the next match and it could set the stage for how championships are played for decades.