Ju Wenjun to face Kateryna Lagno in WWC final!
2018 Women's World Chess Championship
November 8th-28th, 2018 (Khanty-Mansiysk, Russia)


FINAL (Ju Wenjun vs. Kateryna Lagno)

Flag

1

2

3

4

5

6

7

8

9

10

11

pts.

Ju

0

½

½

1

½

½

1

1

–

–

–

4½

Lagno

1

½

½

0

½

½

0

0

–

–

–

2½

Drum Coverage
The final for the Women's World Chess Championship comes down to two players… defending champion Ju Wenjun of China (2568) and challenger Kateryna Lagno of Russia (2556). Both have traveled very different paths to get to this point. Ju has had a very smooth tournament truly demonstrating her superiority over the field. They both defeated Mariya Muzychuk and Alexandra Kosteniuk respectively. Both received medals and qualified for the new Candidates tournament in 2019.
Ju has not had to play a tiebreak the entire tournament while Lagno has to endure three tiebreaks including a brutal nine-game match with Natalija Pogonina. Interestingly enough, the same scenario occurred last year when Anna Muzychuk waltzed through the field and was the higher rated only to lose to Tan Zhongyi. Ju will be the heavy favorite to keep her title after winning it only six months ago.
Tomorrow is a rest day, but Monday both players will settle in for a thrilling match. No one will doubt that Lagno will be ready, but what will be interesting is how much stamina she will have left. Ju will certainly try to play her typically long positional games to tire her. The final is four classical games followed by the tiebreaks.
Kateryna Lagno from Russia becomes the second finalist of #wwcc2018 in Khanty-Mansiysk. The final games of the world championship will take place on November'19-23. #ugrachess pic.twitter.com/vEEMMV54Gk

— chessugra (@ugrachess) November 17, 2018
All Games from 2018 Women's Chess Championship
Official Site: https://ugra2018.fide.com/
Live: https://ugra2018.fide.com/live/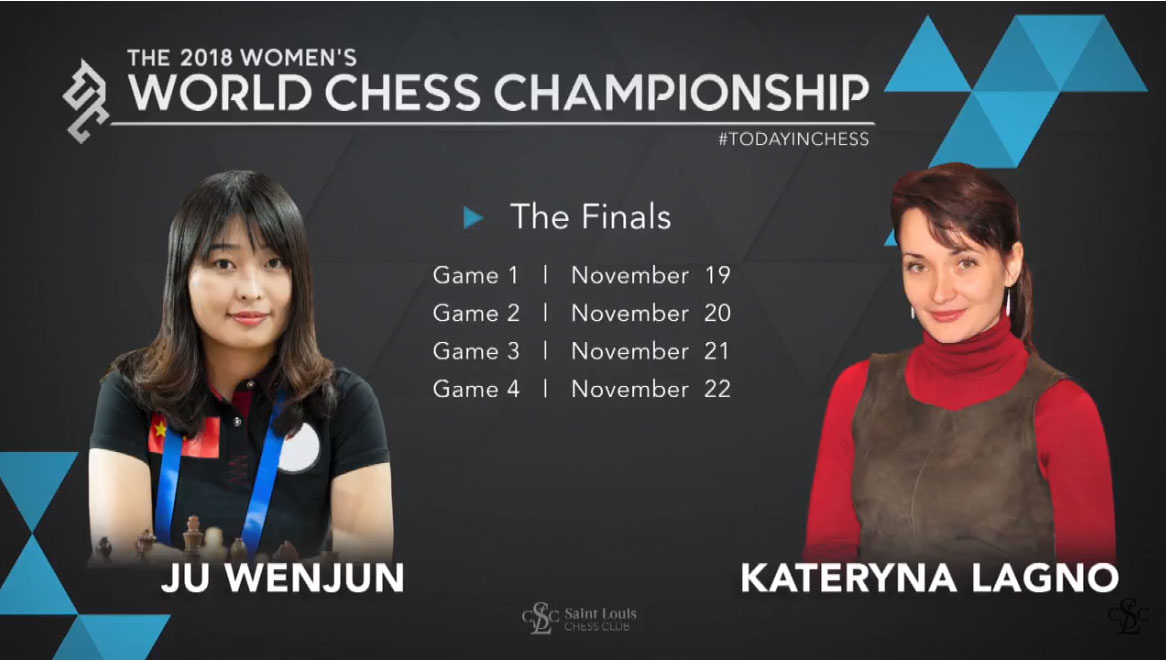 Image from CCSCSL/Spectrum Studios