Webster's New York chess crew makes history
Four young men from New York have continued their ambitions in chess at Webster University under the tutelage of Grandmaster Susan Polgar and Paul Truong. Shawn Swindell was the first to enter Webster and he also plays on the basketball team. He was followed by FIDE Masters Joshua Colas and Justus Williams last year who both secured scholarships. National Master James Black Jr. enrolled this past Fall to make the quartet complete.
Webster University "C"
Shawn Swindell, James Black, Jr., Josh Colas and Justus Williams
at 2017 Pan-Am Intercollegiate in Columbus, Ohio
Photo by Paul Truong
The four have known each other since they were just entering the chess scene over a decade ago. All are from New York: Shawn and James (Brooklyn), Justus (Bronx) and Josh (White Plains). Colas, Williams, and Black were the subjects of numerous articles since becoming National Master before turning 13 years old. Excitement was high when the three masters had committed to Webster.
---
Their pending admissions open a new chapter in the history of chess as it relates to the African Diaspora and provides a path for their evolution, not only as aspiring Grandmasters but as mature men with a purpose in life.
~From 2016 article, "African-American Chess Masters Making Move to Next Level"
---
In what has been the subject of many studies, young Black men have struggled in many of the social indicators denoting upward mobility. While all will most likely trod different paths to success, these four men are now together at Webster pursuing aspiration in both chess and in higher education. It is a story we don't hear often enough, especially from America's major urban areas.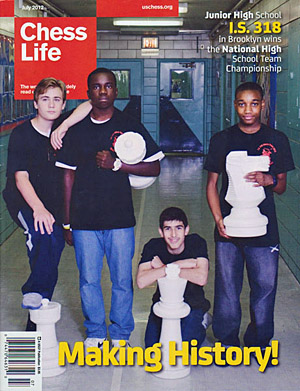 Before enrolling all had storied careers in scholastic chess with numerous national championships between them. What is more important is the support they are giving each other in a world where Black players have lower levels of participation, comparatively speaking. There have always been challenges in this regard, and perhaps this is what makes the story so intriguing.
Of course, the chances of each accomplishing their goals are a lot greater with the support they provide each other. Given all of the negative and "gangsta" images of Black men in the media, it may be improbable to some that these men can be chess impresarios and work toward degrees as well. Societal stereotypes still prevail. In one of the interviews, Josh and James have reflected on these awkward situations.
"It's actually pretty funny for me," Black Jr. said. "When I tell people I play chess, a lot of people tend to be like, 'wow, you don't look like the type.' For me, I'm into chess, but I'm also into fashion and things like that. I'm into a lot of stuff. I feel like there's not a real appearance for a typical chess player. You just do what you do."

"I would say it doesn't matter how you look, honestly," Colas added. "It's all what's in the brain. I tell people a hobo could be better than you in chess. You never know." (link)
Chair and President Meg Hauge of Chess Challenge hosts James Black, Jr., Josh Colas and Justus Williams at the 2016 event in Washington, DC.
Such comments are still quite common. While they may be innocent "as-a-matter-of-fact" comments, they can be unsettling when they are offered on a regular basis. That's not counting the snarky and mean-spirited comments in social media. Chess has its own image issues despite the game's changing face over the past 20 years. The game is a lot younger, more diverse, and a lot more dynamic than the outdated "egghead" public perception in which it is painted.
Over the past weekend, the four students were on the same team for the first time representing the Webster Gorlocks at the 2017 Pan-Am Intercollegiate. It wouldn't have mattered what their result was, but there was a sense of pride that we had in seeing the photograph of them representing excellence.
(L-R) Shawn Swindell, James Black, Jr., Josh Colas and Justus Williams set for action at 2017 Pan-Am Intercollegiate in Columbus, Ohio. GM Susan Polgar (standing) is part of the historic assembly of the "Young Lions" from New York. Photo by Paul Truong
Even though our C & D team lost to two of the top teams (2650 and 2560 average rating), our two board 1 players, Justus Williams defeated young star GM Kamil Dragun (2700+) and Aaron Grabinsky defeated GM Denis Kadric (2600). @USChess @websteru @FIDE_chess @EuropeEchecs @chessdom pic.twitter.com/iTJWhyo3JR

— Susan Polgar (@SusanPolgar) December 28, 2017
It is well known that when Black students (regardless of nationality) are at predominantly-White institutions (PWIs), it may be hard for others to comprehend the sense of isolation. In general, there are not always the proper support mechanisms in place to help students cope with tension that students sometimes feel when they are of a ethnic, national or religious minority. Sometimes all one has is the camaraderie of friends.
It is certainly difficult being a trailblazer. Regardless of what happens from henceforth, the four young men may come to understand the historic step they took. Chess has been able to provide them with an opportunity to seek their individual ambitions and to say they have once played on the same team. Perhaps they will one day realize the examples they are setting for generations to come!