Chicago-St. Louis rivalry on chessboard!
IM Angelo Young will lead the Blitzers
Photo by Nathan Kelly
Chicago Chess Club has been keen on igniting the chess scene with spirited cage matches. However, the club is back at locking horns in a city vs. city battle and there is no matchup more fierce than Chicago-St. Louis. The two cities will square off on Saturday, December 2nd at the St. Louis Chess Club. It will be the second match held at the venue since Chicago defeated Memphis 130-70. The barnstorming Chicago team also traveled to Cleveland and crushed the Heavy Hitters 293-157.
Chicago Chess Blitzers promoter Nathan Kelly received the St. Louis roster yesterday and it appears the match will be a close one on paper. IM Angelo Young (2431) will be coming off of his 26.5/30 score to lead the Blitzers. The team will have a number of new faces in the lineup including IM Viswhnuvardhan Arjun (2300) and FM Gauri Shankar (2297). Dirtan Zekaj (2203), Aakaash Meduri (2111) and Michael Auger (2277) are also making debuts for Chitown. They will field vets in Daniel X Jones (2237), Remi Adekola (2214) and Tom Murphy (2211) helped Chicago in their rout of Cleveland.
FM Aaron Grabinsky
For St. Louis the will be led by Webster University's FM Aaron Grabinsky (2398), IM Vitaly Niemer (2394) and NM Nicky Rosenthal (2379). NM Julian Proleiko (2283) came to the Chicago Chess Club and won a cage match in convincing style over NM Kay Kaulule. Kaulule, currently in Zambia, will not be with the Blitzers this weekend.
FM Doug Eckert is a St. Louis vet who has competed in the 2009 U.S. Chess Championship and has been a mainstay in St. Louis area chess. This will be the first match for St. Louis and it will be interesting to see if this mish-mash of players will be able to match up against a battle-tested Chicago team. Follow the action on Chicago Chess Blitzers (Facebook).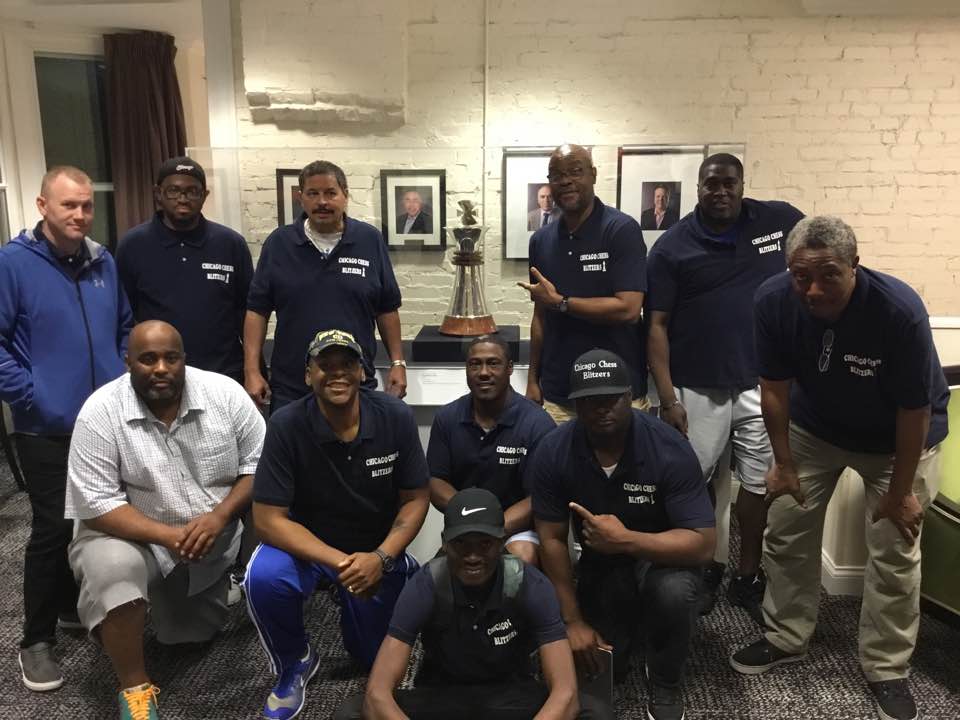 Charter members of the Chicago Chess Blitzers in St. Louis after victory against Memphis. The team will field a number of new players to battle arch rival city. Should be exciting! Photo by Nathan Kelly
"Best in the Midwest" Blitz Battle
Chicago vs. St. Louis


CHICAGO
#
Player
Blitz
Team

Flag

pts./24

1
FM Gauri Shankar
2297
CHI

21.5

2
IM Angelo Young
2431
CHI

18.5

3
IM Vishnuvardhan Arjun
2300
CHI

17.0

4
NM Michael Auger
2277
CHI

17.0

5
Dritan Zekaj
2203
CHI

15.5

6
NM Aakaash Meduri
2111
CHI

14.5

7
Daniel X Jones
2234
CHI

12.5

8
Remi Adekola
2214
CHI

12.0

9
Tom Murphy
2211
CHI

10.0

10
Sedrick Prude
1975
CHI

6.5

11
Andrew Bell
1923
CHI

5.0

12
Stephen Jennings
1962
CHI

4.0

154.0

ST. LOUIS
#
Player
Blitz
Team

Flag

pts./24

1
FM Aaron Grabinsky
2398
STL

18.5

2
IM Vitaly Neimar
2394
STL

18.5

3
NM Nicholas Rosenthal
2379
STL

15.5

4
NM Julian Proleiko
2283
STL

15.0

5
NM Nick Karlow
2231
STL

13.0

6
Jacob Wilkins
1951
STL

10.5

7
Isaiah Gadson
2055
STL

9.0

8
FM Doug Eckert
2196
STL

8.5

9
Alex Marler
2040
STL

8.0

10
NM Andrew Witte
2167
STL

7.5

11
Kaleb Gosdin
1963
STL

5.5/8

12
Dritan Nerhati
1993
STL

2.5/16

13
Dwight Beasley
1928
STL

2.0

134.0

Score: Chicago 154 – St. Louis 134