Kasparov's return ignites, but Aronian shines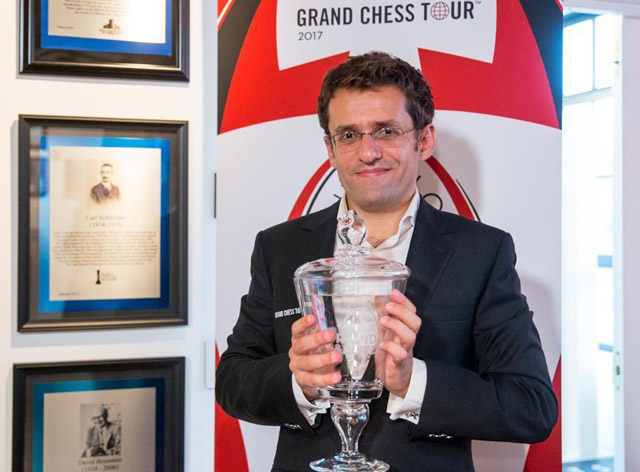 Levon Aronian holding the cup of the inaugural St. Louis Rapid and Blitz.
Photo by Maria Emelianova (chess.com)
Garry Kasparov made at long-awaited return occurred in St. Louis as part of the 2017 Grand Prix Tour. Media organizations around the world were excited and fans were buzzing in social media. In the end, Kasparov contended that it has become too difficult to handle the pressure of competitive chess. "Really too much pressure … Maybe if we can eliminate opening theory, then I can play. Otherwise, you have to remember everything and they have so much practice. It's a huge disadvantage," he asserted. Here is his segment with Maurice Ashley where he discusses his performance and what he sought in making his return.
Interesting insights!
Video by CCSCSL
However, he did create moments of nostalgia with some shining moments. In fact, his Najdorf against Cuba's Leinier Dominguez was a textbook treatment of how black gets it's famous reputation as a fighting defense. There was also his King's Gambit against Sergey Karjakin and the 9.h4!? novelty against Levon Aronian, Hikaru Nakamura and Viswanathan Anand.
Play h4 whenever you can! #STLRapidBlitz #GrandChessTour pic.twitter.com/xFlSTVmQdJ

— Grand Chess Tour (@GrandChessTour) August 17, 2017
It was in fact Levon Aronian who (during the Sinquefield Cup) went on record to say that, "You have to play h4 whenever you can!" As noted, Kasparov actually lost in the h4 novelty game against Aronian, but scored a crushing victory against Hikaru Nakamura with the same line in the blitz segment. The ending this game was novel because we often think that endgames with opposite-colored bishops are drawn. More on this game later.
Garry Kasparov essaying his novel play against Hikaru Nakamura in round 13 of the 2017 St. Louis Rapid & Blitz. Photo by Daaim Shabazz
In his book Deep Thinking, Kasparov mentioned that he didn't like the nickname "The Beast from Baku" when he was playing, but he earned such plaudits several times. Nakamura commented that Kasparov had a "decent showing." He also showed he still had fresh ideas. However, other players were much sharper and faster! Kasparov bungled a number of good positions and his time whittled down.
While Kasparov brought a lot of excitement, the star of the show was Aronian whose personable demeanor has won a legion of fans worldwide. Rebounding from a disappointing 2016 season, he is again enjoying chess after winning the strong 2017 Altibox Norway Chess event in Stavanger. In a very poignant interview in New in Chess, he talks about some of his recent emotions in chess including a period of listlessness from which he had to emerge. He found solace and comfort in his fiance (Arianne Caoli), friends and decided to focus on his physical state.
I decided that I had to concentrate more on my physical state, I always hae to be in top shape. I worked on my running technique, worked on my stamina. And a friend of mine who is helping me with my chess and also managing me, he said you train too much. So I didn't do anything for one month, just hung out with my friend. And also Arianne and some of my other friends helped me understand where I was going.
Certainly Aronian righted the ship and played with a bit of motivation in this tournament. He won praise for his scintillating win over David Navara with a blistering attack following 22.Rxf6! Watch!
As over 1,000,000 viewers would watch throughout the week, there were some very interesting games involving twists and turns. There were of course the heartaches and the games during the rapid featured time scrambles and the inevitable blunder. Nakamura anguishes over his only loss in the rapid segment.
.@GMHikaru is not sure how that last one went wrong. ????#STLRapidBlitz#GrandChessTour pic.twitter.com/FOecK6a3kU

— Chess.com (@chesscom) August 14, 2017
Both Nakamura and Caruana chased Aronian throughout and Ian Nepomniachtchi lost momentum due to a number of "spoilers." In fact Le Quang Liem beat all three! Even tailender David Navara scored three wins and prevented aspirants from gaining. One of the most memorable moments in the tournament was Kasparov regrettable loss to Navara. The former champion had developed a completely dominating position and it appeared that Kasparov would be getting the point. However, a drastic turnaround occurred and become a nightmare for the champion. Mike Klein of chess.com annotates.
Kasparov tweeted about the game and mentioned it several times throughout. The devastating loss affected him in a way in which it was difficult for him to fully focus on the games ahead and he mentioned that he lost sleep. After three days of rapid and two days of blitz, one would think that fatigue would set in but the games were very exciting and the tournament result was in doubt until the last day. Aronian emerged on top after the rapid segment with 12 points (+5-2=2) with two points for a win and one for a draw. Caruana and Nakamura were holding him close.
For the wild and crazy blitz segment, there was not shining star. In fact, Sergey Karjakin scorched the filed on the first day with 8/9 despite almost flagging against Kasparov a few times. That game was a King's Gambit which started 1.e4 e5 2.f4 exf4 3.Nc3 Qh4+ 4.Ke2 Qd8!? Was Steinitz's ghost in the room?
And now Kasparov is playing the King's Gambit like if it is the 18th century!!#STLRapidBlitz pic.twitter.com/fSQEPX2LWf

— David Llada ? (@davidllada) August 17, 2017
The game ended in a fierce time scramble and Kasparov was able to get in a tactical sequence and with little time to find the winning response, they agree to a three-fold repetition draw. Aronian still held the lead by two points and included a 147-move marathon with Navara. Nakamura stayed close after closing the day with a swindle against Caruana. Here was Aronian's impressions after the first day.
Video by chess.com (Mike Klein)
Le Quang Liem arriving at playing hall with a hulking figure in the background. Who is this man?
That man is John Urschel a retired lineman with Balitmore Ravens who is currently pursuing a doctorate in mathematics. He is seen here chatting with chess.com's Mike Klein and Canada's Yuanling Yuan.
The viewing area was like being in a subway car after work.
Photos by Daaim Shabazz
On the second day there was the question whether the two-point gap could be closed in such short order. Karjakin actually closed the gap to one point after Aronian went winless in first two games. Perhaps it was the late night bughouse sessions that were coming to bear. According to the chess.com report, Aronian stated that he only got four hours of sleep. Perhaps reality kicked in as Karjakin and other pursuers appeared in the rear-view mirror.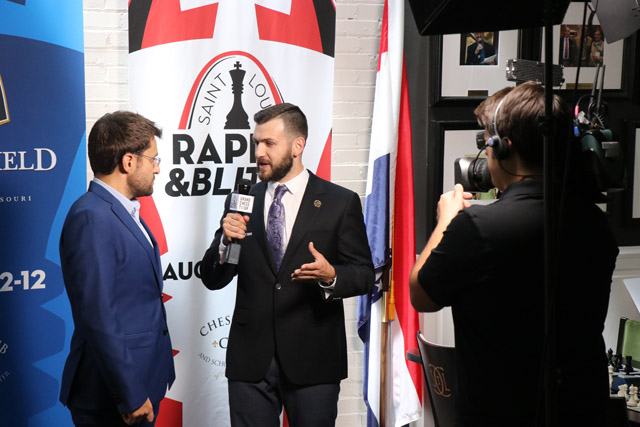 Levon Aronian with GM Cristian Chirila
Photo by Daaim Shabazz
Interestingly, enough Kasparov began to round into form after losing the first game of the day. He then went undefeated including consecutive wins over Nakamura and Caruana. Navara also played the "spoiler" role by beating both Karjakin and Aronian. In fact, a number of instructive ending took place during the blitz including the Navara-Aronian game. In what seemed to be a drawn ending, Navara marched his white king from h2 to g7 and weakened the pawns.
After 32…Re1+, the game is heading toward a draw, but the white king raised his own sword and charged the enemy. In blitz, moves happen quickly and mistakes often come in rapid succession. The black king played 36…Ke6 allowing the white king to attack with Kg5-h6-g7 to weaken the pawns and with the rook pick them off. Truly instructive!
Fortunately for Aronian, the loss didn't supplant him from the lead, Nakamura couldn't keep the pace dropping games to Kasparov and Dominguez. Kasparov-Nakamura was actually a very interesting endgame lesson involving opposite-colored bishops. Draw? Nyet!
Garry Kasparov cracking his knuckles in the final stages of his win.
Photo by Maria Emelianova
Meanwhile, Aronian won a 4 vs 3 R+P ending that he lost earlier. This win in round 15 moved his lead to 2.5 points. Kasparov hadn't lost since the first game of the day and after beating Nakamura, delivered a picturesque mate against Fabiano Caruana.
Epic mating attack by @Kasparov63!#STLRapidBlitz pic.twitter.com/qfVlNTn4RF

— US Chess (@USChess) August 18, 2017
Lots of thrills and spills!
While Aronian had clinched victory in the penultimate round, Kasparov settled into his chair to face Cuban maestro Leinier (two i's) Dominguez. He would play an absolutely beautiful Najdorf that will be the subject of study for many years. Despite being rather aloof and distant from his fans in St. Louis, he left with us one thrilling chapter of his career.
Meanwhile the FIDE World Cup will begin September 2nd in Tbilisi, Georgia with many of the Grand Tour participants competing. While Aronian earned perhaps an acceptable pre-wedding gift, it was Kasparov who enthralled the fans with his trademark expressions, his energy and his passion.
Final Interview with Garry Kasparov
Video by CCSCSL