2017 CARIFTA Championships (Kingston, Jamaica)
PRESS RELEASE
FOR IMMEDIATE RELEASE
FOR THE JAMAICA CHESS FEDERATION
18 APRIL 2017
JAMAICA WINS 2017 CARIFTA CHESS CHAMPIONSHIPS
David Thomas (Under-12 Champion)

Kingston, Jamaica – 18 April 2017: After seven rounds of play in the 2017 CARIFTA Chess Championships, Jamaica regained the team title which they last won in 2013, when the event was first staged in Jamaica.
In the Under 12 (Absolute) Category, the number one seed Jamaica's Candidate Master (CM) David Thomas took the Under 12 title, after defeating fellow Jamaican Coy Wilson in the final round to top the standings with 6.5 points from seven games.
CM Leigh Sandiford of Barbados got past Jamaica's Darren McKennis to take second place in the Under 12 Category on tiebreak over Jamaica's Nathan Walsh, as both players ended on 6 points from their seven games. Walsh secured his 6 points with a final round win over compatriot Mikhail Bond.
Johmoi Blake (Under-12 Girls Champion)
In the Under 12 Girls Category, Jamaica's Johmoi Blake was declared the champion on tiebreak over Vanessa Greenidge of Barbados, after both players ended tied on 6 points. Third place went to Trinidad and Tobago's Zara La Fleur who ended on 5.5 points.
Jamaica's Joshua Christie had to settle for silver in the Under 16 (Absolute) Category after losing to the defending champion, Alan-Safar Ramoutar of Trinidad and Tobago in round 6. At the end of round 7, both players were tied on 6 points, however Ramoutar was declared the Champion on tiebreak, having defeated Christie in their head-to-head battle. Third place was copped by Jamaica's Jhustice-Dimonte McDonald who secured 5.5 points from his seven games.
Alan-Safar Ramoutar, Trinidad & Tobago
(Under-16 Absolute Champion)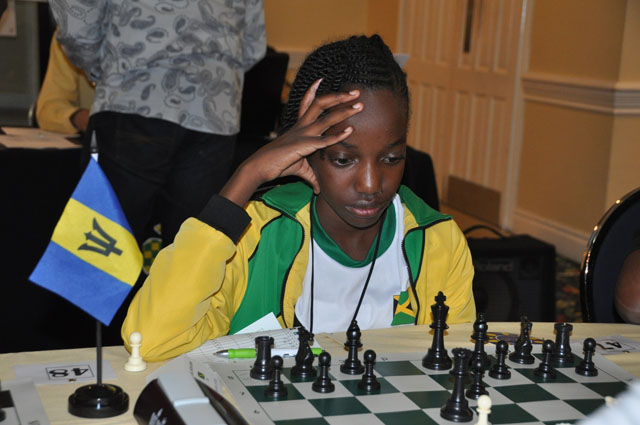 Adani Clarke, Jamaica
(Under-16 Absolute Champion)
In the Under 16 Girls Category, Jamaica's Woman Candidate Master (WCM) Adani Clarke reigned supreme after defeating Pritika Kandamaran of Barbados to end alone atop the standings with 6 points. Despite suffering two defeats on day 3 of the Championships, top seed Taqesyah Marcos of Curacao rallied on the final day to secure two wins and second place behind Clarke. Third place was shared by Jamaicans Ashanti Blackwood and Aulani Kidd, who each ended on 4.5 points.
Sheanel Gardener, Jamaica
(Under-20 Girls Champion)
In the Under 20 Girls Category, top seed Sheanel Gardener of Jamaica recovered from a poor start to take the overall title with 5.5 points, after securing back-to-back victories against Tian Henry and Deidre-Ann Johnson in her two final games. Second place went to another Jamaican Akelia Donaldson on tiebreak over Nickaylah Curwin and Gabriela Cumberbatch of Barbados, after the three players ended tied on 4.5 points each.
Orlando Husbands, Barbados
(Under-20 Champion)

Despite good showings from Jamaica's top Under 20 players, the coveted Under 20 (Absolute) Category was won for the third year in a row by Barbadian FIDE Master Orlando Husbands, who ended on 6.5 points from 7 games. Second place went to the number 2 seed Barbadian FIDE Master Yu Tien Poon who was also unbeaten with 6 points. Third place was shared by Jamaica's Malik Curriah and Aruba's Jomar Benschop after each player ended on 5 points.
After the overall points were tallied, Jamaica was declared the Champions at the awards ceremony which followed the final round. Second place went to Barbados and third was Trinidad and Tobago.
Ian Wilkinson accepts team trophy for Jamaican team!
The next CARIFTA Chess Championships are scheduled to take place next year in Suriname.
The tournament was sponsored by the Knutsford Court Hotel, the Sports Development Foundation, the Kasparov Chess Foundation, the Magnificent Chess Foundation, JAMSPORTS and the Ministry of Tourism, Burger King, Craft Wicker and Things, the RJR Group and WATA.
~Ian Wilkinson, President Jamaica Chess Federation