Elliott wins Red Scorpion Blitz Battle!



There was lots of trash talk leading up to the Red Scorpion Blitz tournament with pundits predicting who would make it out of the four groups of four. The tournament was structured with World Cup brackets. Sixteen players were vying for glory and there was the Group of Death" featuring FM Shane Matthews, FM Warren Elliott, WIM Deborah Richards-Porter and Lucien Rowe. The first three are legendary mainstays in Jamaican chess while Rowe was looking for the upset.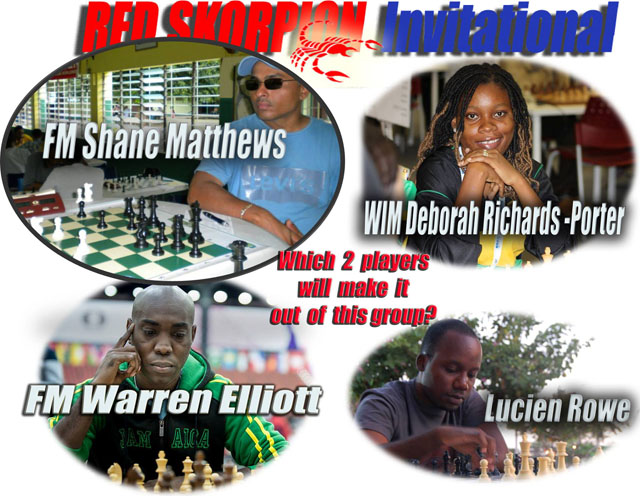 The brackets featured a number of veterans and Jamaican brass including former champion Damion Davy and current national champion Shreyas Smith. National Master Dr. Kevin Brown was making a comeback after a long hiatus from the Jamaican scene. He is an alumnus of the Jamaican Olympiad teams (Novi Sad, 1990 and Manila, 1992). For a long time, he had been the only Jamaican to defeat a Grandmaster. Surprisingly, he showed decent form.
Each group would be a double round robin, but there was an interesting system of cross-pairings between brackets. After Matthews (A1) won his game against Deborah Richards-Porter, he would face runner-up Kevin Brown (B2). Meanwhile Elliott (A2) would face Myers (B1). Both Matthews and Elliott would advance into the semifinals.
In the other brackets, Damion Davy (C1) won the group and would face Malaku Lorne (D2) in a heavyweight clash. Shreyas Smith (D1) would face off with Daren Wisdom (C2). Davy and Smith advanced for the other semifinal match. Odane Hall and Peter Thomas did not show in Group B. Thus, the four remaining players would have amongst them nineteen national titles (Elliott, 8; Matthews, 7; Davy, 3; Smith, 1).
Elliott got the edge against Matthews in some spirited battles while Smith bested Davy. The eight-time champion then showed the young champion that he had not lost his fangs and could still hunt well. Smith would have to weight another day to prove his emerging status and King of Jamaica.