Chess finds its way to Gambian village



While the chess world has been occupied with world championship tournaments and elite players, there are many stories unfolding involving the ancient board game. There are different aspects of chess… the sporting aspect, the scientific aspect and the social aspect.
The latter is found in stories such as "Queen of Katwe," which was based on the true story of Phiona Mutesi. These stories are often untold or overlooked because they don't contain a sporting aspect in a high-browed game obsessed with ratings, titles and results. However, in a recent story in the McAlester Times, we learn that there are other redeeming qualities that make chess attractive.
---
"Chess… it can be an equalizing force."
~Zac Smith
---
Zac Smith had graduated from University of Oklahoma and decided to join the Peace Corps, a U.S. government organization designed to promote humanitarian goodwill. One of the things Smith decided to take along was a chess set. His village of Kappa in rural Gambia had no electricity and no running water and was "unimaginably divorced from global culture," said Smith.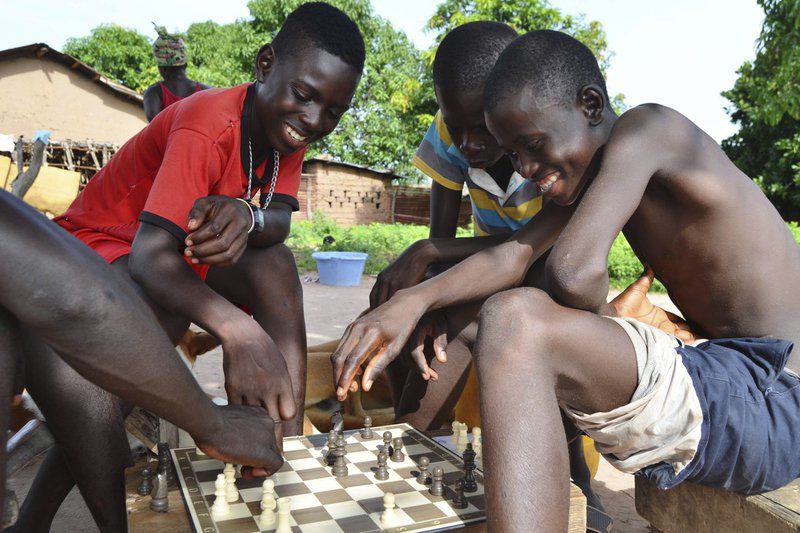 Abdou Badjie (right), plays chess with fellow Gambians in Kappa village.
Photo by David Dishman
When he took out his set and began to show the children the board game with odd-shaped pieces, they took an interest. He learned that chess empowered people in the village. "Chess… it can be an equalizing force. The game doesn't care if your'e old or young or male or female. I think it can provide an arena where boys and girls can compete equally in the same arena."
Smith found a willing protege in Abdou Badjie. The 15-year old had more curiosity and Smith had set him up with a coach in St. Louis. The lessons were conducted via Skype and gave the young Gambian exposure to computers and a look at the outside world. Again… many of the lessons here are similar to Phiona Mutesi's. Smith's two-year tenure in Kappa will wind down in August 2017 and hopefully the tradition will continue.