After #worldchess2016, hanging out in St. Louis!
The Gateway Arch
All photos by Daaim Shabazz (unless otherwise stated)
I have been to St. Louis, Missouri many times. In fact, while I was a child, my parents would drive to East St. Louis, Illinois where their parents grew up. It was on this trip that we rode on Route 66 and saw the "Arch" as the indication that we were close to my maternal great-grandmother's house on 17th and Broadway. We called her "Big Momma."
E. St. Louis is a small, impoverished town across the bridge from St. Louis once known for factories, traditions from the deep south (turpentine and sugar), talented musicians and athletes. It survived a race riot in July 1917 during which my great-aunt stated that her uncle came in the house with "boots full of blood."
Nevertheless, I used to enjoy my time at relatives' homes in the lively town. Those were great times, but things changed. Major business enterprises fled and the economic stability collapsed. Abandoned factories proliferate the desolate landscape leaving only their ravaged shells and pollution from hazardous materials. Asthma and other respiratory problems devastated the town including my mother's side of the family. Destitution grips the town to this day.
Abandoned factory right next to where my "Big Momma's" house once stood on 17th and Broadway in E. St. Louis. I used to look out the window at the factory and would hear the whistle blow four times a day. The company made cardboard boxes. Photo from mapio.net
In most recent years, trips to St. Louis has been to cover a number of events including the first three Sinquefield Cups and a couple of U.S. Championships. Chess has been a double reason to visit the area. Before I write any further about St. Louis, let me say a few things about the New York trip.

I drove two hours from Tallahassee, Florida to Jacksonville, Florida to get a flight to New York to attend the World Chess Championship. I planned my flight so that I was traveling on the rest days of the match. I have always enjoyed New York and once spent a summer there working at Time-Warner for Sport Illustrated magazine.
Queensborough Bridge
Does anyone know the name of this building?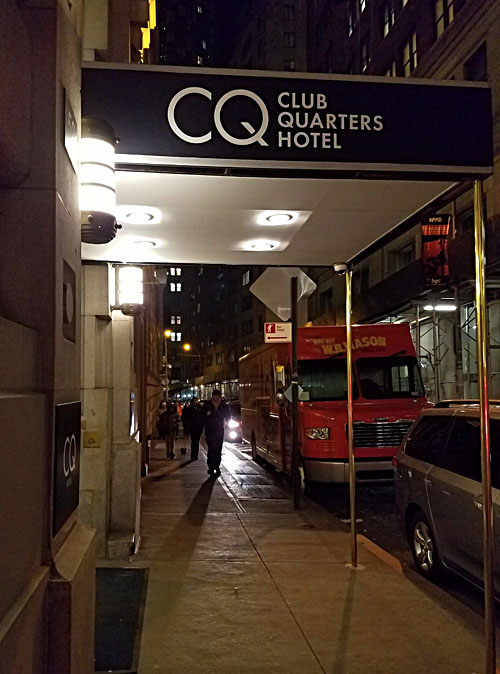 Club Quarters Hotel in Wall Street district
During the match, I stayed in Club Quarters Wall Street which was within walking distance of the Fulton Market. I was unable to secure my press credentials for Game #9, but took pictures of the venue, did an interview with IM Kassa Korley and went back to the room to watch the match. Game #9 was drawn. The next day, I headed to the venue with ticket in hand. I met Alex Velasquez who put me in touch with Andrew Murray-Watson and my media credentials were cleared for Game #10.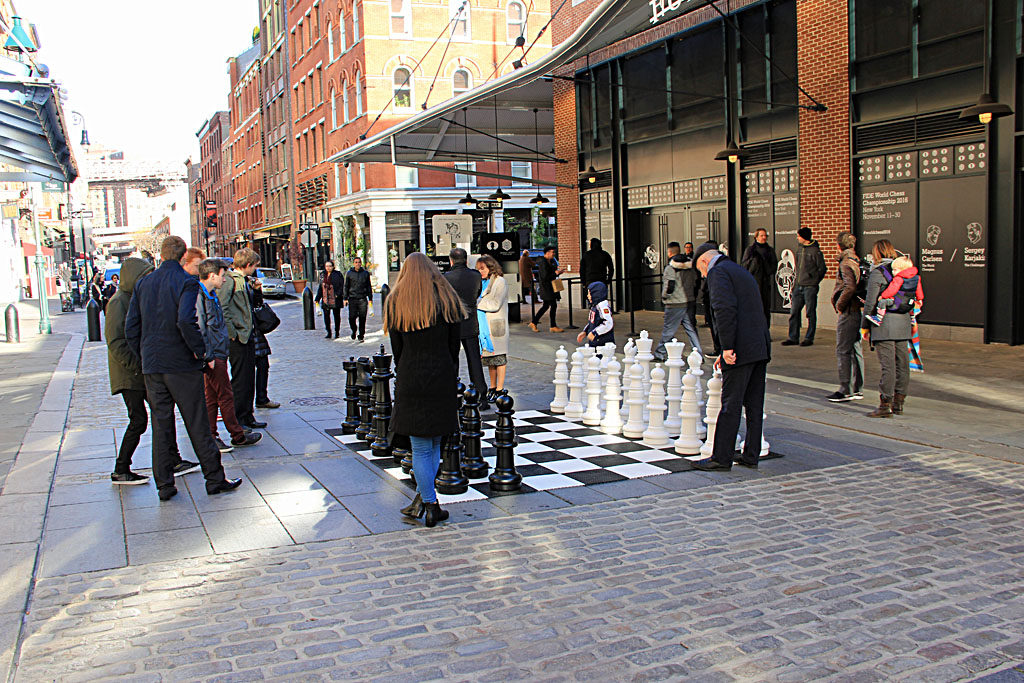 @thechessdrum IM Kassa Korley at #worldchess2016. Conducted a short interview here. https://t.co/7Tyh43QJKf #CarlsenKarjakin pic.twitter.com/1TqkAWqIYT

— Daaim Shabazz (@thechessdrum) November 23, 2016
There was intense excitement in the venue as it was as many had spent the holiday at the match chomping on sandwiches and potato chips while taking in the action. It would be an epic day as it would be Carlsen's only win during the classical games. I enjoyed being in the media room as you can see the enthusiasm in the room with journalists banging away on their keyboards. Leontxo Garcia was hunched over and an obvious contingent of Norwegian and Russian journalists were in the room.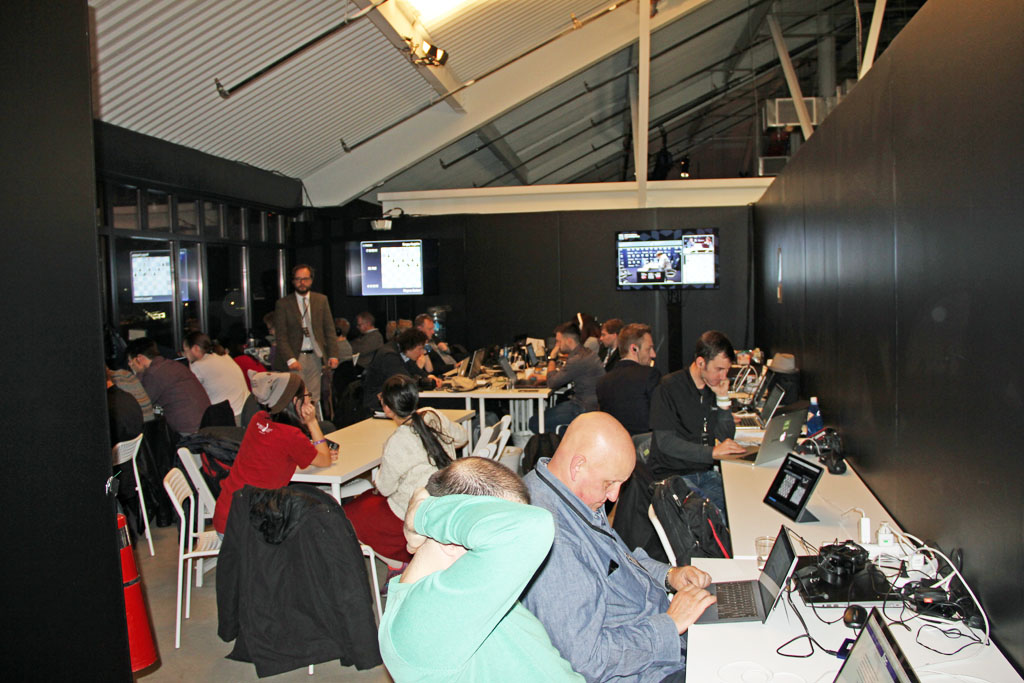 Journalists from around the world were covering the match.
Peter Doggers of chess.com was shuttling between the press room and the commentary booth providing viewers with unique insights. Mike Klein briefed me on the press room and Grandmaster turned-journalists like Cristian Chirila and Alejandro Ramirez were representing U.S. Chess and ChessBase. I had a chat with Dirk Jan ten Geuzendam of New in Chess and Lennart Ootes who has done work with chess24 among other organizations. Good company!
World Chess Championship (New York)
CLICK to see larger images. Hover to get descriptions.
I met Zambian Grandmaster Amon Simutowe who is working in New York and we went for a quick drink at a fast food joint, one of the few places open on the holiday. As we analyzed the position on our phones, it was clear that Carlsen was poised to win. I told Amon I had to get back to see the press conference in case the game finished in the next few moves. I got back to the venue just as the press conference was about to start.
As I was coming up the escalator, I heard a loud cheers, raucous applause and scrambled to get my camera ready. My battery was dead. I hurried to the press room to get my spare battery. When I knifed through the crowd to get near the press section, I saw a relieved Carlsen beaming and in a great mood. However, after the press conference, he bolted toward the exit. Tomorrow would be a rest day.
Press conference after Carlsen's win in the 10th game of the match.
After spending a few days in New York for the World Chess Championship, I headed to LaGuardia Airport to attend my great aunt's 102nd birthday party in "Saint Louie." Weeks prior to the visit I told Paul Truong, that I was planning a trip to St. Louis and perhaps wanted to pay Webster University a visit. I also wanted to check on Justus Williams and Josh Colas who are both freshman at Webster. Shawn Swindell is a sophomore there. I had extended an invitation to take all three to dinner. Justus and Josh were playing in the Thanksgiving Open at the St. Louis Chess Club. Shawn eagerly responded, but given the unpredictability of the round ending, he opted for basketball.
So I contacted Paul and drove by Webster University for a visit. It was a rather cool and brisk night. The campus was rather quiet, but I did notice a line of protestors holding various signs voicing discontent. I learned that these protestors were reacting to the election results of two weeks earlier. Paul came out to greet me and gave me the history of the library that had been vacated. I wondered why until he revealed that it is the SPICE Headquarters. A new state-of-the-art library had been built across campus.
SPICE Mission
To be the premier center for chess education, research, technology, and outreach in the nation
To be a leader in promoting chess as a vehicle for enriching the education of children
To be a leader in promoting women's chess
To recruit outstanding undergraduate and graduate students to Webster University
To bring national and international recognition to Webster University
To support and promote competitive chess at the college level
To support the nation's most elite chess program
The SPICE building is situated on the first floor of the old library and as one walks in there is a large, spacious room that is normally used for tournaments. He then showed me the SPICE training room. Susan Polgar was in her office meeting with Ray Robson. It was a very nice facility that included numerous shelves of classic works indexed by subject. There was even a lounge in the back of the facility.
I went into Susan's office where she had just completed her session with Ray. She had been tweeting regularly during the match and the Webster students were keenly following the proceedings in New York. I got a glimpse of her commendations that were arranged on the walls. Susan has always been a gracious host and serves as a mentor to the players as well as a trainer. Given all of the awards on the wall, it is evident that many appreciate her service.
Webster University's SPICE (St. Louis)
CLICK to see larger images. Hover to get descriptions.
As I went out in the playing area with Paul, Susan served some hot tea, a welcoming beverage on a blustery, chilly night in Webster Groves. I had a long conversation with Paul about a number of topics including some of his personal history as a scholastic player, his personal challenges and the funny story about how he became endeared to the basketball players at City College of New York.
We discussed Webster and the formula of success, the challenges of the program and of course the future of chess in the U.S. I also inquired about the relationship between Webster and the Chess Club and Scholastic Center of St. Louis, also called the St. Louis Chess Club. Paul is a person big on ideas and it was clear that he plays a big role in the success of Webster. Susan sat for a brief moment, but had to prepare to leave for her pending trip to Europe where she was being honored in Austria.
After my visit to Webster, I went to the famed Chess Club and Scholastic Center of St. Louis to observe the Thanksgiving Open in progress. There were several of the other Webster players participating, but of course my eyes set on Josh and then Justus, both of whom were gripped in tough games. I also noticed Fidel Corrales, Akshat Chandra, Ashwin Jayaram and Doug Eckert.
Chess Club & Scholastic Center of St. Louis
CLICK to see larger images. Hover to get descriptions.
After the round, I took Josh and Justus to a Lebanese restaurant that I frequent every time I visit the club. Justus teased me about my "baba ghanouj" which incidentally is some of the best I've ever had. It was good seeing them and the point was just to see how they were doing. They seem to be enjoying their experiences, but the adjustment is not always easy. After we finished dinner, I took them back to their dorm and said my goodbyes. I remember them playing a match when they were 11 years old Candidate Masters. It was good to see them as young men.
Dining with Justus Williams and Josh Colas at Taste of Lebanon restaurant (331 N. Euclid Aveunue, St. Louis), right around the corner from CCSCSL. The "baba ghanouj" is excellent!
After a night's rest, I get ready to attend my paternal great-aunt's birthday party in E. St. Louis, Illinois. From my hotel, it's only about 10 minutes across the bridge and her house is near I-64 on 13th street. I got there with my birthday card and a check for $102.00, a tradition started by my grandfather (her brother) who lived to be 96. I am told that their paternal grandfather lived to be over 100. I bought her 100 roses a couple years ago, but it would be hard to top that this time. My cousin Carole answered the door and my great-aunt was sitting in the front room in her wheelchair. She had to be reminded of who I was, but it's OK. Her short-term memory is weak, but when encouraged to speak about a particular time in life, she'll rattle off dates, places and names that would challenge any chess player. I suppose she needed a keen mind to keep up with her 12 children!
Mattie Francis Malone … 102 years old!!
CLICK to see larger images. Hover to get descriptions.
I spent several hours with my great-aunt and cousins. I even recorded her berating her 73-year old son Paul who had grown a beard that she didn't approve of. Even at 102, she said, "I'm 102 and you have more gray hair than me!" We could only laugh. It is interesting the treasure trove of stories even as her memory is failing her. Her oldest daughter was trying to get her to recall stories of her mother Lydia Fair Bolden, a task master. One story I remember from my great-aunt was her mother's disapproval of a shorter boy who took a liking to her. As she came into the house, her mother was shaking her head and said, "Don't go with no boy where you can eat off the top of his head."
Happy Birthday Aunt Mattie!
After I said my goodbyes to my great-aunt and my cousins, I got back on I-64 back across the bridge and stopped by the St. Louis Chess Club one more time. Unfortunately for me, Yasser was not there this evening. I had intended on interviewing him about the World Championship match and what he thought would transpire. Nevertheless, I caught a quick glimpse of the tournament games, acknowledged Justus and Josh, picked up food from the Lebanese restaurant (again) and went back to my hotel to work on my World Championship report. Another draw in Game #11. Fortunately for me, there was another rest day on my travel day. Yep… I saw a few moves ahead. On Sunday, I arrived in the sunny Jacksonville and prepared for my two-hour drive to Tallahassee. Back to the world. Until next time…