2016 Chess Olympiad: Round #8

2016 Chess Olympiad: Round #8
Saturday, 10 September 2016
Open Section
Russia ½-3½ USA
Georgia 1-3 Ukraine
England 3½-½ India
Azerbaijan 1 ½-3½ Latvia
Italy 3-1 Iran

USA maintains lead… India soars…
Ukraine sits Eljanov, crushes Georgia
World Chess Olympiad – Round 8 Highlights https://t.co/CzkRzb2k3q pic.twitter.com/GxQacSI0QL

— Baku Chess Olympiad (@bakuchessol2016) September 10, 2016
The USA has not won the Chess Olympiad since the 70s, but they are the odds-on favorite to win with four rounds remaining. However, they would face a Russia team who are also looking to break a drought of Olympiad gold. So the marquee matchup on board one was highly-anticipated. Russia had two heavyweights in Karjakin and Kramnik and Nepomniachtchi who is on 7/7. The USA went with their "Murder's Row" and Ray Robson on board 4… an interesting choice.
The Ukraine decided to rest Pavel Eljanov who had lost two games in a row and possibly needed to regroup. Former FIDE Champion Ruslan Ponomariov would be playing the hypercreative Baadur Jobava of Georgia. England would be playing India, a nation with which they have a long history, but also a nation that is looking to beat them in every activity whether chess, cricket or field hockey. India did prevail. There is an interesting history of Indians playing in the British Championship (along with Commonwealth federations)… until India got too strong and starting winning! Short was one of the more vocal dissenters and the policy was changed.
Nigel Short (England) vs. SP Sethamuran (India), 0-1
Photo by Maria Emelianova
Latvia is the surprise team thus far and will play the host Azerbaijan, who is in need of a win to close the gap for a chance at the medal stand. Lastly, two new entrants on the top tables in Italy and Iran. The latter country Iran has one GM and three young talents who are doing remarkably well. Parham Maghasoodloo is a 16-year old untitled player with an ELO of 2566! He is on an undefeated +4. Also 17-year old Shahin Lorparizangeneh is also having a great showing. Thirteen-year old Alireza Firouzja is the current Iranian national champion!
In So-Grischuk, White has to give way
after 40…Kf6!
So as the USA-Russia unfolded, tension increased in the room, it appeared that Nepomniachtchi was in grave danger of losing his first game. Wesley So was completely dominant on the black side of a Guioco Piano. This ancient opening is being used as a way to avoid the Berlin Defense of the Ruy Lopez. However, the Russian went wrong in the middlegame. So got a strong initiative and slowly dismantled the Russian in fine positional style. Now So equals Nepo's 7/8 score.
In Robson-Grishcuk, the young American got an equal position and it appeared that the Russia would lose the match. Robson was under some pressure, but when Robson tried to ease the pressure by trading queens, he blundered into a lost pawn ending after 39.Qf2+? After 39…Qxf2+ 40.Kf2 Kf6 white was in zugzwang. Unbelievable. Nevertheless the USA maintained their team lead.
On board two, Ukraine had a good day against Georgia, but on board one Baadur Jobava scored a brilliant victory against Ponomariov. Take a look.
So the USA keeps the lead followed by India and the Ukraine. India won on the strength of SP Sethuraman over the iconic Nigel Short. Short was involved in an embroglio on being drug tested during the game. He refused and after he won, he was asked once again and was warned by Klaus Deventer, a member of the Anti-Cheating Committee. There was a question whether he was going to be forfeited and his result overturned. It wasn't. According to chess.com report Short exclaimed, "Go ahead, forfeit me! I've played chess for thirty years. A World Championship, for God's sake!"
Certainly there will be discussions on this procedure at the General Sessions.
Women's Section
Russia 1½-2½ USA
Poland 2½-1½ Netherlands
Hungary 2-2 Ukraine
China 3½-½ Azerbaijan 1
Turkmenistan 1½-2½ Israel
Russia held… China, USA, Azerbaijan wins.. USA-Russia tomorrow!
Krush and Kosteniuk had a minor incident.
Both sections featured a USA-Russia battle. On board one there was a minor incident in Russia-USA when Krush had claimed a three-fold repetition. After reconstructing the position, the arbiters determined the claim was false. They played on and Krush won an epic game and clinched the match for the USA. In 2008 Krush also beat Kosteniuk enroute to winning the bronze medal. The Americans want more in 2016.
Video by Mike Klein (chess.com).
Notes by GM Elshan Moradiabadi.
China has been showing some inconsistency on top boards while Tan Zhongyi has been the star of the team with +5 and Guo Qi with +4. All of the frustrations were relieved as China crushed the hometown favorites 3½-½, a truly deflating loss and perhaps eliminating medals hopes for Azerbaijan. Poland is still on the mark after beating the Netherlands despite Monika Socko losing to Anne Haast on board one. Hungary and Ukraine drew 2-2 trading wins on boards two and four.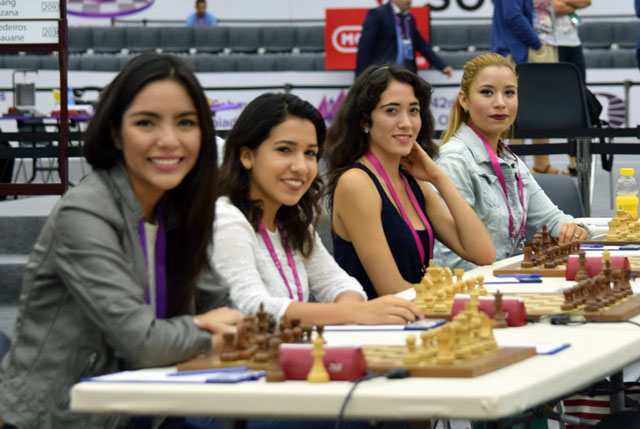 Mexico women's team (L-R): Ivette Garcia Morales, Miriam Parkhurst Casas, Lilia Fuentas Godoy, Diana Real Pereyra. Photo by Rasim Huseynov.
Video by GM Daniel King.