WILKINSON RETAINS NATIONAL TITLE at Roper Memorial!
Ian Wilkinson
Photo by Jamaica Chess Federation.
Defending champion Ian Wilkinson QC retained the National Veterans Chess title after drawing game three of the four-game Play-off match against Michael Diedrick in the 2016 Supreme Ventures Jamaica Veterans Chess Championship. The game was played at the headquarters of the Sports Development Foundation ("SDF") on Sunday, July 31.
After winning the first two games and establishing a commanding lead, Wilkinson only needed a draw from the remaining two games to win the match. Armed with the white pieces in game three, he essayed the flexible and solid 1.Nf3 and Diedrick opted for the Queen's Indian Defence with 2…b6. A tense struggle ensued as a determined Diedrick grabbed the initiative in the middle-game and went in search of victory. After thirty moves, however, he was uncertain how to proceed and worried that he might lose material. He, therefore, decided to settle for a draw (by repetition).
Arbiter Howien Foster (standing) looks on as Michael Diedrick assesses
his options close to the end of the drawn game 3.
The draw took Wilkinson's tally to an unassailable two and a half (2 ½) points to Diedrick's half (1/2) point, thereby allowing him to defend the title he won in the inaugural event last year.
The Play-off became necessary after both men scored six points in the William Roper Memorial Chess tournament (Jamaica Seniors Championships) that ended on Saturday, July 23. The overall event was won by World Chess Federation Candidate Master Robert Wheeler (seven points) who, therefore, retained his title as Jamaica's 65 + year-old Seniors Champion.
By virtue of his victory Wilkinson will be Jamaica's official representative in the 50 + year-old section at the World Seniors Chess Championships set for the Czech Republic in November, 2016. Wheeler will be Jamaica's official representative in the 65 + year-old section.
The tournament (including the Play-off) was sponsored by Supreme Ventures, the Kasparov Chess Foundation, Medallion Hall Hotel and the SDF.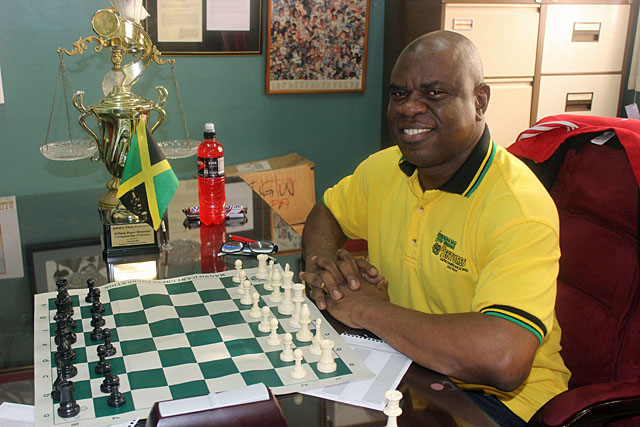 Wilkinson will be representing Jamaica at the World Seniors in November.
Jamaica Chess Federation
2016 August 1
3 Responses to "Wilkinson defends Roper Memorial title"
on 06 Aug 2016 at 9:14 am

1

Guy

Congratulations! and you look like you should be playing in U-50!

on 06 Aug 2016 at 2:09 pm

2

IAN WILKINSON (JAMAICA)

Daaim,

Thank you for the report. It was a tough match. Diedrick and I swapped wins during the "regular" tournament and tied on 6/10. Because a national title was at stake, based on our rules a four-game match was necessary instead of rapid/blitz tie-break games.

He is one of the most (naturally) talented players Jamaica has produced, beating many of the top players/masters over roughly 40+ years. I was a bit lucky in the match. Below is one of the games from the play-off when he rushed the queen sacrifice thinking he would have also pocketed the Ne8. He missed my 26…Qe6 which is really the "only" move.

on 06 Aug 2016 at 3:11 pm

3

LIonel Davis

Oh, interesting game Mr. Wilkinson just visualized it, well done. Im Checkin out the mvl- vishy game rd2. Sinquefield Cup at the same time! lol . Um tryna see what they truly KNOW!!!! Daaim let me know if any Buffalonians log on with any ktazy comments!!!!
Leave a Reply!