New 'Toiletgate' Cheating Accusation Refuted
Chess has been rife with cheating episodes due to the accessibility of powerful chess engines on palm-sized cell phones. One of the highest profile cheating accusations took place during the 2006 World Championship Chess Match between Vladimir Kramnik and Veselin Topalov. It was thought by the Topalov camp that Kramnik's frequent trips to the bathroom were suspicious. It became dubbed, "Toiletgate." It is without a sense of irony these charges were never verified and the Kramnik camp took offense. Topalov and Kramnik still do not speak to each other to this day.
FM Josh Colas at 2015 North American Open drawing with Ruifeng Li. He would earn a GM norm with 6.5/9, but during his stellar performance, cheating allegations were made. The claims proved baseless. Photo by Alan Losoff.
A week ago, another cheating allegation took place during the 4th round of the Philadelphia Open (March 23rd-27th). Seventeen-year old Josh Colas, a senior at White Plains High School, gained notoriety after earning a GM norm last December at North American Open. His impressive wins over Grandmasters created a sensation, but for the wrong reasons. There was a rumor started that Josh was cheating despite the lack of evidence. The tournament staff took the claim seriously and adopted a passive approach.
We watched him closely during the last few rounds, and found that he hardly ever got up from the board, usually just once briefly per game to visit the bathroom. From our observation, the TDs believed that the claims of cheating were without merit.
Josh was never queried by the tournament staff, but found out later through a rumor mill. There was discussion on chess.com that Josh was repeatedly going to the bathroom, but these comments were not based on the investigation and findings of the organizers. Nevertheless, the claim may have created suspicion that Josh's success at chess has come from actions other than his hard work. Who started this rumor? Did the Vegas incident serve as a motivating factor in profiling Josh in Philadelphia?
---
"Truth always prevails so in the end this saga will only heighten Josh's ability even more…"
~Guy Colas, father of FIDE Master Josh Colas
---
At the Philadelphia Open, there is a policy that no player is allowed to take their cell phone into the bathroom. Players would stop by to check phones before entering. Apparently Josh excused himself from the board and went into the bathroom with his phone in his pocket. His behavior had been rather innocuous and he remained glued to the board most of his games. Yet complaints arose once again. According to the official account released by Bill Goichberg,
At the Philadelphia Open, we observed the same behavior during the first three rounds. But in round four, when Josh went to the men's room after 15 moves, he was seen with a cellphone in his pocket by the father of another player after exiting a toilet stall. Josh said that he had forgotten about the rule prohibiting cellphones in the bathroom. The witness said that Josh appeared to have slid the phone into his pocket, while Josh said that it was already in his pocket and he touched it to hold it there.
The accuser was Zhenjiang Li, the father of International Master Ruifeng Li, one of Josh's peers and frequent opponents. Apparently Li had entered the bathroom some time after Josh. According to Josh, he turned around and someone appeared to be peering through the stall. As Josh adjusted his clothing and opened the door to exit, Li confronted him and asked him a question about the phone in his pocket. Incidentally, Li had no official capacity at the tournament, so Josh accused him of invading his privacy and threatened to call security.
Li hurriedly exited the bathroom and told one of the directors that Josh had a cell phone in the bathroom. Josh stated that Li mentioned the word "cheater" or "cheating." Li later denied using this language. Josh was identified and the staff asked for his cell phone (which was powered off). After they examined his cell phone, nothing suspicious was found, but they agreed that Josh had violated the rule. No one denied this and a penalty was forthcoming.
According to the regulations, the penalty is based on the severity of the offense and would lead to one of the following:
A. The player is forfeited.
B. The player loses 20 minutes or 75% of remaining time, whichever is less.
C. The player loses 10 minutes or 50% of remaining time, whichever is less.
D. If no more than 5 moves have been played, the offending player may receive a warning rather than a penalty.

After a conference, Josh was accessed a time penalty of 20 minutes for violating the rule which he acknowledged and accepted. His opponent Kevin Wang appeared to be flummoxed by the entire affair and told the directors that he was "certain that Josh was not cheating." He also agreed that the position was not the type that would motivate a player to seek computer help. The game was drawn shortly after the incident.
Goichberg ended the official statement by saying,
Considering all the evidence, the TDs felt that it was extremely unlikely that any cheating had taken place, however there was a clear rules violation so we ruled that Josh get a 20 minute time penalty.
Despite this ruling, there was no public announcement vindicating Josh and rumors continued to fly. There were also reports that Li contacted others about Josh having a cell phone in the bathroom. One of those contacted was Susan Polgar of Webster University. Josh will be attending Webster in the Fall and recently attended a special training at the university with Ruifeng. What was Li's motive for informing others?
To add insult to injury, a Twitter account called "Chess Stats" tweeted the following messages (around March 29th) and tagged several chess personalities, including Polgar.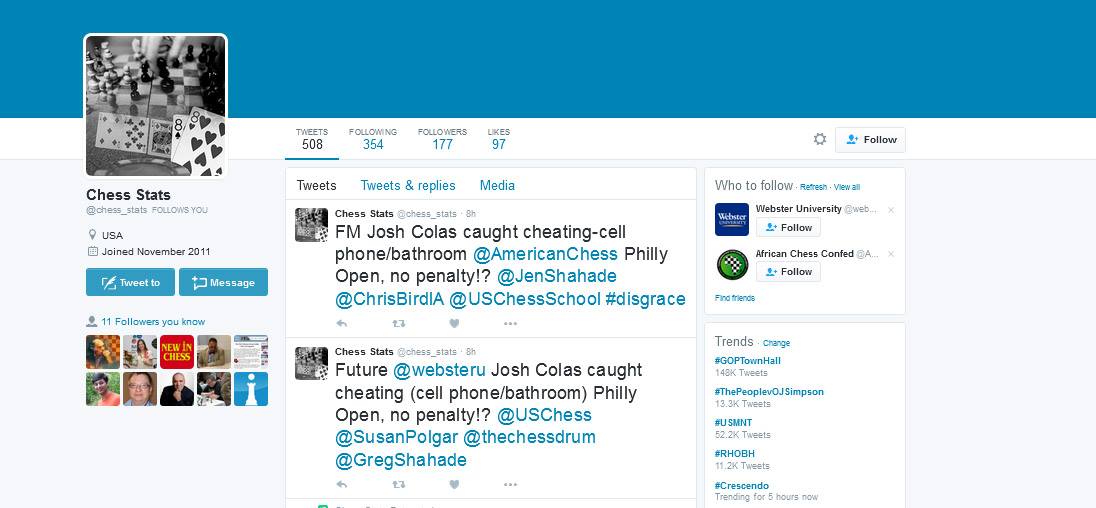 The tweet unequivocally stated that Josh had been cheating despite the organizer's investigation. IM Greg Shahade condemned the cheating allegation. Someone contacted Albert Silver of ChessBase who demanded proof. When it was discovered that tournament directors had not found any wrongdoing, the pressure on the tweet increased. Polgar tweeted, "@colas_guy @thechessdrum Guy, many of us will defend Josh vigorously. This is unwarranted. I am very angry." Josh's father Guy Colas was notably irate. Li denied any affiliation with the Twitter account and told The Chess Drum,
First of all, I didn't post anything and will never post anything for this report on any public platform. I just checked my tweet account, it seems nobody using my account to do any action as well. If anything posted on tweet, definitely not me and I don't know who did as well.
He added,
After check in my cellphone, I went into the bathroom while Josh Colas already in it. Later I saw his cellphone right after he put the phone into pocket, so I reported to TD that someone brought the cellphone into the restroom.
This version differs from what Josh told his father. In a heated email exchange with Li, and in defense of his son, Colas stated,
Josh told me that you said that you saw him using his cell phone in the stall, and he replied "can I call the police for you invading my privacy." Then you ran out of the bathroom screaming cheater. Then you told Bill, that you saw him slip his phone in his pocket.
It was even intimated that a litigious battle may follow. Li denied calling Josh a cheater and disavowed the tweet. However, he reinforced the rationale of his actions and said he respected Goichberg's decision. In an e-mail sent to Colas, Li stated,
Basically, Joshua is one of my son's chess friends, I have no any interesting to against Joshua in any kind, but I have the right to fill out a complain to USCF or FIDE if the situation do bothered me, because I am USCF member as well.
Did Li feel he was merely being a "Good Samaritan" by telling the director that Josh had a phone? Li also made the point that the directors had informed Josh about the rule earlier implying that he intentionally did something in contravention of the rules. In the final account, Josh scored a "normal" 5/9… clearly not someone benefiting from using a chess engine repeatedly. Otherwise, the risk of cheating far outweighs the benefits.
Li, who was not officiating or playing, had been suspected as one of the persons involved in rumor mill in Las Vegas. Both Josh and Li's son Ruifeng played a tense battle in the 8th round of the North American Open. The game was drawn and Josh went on to earn a GM norm. It's unfortunate, but true that parents often meddle in their child's competitive relationships and turn friends into rivals. The children often look at each other and shrug their shoulders.
---
"The ACC wishes to reaffirm that good or even outstanding performance by a player can never in itself be the basis for an accusation or complaint…"
~FIDE Anti-Cheating Commission
---
The news continued to circulate about Josh (especially on chess.com), thus sullying his image and raising great suspicion about his sportsmanship. There were very tasteless comments made, but there were strong supporters as well. The Twitter account mysteriously disappeared after Josh's father and his supporters started to rally behind him. While Li disavowed and condemned the tweet, he certainly contributed to the initial suspicion of cheating.
This case is not unprecedented. There was a case in the 2015 European Women's Championship (Chakvi, Georgia Republic) involving Romanian WGM Mihaela Sandu. Rated 2300 and seeded 45th, she was on 5/5 and leading the tournament when cheating accusations were hurled at her. A petition was signed by 32 players due to "raising [sic] suspicion of cheating in the tournament."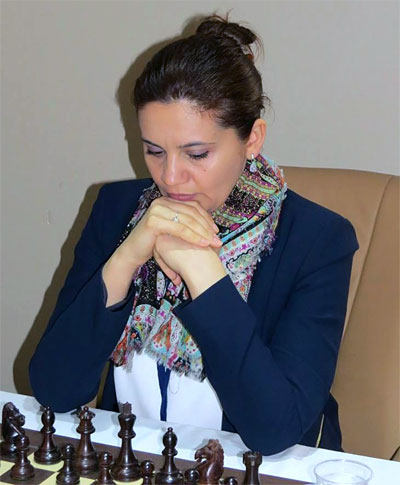 WGM Mihaela Sandu of Romania was also unfairly targeted
at the 2015 European Women's Championships.
Photo by Frederic Friedel
After seven rounds, Sandu was still leading (on 6/7) after beating GM Antoaneta Stefanova, and a second petition was signed by 15 players requesting that her games (specifically) have a delayed broadcast. The first signature on the petition was her next-round opponent GM Natalia Zhukova. These petitions were posted on the walls of the playing hall for all to see.
The accusations were baseless, but it most likely affected her play and she ended on 6/10, losing her last three games. A review of her games showed no pattern of computer assistance, but the accusing players were not penalized. Sandu's supporters rallied to her cause, and Sandu had to issue a statement in her own defense.
---
"… in case of a false accusation you may be penalized by the arbiter according to the Article 12.2 and 12.9 of the Laws of Chess (from warning to expulsion from the competition)."
~Giorgi Giorgadze, Tournament Director at 2015 European Women's Championship, responding to false cheating allegations.
---
Perhaps with false accusations, each accuser should also be made to remit financial reparation to the accused player … and not only expulsion from the event, but suspension! This would deter frivolous claims and suspicions lodged against players. Otherwise anyone can launch a cheating allegation without any consequence. The FIDE Anti-Cheating Commission (ACC) released a statement in the Sandu case. The ACC excerpt reads,
The ACC wishes to reaffirm that good or even outstanding performance by a player can never in itself be the basis for an accusation or complaint, and that it has published standards and procedures that must be satisfied by properly-submitted complaints. ACC will undoubtedly investigate and, if necessary, prosecute these instances when they come under the Commission's attention. (full statement)
While Li claims he did not accuse Josh of cheating, the implications were very strong. Here are a few questions to ponder:
Should the organizer require a formal complaint before players are profiled or watched (i.e., vetting)?
Should formal complaints be written and a processing fee assessed (i.e., FIDE)?
Should chess parents, who are not competing, be allowed to remain in the playing vicinity once the round has started?
If spectators are allowed to remain in the tournament hall, what rights do they have?
Was Li (a non-player and non-official) within his right to say anything to Josh while games were in progress?
Was Josh correct in citing an invasion of his privacy (in the bathroom)?
How should the accused be approached after an accusation?
What rights do the accused have after a complaint?
What should the penalties be for false accusations?
Should cell phones be allowed in the hall at all?
Back in the day, spectators had free reign to walk around and talk to competitors. However, it is the view of this writer that spectators should not communicate with players and referee the tournament just as they could not call someone's flag in the old days. Despite Li's contention, being a USCF member does not give a spectator the right to intervene in a tournament.
FM Joshua Colas
We certainly need to draft guidelines for this issue. We cannot allow random accusations of cheating. It creates tremendous damage in the reputation of the accused, the tournament directors, and tournament organizers. There have been improvements in rooting out cheating, but little thought has been invested in how to vet cheating accusations. If a cheating accusation is false, then perhaps the accuser should receive a penalty. It's only fair.
The incident at the Philadelphia Open should give pause to anyone lodging accusations against a player without irrefutable evidence. To say, "he put his phone in his pocket" goes far beyond "someone brought the cellphone into the restroom." Further spreading innuendo via e-mail and social media should also be sanctioned. There are times when a player's strength makes a jump. It is not a linear jump according to age. We cannot suspect that because a 2400-ELO player makes a GM norm, something must be wrong.
In this case, it appears that Josh was wrongly suspected of cheating, but the most damaging was being disparaged on social media as a cheater. Certainly, young players will make careless mistakes, but to try to smash their reputation in one stroke is precipitous. Such allegations can have a traumatic effect before the young player has a chance to realize their potential. Where Josh was in the wrong was violating the policy of having a cell phone in the bathroom. Josh has been affected by the affair and has learned a valuable lesson, but he did not deserve to have his character assailed in such a way.