Chess has been rife with cheating episodes due to the accessibility of powerful chess engines on palm-sized cell phones. One of the highest profile cheating accusations took place during the 2006 World Championship Chess Match between Vladimir Kramnik and Veselin Topalov. It was thought by the Topalov camp that Kramnik's frequent trips to the bathroom were suspicious. It became dubbed, "Toiletgate." It is without a sense of irony these charges were never verified and the Kramnik camp took offense. Topalov and Kramnik still do not speak to each other to this day.
FM Josh Colas at 2015 North American Open drawing with Ruifeng Li. He would earn a GM norm with 6.5/9, but during his stellar performance, cheating allegations were made. The claims proved baseless. Photo by Alan Losoff.
A week ago, another cheating allegation took place during the 4th round of the Philadelphia Open (March 23rd-27th). Seventeen-year old Josh Colas, a senior at White Plains High School, gained notoriety after earning a GM norm last December at North American Open. His impressive wins over Grandmasters created a sensation, but for the wrong reasons. There was a rumor started that Josh was cheating despite the lack of evidence. The tournament staff took the claim seriously and adopted a passive approach.
We watched him closely during the last few rounds, and found that he hardly ever got up from the board, usually just once briefly per game to visit the bathroom. From our observation, the TDs believed that the claims of cheating were without merit.
Josh was never queried by the tournament staff, but found out later through a rumor mill. There was discussion on chess.com that Josh was repeatedly going to the bathroom, but these comments were not based on the investigation and findings of the organizers. Nevertheless, the claim may have created suspicion that Josh's success at chess has come from actions other than his hard work. Who started this rumor? Did the Vegas incident serve as a motivating factor in profiling Josh in Philadelphia?
---
"Truth always prevails so in the end this saga will only heighten Josh's ability even more…"
~Guy Colas, father of FIDE Master Josh Colas
---
At the Philadelphia Open, there is a policy that no player is allowed to take their cell phone into the bathroom. Players would stop by to check phones before entering. Apparently Josh excused himself from the board and went into the bathroom with his phone in his pocket. His behavior had been rather innocuous and he remained glued to the board most of his games. Yet complaints arose once again. According to the official account released by Bill Goichberg,
At the Philadelphia Open, we observed the same behavior during the first three rounds. But in round four, when Josh went to the men's room after 15 moves, he was seen with a cellphone in his pocket by the father of another player after exiting a toilet stall. Josh said that he had forgotten about the rule prohibiting cellphones in the bathroom. The witness said that Josh appeared to have slid the phone into his pocket, while Josh said that it was already in his pocket and he touched it to hold it there.
The accuser was Zhenjiang Li, the father of International Master Ruifeng Li, one of Josh's peers and frequent opponents. Apparently Li had entered the bathroom some time after Josh. According to Josh, he turned around and someone appeared to be peering through the stall. As Josh adjusted his clothing and opened the door to exit, Li confronted him and asked him a question about the phone in his pocket. Incidentally, Li had no official capacity at the tournament, so Josh accused him of invading his privacy and threatened to call security.
Li hurriedly exited the bathroom and told one of the directors that Josh had a cell phone in the bathroom. Josh stated that Li mentioned the word "cheater" or "cheating." Li later denied using this language. Josh was identified and the staff asked for his cell phone (which was powered off). After they examined his cell phone, nothing suspicious was found, but they agreed that Josh had violated the rule. No one denied this and a penalty was forthcoming.
According to the regulations, the penalty is based on the severity of the offense and would lead to one of the following:
A. The player is forfeited.
B. The player loses 20 minutes or 75% of remaining time, whichever is less.
C. The player loses 10 minutes or 50% of remaining time, whichever is less.
D. If no more than 5 moves have been played, the offending player may receive a warning rather than a penalty.

After a conference, Josh was accessed a time penalty of 20 minutes for violating the rule which he acknowledged and accepted. His opponent Kevin Wang appeared to be flummoxed by the entire affair and told the directors that he was "certain that Josh was not cheating." He also agreed that the position was not the type that would motivate a player to seek computer help. The game was drawn shortly after the incident.
Goichberg ended the official statement by saying,
Considering all the evidence, the TDs felt that it was extremely unlikely that any cheating had taken place, however there was a clear rules violation so we ruled that Josh get a 20 minute time penalty.
Despite this ruling, there was no public announcement vindicating Josh and rumors continued to fly. There were also reports that Li contacted others about Josh having a cell phone in the bathroom. One of those contacted was Susan Polgar of Webster University. Josh will be attending Webster in the Fall and recently attended a special training at the university with Ruifeng. What was Li's motive for informing others?
To add insult to injury, a Twitter account called "Chess Stats" tweeted the following messages (around March 29th) and tagged several chess personalities, including Polgar.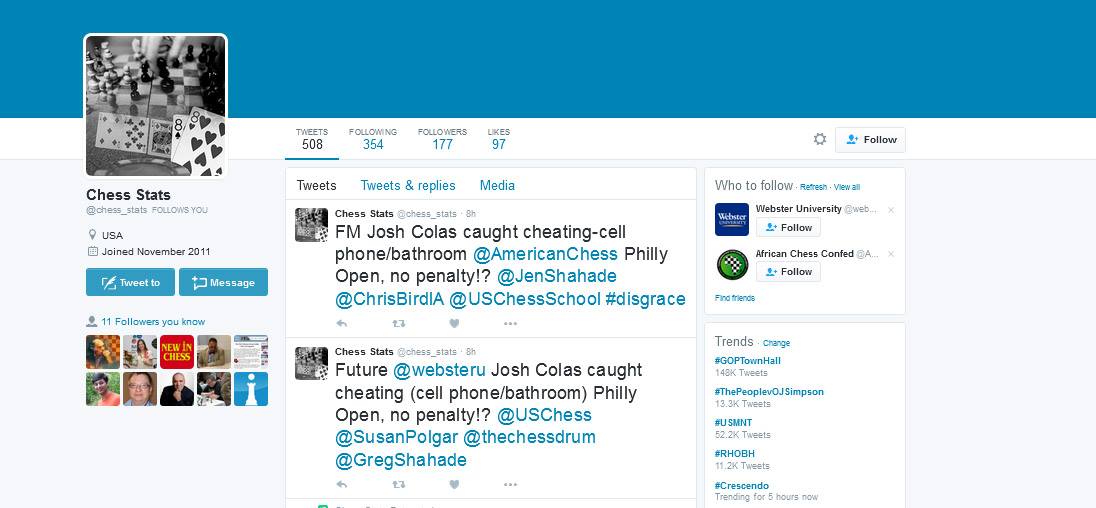 The tweet unequivocally stated that Josh had been cheating despite the organizer's investigation. IM Greg Shahade condemned the cheating allegation. Someone contacted Albert Silver of ChessBase who demanded proof. When it was discovered that tournament directors had not found any wrongdoing, the pressure on the tweet increased. Polgar tweeted, "@colas_guy @thechessdrum Guy, many of us will defend Josh vigorously. This is unwarranted. I am very angry." Josh's father Guy Colas was notably irate. Li denied any affiliation with the Twitter account and told The Chess Drum,
First of all, I didn't post anything and will never post anything for this report on any public platform. I just checked my tweet account, it seems nobody using my account to do any action as well. If anything posted on tweet, definitely not me and I don't know who did as well.
He added,
After check in my cellphone, I went into the bathroom while Josh Colas already in it. Later I saw his cellphone right after he put the phone into pocket, so I reported to TD that someone brought the cellphone into the restroom.
This version differs from what Josh told his father. In a heated email exchange with Li, and in defense of his son, Colas stated,
Josh told me that you said that you saw him using his cell phone in the stall, and he replied "can I call the police for you invading my privacy." Then you ran out of the bathroom screaming cheater. Then you told Bill, that you saw him slip his phone in his pocket.
It was even intimated that a litigious battle may follow. Li denied calling Josh a cheater and disavowed the tweet. However, he reinforced the rationale of his actions and said he respected Goichberg's decision. In an e-mail sent to Colas, Li stated,
Basically, Joshua is one of my son's chess friends, I have no any interesting to against Joshua in any kind, but I have the right to fill out a complain to USCF or FIDE if the situation do bothered me, because I am USCF member as well.
Did Li feel he was merely being a "Good Samaritan" by telling the director that Josh had a phone? Li also made the point that the directors had informed Josh about the rule earlier implying that he intentionally did something in contravention of the rules. In the final account, Josh scored a "normal" 5/9… clearly not someone benefiting from using a chess engine repeatedly. Otherwise, the risk of cheating far outweighs the benefits.
Li, who was not officiating or playing, had been suspected as one of the persons involved in rumor mill in Las Vegas. Both Josh and Li's son Ruifeng played a tense battle in the 8th round of the North American Open. The game was drawn and Josh went on to earn a GM norm. It's unfortunate, but true that parents often meddle in their child's competitive relationships and turn friends into rivals. The children often look at each other and shrug their shoulders.
---
"The ACC wishes to reaffirm that good or even outstanding performance by a player can never in itself be the basis for an accusation or complaint…"
~FIDE Anti-Cheating Commission
---
The news continued to circulate about Josh (especially on chess.com), thus sullying his image and raising great suspicion about his sportsmanship. There were very tasteless comments made, but there were strong supporters as well. The Twitter account mysteriously disappeared after Josh's father and his supporters started to rally behind him. While Li disavowed and condemned the tweet, he certainly contributed to the initial suspicion of cheating.
This case is not unprecedented. There was a case in the 2015 European Women's Championship (Chakvi, Georgia Republic) involving Romanian WGM Mihaela Sandu. Rated 2300 and seeded 45th, she was on 5/5 and leading the tournament when cheating accusations were hurled at her. A petition was signed by 32 players due to "raising [sic] suspicion of cheating in the tournament."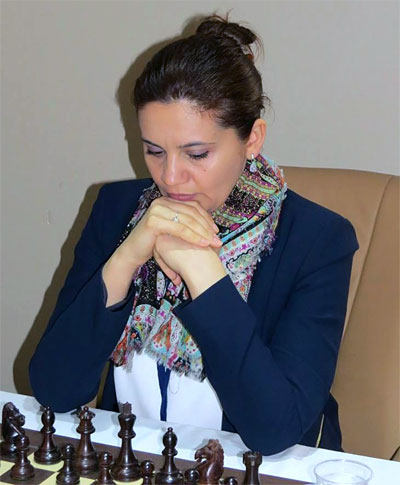 WGM Mihaela Sandu of Romania was also unfairly targeted
at the 2015 European Women's Championships.
Photo by Frederic Friedel
After seven rounds, Sandu was still leading (on 6/7) after beating GM Antoaneta Stefanova, and a second petition was signed by 15 players requesting that her games (specifically) have a delayed broadcast. The first signature on the petition was her next-round opponent GM Natalia Zhukova. These petitions were posted on the walls of the playing hall for all to see.
The accusations were baseless, but it mostly likely affected her play and she ended on 6/10, losing her last three games. A review of her games showed no pattern of computer assistance, but the accusing players were not penalized. Sandu's supporters rallied to her cause, and Sandu had to issue a statement in her own defense.
---
"… in case of a false accusation you may be penalized by the arbiter according to the Article 12.2 and 12.9 of the Laws of Chess (from warning to expulsion from the competition)."
~Giorgi Giorgadze, Tournament Director at 2015 European Women's Championship, responding to false cheating allegations.
---
Perhaps with false accusations, each accuser should also be made to remit financial reparation to the accused player … and not only expulsion from the event, but suspension! This would deter frivolous claims and suspicions lodged against players. Otherwise anyone can launch a cheating allegation without any consequence. The FIDE Anti-Cheating Commission (ACC) released a statement in the Sandu case. The ACC excerpt reads,
The ACC wishes to reaffirm that good or even outstanding performance by a player can never in itself be the basis for an accusation or complaint, and that it has published standards and procedures that must be satisfied by properly-submitted complaints. ACC will undoubtedly investigate and, if necessary, prosecute these instances when they come under the Commission's attention. (full statement)
While Li claims he did not accuse Josh of cheating, the implications were very strong. Here are a few questions to ponder:
Should the organizer require a formal complaint before players are profiled or watched (i.e., vetting)?
Should formal complaints be written and a processing fee assessed (i.e., FIDE)?
Should chess parents, who are not competing, be allowed to remain in the playing vicinity once the round has started?
If spectators are allowed to remain in the tournament hall, what rights do they have?
Was Li (a non-player and non-official) within his right to say anything to Josh while games were in progress?
Was Josh correct in citing an invasion of his privacy (in the bathroom)?
How should the accused be approached after an accusation?
What rights do the accused have after a complaint?
What should the penalties be for false accusations?
Should cell phones be allowed in the hall at all?
Back in the day, spectators had free reign to walk around and talk to competitors. However, it is the view of this writer that spectators should not communicate with players and referee the tournament just as they could not call someone's flag in the old days. Despite Li's contention, being a USCF member does not give a spectator the right to intervene in a tournament.
We certainly need to draft guidelines for this issue. We cannot allow random accusations of cheating. It creates tremendous damage in the reputation of the accused, the tournament directors, and tournament organizers. There have been improvements in rooting out cheating, but little thought has been invested in how to vet cheating accusations. If a cheating accusation is false, then perhaps the accuser should receive a penalty. It's only fair.
The incident at the Philadelphia Open should give pause to anyone lodging accusations against a player without irrefutable evidence. To say, "he put his phone in his pocket" goes far beyond "someone brought the cellphone into the restroom." Further spreading innuendo via e-mail and social media should also be sanctioned. There are times when a player's strength makes a jump. It is not a linear jump according to age. We cannot suspect that because a 2400-ELO player makes a GM norm, that something must be wrong.
In this case, it appears that Josh was wrongly suspected of cheating, but most damaging was being disparaged in social media as a cheater. Certainly young players will make careless mistakes, but to try to smash their reputation in one stroke is precipitous. Such allegations can have a traumatic effect before the young player has a chance to realize their potential. Where Josh was in the wrong was violating the policy of having cell phone in the bathroom. Josh has been affected by the affair and has learned a valuable lesson, but he did not deserve to have his character assailed in such a way.
70 Responses to "New 'Toiletgate' Cheating Accusation Refuted"
on 07 Apr 2016 at 10:30 am

1

Guy

I am sure when Josh reads this he will feel somewhat vindicated. I will hold off my thoughts as this matter is being considered by a major law firm.

on 07 Apr 2016 at 12:32 pm

2

Anonymous

Josh broke the rules that all competitors agreed to play by. Even if what he did is much less worse, he still broke the rules. Stop blaming others for being vigilant against potential actions that could put the game and tournament into disrepute. Granted Josh was not engine cheating but broke the rules of the competition. There have been cases such as Jens Kotainy and Will Fisher who did not appear to be breaking the rules of play but their play was statistically determined to be engine-driven and then were directly caught afterwards.

on 07 Apr 2016 at 1:06 pm

3

Guy

Why post an opinion but afraid to let readers know who you are? Imagine if Josh was caught cheating… folks like you would all of a sudden have the backbone to speak behind an identity. Thank God, those who know Josh will just shrug off your comparison of him to Fisher. He's the real deal, so keep stalking!

on 07 Apr 2016 at 1:09 pm

4

Abdul Abdus-Shakoor

This is Sad! I am 46 yrs old have taught over 2000+ students the game of CHESS! My 15yr old daughter qualified for 2015 world youth championships. I personally know Josh and Family for 7 yrs. He even let us stay in his room when we could not get help with lodging at NGIT and Denkker Championship. Josh is not a cheater,,!!!! He does not have to cheat you to beat you! This is an attempt to smear his name and career! He is destined to be the youngest African American Grandmaster and this is an attempt to discourage him and other Blacks! By the way I have been to 325 USCF tournaments. And I have 2 Masters Degrees and 2 years of Law School! THIS IS NOT RIGHT. ALL EYES ON JOSH! God knows THE TRUTH! See you at the top Josh! DIAMOND Shakoor went through similar distractions! They (people) know Josh is affiliated with Susan Polgar and Webster/Spice and she is helping him to achieve his dream when other Grandmaster's. Know this is The same attacks the did on Bobby Fischer. SAD AND THIS BS DOES NOT SURPRISE ME. OKAY SO WHAT IS THE PUNISHMENT? Jealous people want to diminish your accomplishments Josh! God Got your back and your Dad does too! Peace. Much Respect!

on 07 Apr 2016 at 3:18 pm

5

Jalil

Blessings to Josh and his family. Sadly, we see detractors in all aspects of life. I pray Josh rises above this strong, powerful, harmonious and happy!

Ja

on 07 Apr 2016 at 4:31 pm

6

Guy

After the fourth round when this accusation was made and they did what they had to, Josh was distraught. He didn't want to continue, he called me and explained the shakedown and wanted to drop out. I said Josh, play on, don't let that keep you down, he listened and to my surprise he almost went undefeated against GMs and Ims for the remainder of the tournament. Honestly, if that was me, I would have lost every game after that accusation.

on 07 Apr 2016 at 4:42 pm

7

Guy

Hopefully, if Josh is invited to play in the US JUNIOR CLOSE, he will again get to face Ruifeng what a battle that will be! and I will get a chance to sit across from his accuser.

Guy,

The children will battle and hopefully the parents will allow it.

on 07 Apr 2016 at 7:23 pm

9

Maurice Ashley

It's a sad reality that smearing a person in today's day and age takes nothing but a few keystrokes. I have always known Josh to be a wonderful upstanding young man with loads of talent. He owned up to his mistake and will continue to rise despite the detractors. I look forward to the day when I can call him Grandmaster.

on 07 Apr 2016 at 7:26 pm

10

John Cox

Pretty sad tale. I've played Josh a couple of times and he seems like a very fine young man to me, and a good player. I'm not that surprised at him making a GM norm, and congratulations to him. Having said that, having a cellphone on you while playing is a really really bad idea, and I'd have thought it would make sense on both sides to try and forget about this episode.

Imagine if a spectator came onto the court during an NBA game and called "three seconds" lane violation and the referees actually conferred and ruled a violation. That wouldn't happen and that spectator would be ejected from the arena. Spectators should have absolutely no contact with neither the players and officials, nor a chance to influence the outcome of the event.

The playing area should be roped off from those not participating in the event with the exception of photographers and those in an official capacity.

on 08 Apr 2016 at 11:17 am

12

Al Lawrence

Dr. Shabazz–
Respectfully, I'd point out that an NBA game has little in common with a chess tournament, where cheating can–and does–happen in the bathroom. I don't know the player in question and was not on site, but I'm pretty convinced from your article that he's a straight-shooter. GM Ashley's comment was the most compelling and sensible opinion in your piece. And it seems to me the TDs made a thoughtful decision. But frankly, yes, I hope spectators *do* continue to report violations like the one Josh committed. (I don't, of course, recommend peering into stalls.)

Al,

Maurice said what most of us believe.

In terms of the spectators… I believe you miss the general point. Of course the sports are indeed different, but what is different in concept? Chess is a sporting activity (with spectators), nevertheless. In what other sport activity can a spectator officiate in a competition? A spectator walking up to the board and pointing out something in a time scramble is no less egregious. Allowing a spectator to approach a player (even if it isn't in the bathroom) and correcting them is quite a reckless thing. You are endangering the integrity of the event… especially if it isn't known the spectator's relationship with the competitors. That spectator can of course, go to the arbiter and provide a suggestion, but even THEN the comments must be vetted… the spectator may have a "dog in the fight". I don't believe chess spectators should interact with the players and confront them even if they are committing a violation. Leave that to the arbiters. That is why referees/arbiters officiate and fans/spectators are onlookers only. It's no different in chess.

I also believe you missed the connection with the previous allegation. The accusation is connected, so it is not a case of an objective fan citing a violation. It is someone who had a previous suspicion of a particular player and followed him to confirm this suspicion. That's the whole point.

on 08 Apr 2016 at 6:26 pm

14

Al Lawrence

I thought you put together an exceptionally thought-provoking piece on currently the most important topic in chess. Good pieces lead to good discussions.

I have a friendly caution, however: Those of us who disagree with some of your views haven't necessarily missed your point. We may disagree on very good grounds of our own. It will take a village to keep amateur chess from literally going into the toilet. NBA, not so much. Consider the real cheaters to be a sort of chess terrorists trying to ruin our idea of fair play. We can all be vigilant. See a cheater? Tell the TD, whether you're a player or a spectator.

Al,

We will disagree on the analogy, but we could be talking about any sport. Pick one… shogi, tee ball, cheerleading, table tennis. Spectators are not allowed confront players in the heat of competition and officiate. Do you agree with this? The point is as a sporting activity, we have to draw some boundaries on what impact spectators have (unless we are discussing a game show). That way those with a "dog in the hunt" will not unfairly influence events as in Las Vegas where Josh was also suspected only because he was having a strong result (i.e., Sandu case).

Agreed… see a cheater, tell the TD. See a cheater, DO NOT confront them and impersonate a TD.

on 08 Apr 2016 at 2:13 pm

16

andrewrun

I played at the Philly Open. It was literally impossible to forget that you had a cell phone in the bathroom. Every single time I walked into either of the two bathrooms, a TD was standing there and asking "cell phone?". There were announcements before every round, and there were multiple signs in the halls on the way to the bathroom, on the desk just outside the bathroom where the TD was sitting, and even taped on the actual entrance to the bathroom.

Regardless of whether or not the cell phone was on, whether there was a chess program installed, or how exactly it came to light that the cell phone was on a player's person, once a player was discovered with the phone in the bathroom, I think forfeiting the player is the only reasonable reaction. It's really not fair to the hundreds of players that went out of their way to leave cell phones in cars, hotel rooms, or at the board in full view of their opponent that someone is allowed to carry a phone into the bathroom and receive a minor time penalty. At some point it's important to protect the integrity of the tournament.

The real crime in chess isn't that one person in a million actually cheats, it's that every honest player is wondering "is my opponent cheating in the bathroom?". That's no way to play chess, and just these thoughts can derail a successful chess game. I hope in the future that the tournament directors have the gumption to carry through on the threatened penalties and actually forfeit players caught red handed with a cell phone in the bathroom.

andrewrun,

They did in fact follow through on a punishment. Not the one you suggested. There were four options of which forfeiture was one. They decided to chose one of the others. Either you accept their authority and ability to make the decision or not. There were other issues here besides the cell phone violation and the organizers took that into account. In fact, it does matter how the violation was discovered, just as it matters how authority figures enforce the law. Committing a violation to enforce law is almost always the wrong thing to do. Someone followed Josh into the bathroom and apparently peered into his stall. To avoid a potentially litigious situation, the tournament organizers made a measured response and Josh got a high-end penalty. He accepted the penalty. Forfeiture would have dragged this into the courts for sure and created quite backlash for CCA.

on 08 Apr 2016 at 4:06 pm

18

cleveland

Guy I know Josh will forget his simple phone mistake and eventually accept the situation as an honor of validation of his immense chess skills! After briefly meeting Josh it is easy to comprehend that he understands right from wrong! I am reminded of a past Vegas open tournamnmet where an spectator IM was sitting less than a foot beside my son giving hints to his opponent (across the table) a possible friend/student of the IM. Since 1st place was at stake I went to the TD and was told my son had to lodge the complaint. I accept the ruling but did ponder why invest $1500 to encounter this type of situation.
Please tell Josh to keep his eyes on the prize!

on 08 Apr 2016 at 5:05 pm

19

Polly Wright

I'm absolutely shocked by this. Though in sadly I'm not surprised. Jealousy perhaps? What was the motive to follow Josh into the men's room and peek into the stall?

I've known Josh and his dad for 10 years. Josh is a frequent player at our club and is a true gentleman. I've never seen anything that would cause me to think Joshua cheated. He's worked very hard and despite not getting the same sort of support as some of his peers, he shown himself to be a fighter and an excellent student of the game.

Josh made a mistake in having his phone with him and was penalized as the directors felt appropriate. I'm sure that won't happen again.

In scholastic tournament play parents and coaches are limited in how much access they have to players. I do find it disturbing when parents and coaches meddle during open tournaments where there aren't the same rules for spectators.

on 08 Apr 2016 at 5:35 pm

20

Guy

Cleveland, I appreciate and value your support. And by the way, there were no doors separating the bathroom from the corridor. If you find it plausible to believe that at the time that Josh ran into the bathroom, there was a TD there saying " cell phone" and he just disregarded the warning, then you are on the side of those who are not interested in knowing whether any cheating occurred, but rather feel distressed that the TDs didn't exercise the most severe penalty(forfeit) . But, with the support from individuals like yourself, Daaim, Maurice, Susan, etc., Josh will be fine..

on 08 Apr 2016 at 7:27 pm

21

Guy

If I may, and with due respect to Mr. Lawrence, I would agree that the village setting works fine when it come to education, but to encourage spectators to play the roles of vigilantes at chess tournaments, could potentially create unexpected pandemonium. Cops don't usually encourage individuals to take matters into their own for good reasons. The solution to substantially prevent cheating, in my opinion, will have to come from a well thought out no holds bar policy emanating from the tournament policemen (TDs).

Guy,

The reality is that American tournaments are woefully under-staffed and perhaps it is difficult to man all the boards and also supervise the flow of traffic. We need more tournament directors (who do an admirable job BTW) and are in need of a revamped policy on tournament conditions and fair play. It's time for a change. I would personally like to see a ban of cell phones in the playing hall and strict screening (i.e., Millionaire Chess).

However, this spectator issue bothers me because it can tilt the balance and it is hard to know what spectators are doing and what their role is in the playing hall. Are they merely visiting? Are they with their spouse? Are they a chess parent? Are they a curious non-chess visitor? Are they are reporter or photographer? We should know who's who. Perhaps everyone has to wear a badge or bracelet like in many major international tournaments I've been to.

on 08 Apr 2016 at 9:01 pm

23

andrewrun

Guy,
I certainly don't mean to insinuate that Josh was cheating with his phone in the bathroom or cheating in any other way. My point was just that the announcement before every round was "don't bring your cell phone into the bathroom or else you'll be forfeited". The pre-round announcements did not mention that the penalty would just be 20 minutes off the clock. I know that the CCA has always had a variety of penalties on the books to deal with suspected cheating. I hope that all organizers, especially in these tournaments with large prize funds, deal with cheating by using the most reasonable yet severe penalties at their disposal. If someone is peering into the stall, that's an entirely different matter, bordering on child abuse and sexual harassment.

In order to continue to run successful tournaments, I think that organizers need to have a zero tolerance policy when it comes to cheating, and additionally, organizers need to do everything in their power to stamp out the mere appearance of cheating. The CCA went to the effort to get expensive cell phone detectors so that players could be confident that nobody would have a cell phone in the bathroom. Just knowing that there was at least one player with a phone in the bathroom is disconcerting – why go to all the effort when a player can easily flaunt the rules?

I think that the work that Ken Regan is doing with automated detection of cheating in games is very valuable. Work like that will go a long way towards exculpating players with the aura of cheating otherwise hovering about them.
As an aside, there are some interesting comments about this article also on reddit: https://www.reddit.com/r/chess/comments/4dwgb9/new_toiletgate_cheating_accusation_refuted/
Andrew

Thanks for the reference, Andrew!

on 08 Apr 2016 at 9:37 pm

25

Guy

Andrew, you've made an apt point and I want you to understand that I am not rejecting your point. But to demonstrate such aggravation with the rulings in this platform naturally causes people to wonder what the source of your disappointment. Are you suffering because you think josh was cheating or are you saddened because you think he got away with a slap in the risk? Thanks for the Reedit ,,,

on 08 Apr 2016 at 9:58 pm

26

andrewrun

I'm saddened that a promising US junior has to deal with this at all. I'm also saddened that cheating in the US has become relatively commonplace. There are many incidents, including one local to Boston, where the players caught cheating suffered no long term ban and instead were merely thrown out of a single tournament. It's terrifying to me that the USCL hasn't made a single public statement about cheating in league games or dealt with suspicions in an open manner. If the USCF and other US chess organizations had an absolutely zero tolerance policy for cheating, we'd be in a much better place. First instance caught cheating, for example, 3 year ban from tournament chess. Second incident should be a lifetime ban. If that were the case, players would certainly not have to worry to the same extent that we do now.

In the future, I think it comes down to players to remain above reproach. In local club games, I frequently leave my cell phone next to the clock so that my opponent can monitor my phone. As a TD I've asked spectators to leave the playing hall when they have cell phones out – especially when it's a parent or other relative of a player.

Regardless of whether or not Josh did anything in the bathroom beyond a bathroom's common use, it's troubling that the CCA backed down from the threatened penalties so quickly. I don't see how it was possible to innocently forget that a cell phone was in your pocket with all of the warnings and reminders. It's a good thing that the Chess Drum brought this incident to light, I wasn't aware that there had been an issue to this extent with cell phones.

Thanks again!

I honestly believe CCA had a difficult situation. It was complicated by the action of a grown man approaching a 17-year old boy in the bathroom and allegedly peering through the opening. There is no way to disregard the possibility of a litigious imbroglio. I agree, in principle, with your approach to cheating. However, "zero tolerance" rules have their shortcoming since there is always a level of severity.

Losing track of cell phones… people do it. I forget where my cell phone is from time-to-time. I've never lost a cell phone, but I have left it at home a few times. I have left it at my office. Sometimes I have to reach to see if I have it. Saying that… we are too reliant on this device. We act like we can't be off the grid for a few hours. We should have a check-in procedure like that do at the Millionaire Chess Open. It was done very seamlessly.

Let's agree that Josh realizes his mistake. He was not cheating but broke a rule. The directors assessed the severity and made a ruling on four options.

on 08 Apr 2016 at 9:45 pm

28

Guy

And Andrew, the people who doubted his ability before this incident would have continued to doubt him w/out an incident. I can tell you that nothing has changed. Josh did not lose any fans and he didn't gain any fans. What's good is this superb article can help foster positive dialogue on this issue.

on 08 Apr 2016 at 10:05 pm

29

Guy

The Reddit blogs wasn't useful, the contents weren't balanced. Josh could easily have the people he knows who were at the tournament refute the comments on Reddit, but that would be school yard fights.

on 08 Apr 2016 at 10:12 pm

30

Guy

One of the clowns on redditt claims that one of the games that Josh lost is the game that wasn't broadcast. The game he lost was to Kamsky and it was broadcast. If you ask Kamsky who has played Josh more than once if he felt Josh was cheating, I'm
sure he would tell you NO.

on 09 Apr 2016 at 2:48 am

31

Andre

I've played and lost to Josh, too. I'm sure he wasn't cheating then and he isn't cheating now. But this is an important life lesson for Josh….as a black man, whether a doctor, lawyer or grandmaster, you are constantly subjected to a level of surveillance whether you want it or not. This surveillance will be a lifelong happening and Josh will have to adapt.

Note: I won't even get into the more obvious point that what folks are really complaining about is that an African American is beating them in an intellectually-based skill.

on 09 Apr 2016 at 6:03 am

32

Mel

Guy,
You, Josh and family are on the right track. Just keep going forward. As you mentioned, you have good support from people like Daaim Shabazz, Maurice Ashley, Susan Polgar(one of the best chess teaching minds around and she seems have a kind heart and to be genuinely interested in helping her students reach their full potential) and your other friends etc. Perhaps it is a good idea to communicate and consult more with those who have your best interest at heart. Of course it is normal to defend your son and your position but may I suggest not spend too much time and energy on the negative. That time and energy could be well spent on preparing, creating, doing etc. for and with your family and friends.

Consider any mistakes Josh makes as lessons learned or experiences gained rather than setbacks. Think positive; ignore negative thoughts. There will be people who envy Josh's success and will try to discourage him or hope to catch him making an error. In other words, get a good grasp of all the rules to limited any possible rule infringements. I think part of the issue with the phone in the pocket incident is that it is a testament to Josh's ability to focus on the match and nothing to do with cheating. More on that later.

I have followed the chess drum for a number of years; all that I have read about Josh suggests that he is a mature, honest, intelligent, hard working young men. He is also a great listener, he is a profound and complex thinker, has the ability to reach an extremely high level of consciousness and has a great deal of respect for his parents and elders. He has no need or reason to cheat.

Guy, you are doing a great job. I wish you and your family all the best and continued success.

Mel

All,

If any of you are claiming to be a witnesses to any aspect of the incident, then will you have to disclose your identity (full name and city, state) so we can assess the credibility of your account. Someone claiming to be a bystander can post antagonistic and inflammatory statements in an online forum and we won't know who you are. Such statements were being posted on several sites, but the comments were opinions and not first-hand accounts. Opinions are fine, but first-hand accounts have to undergo greater scrutiny. If we cannot trace you, there is no way to verify if your first-hand accounts are true or false.

on 09 Apr 2016 at 9:13 am

34

Lionel Davis

Wow as an ULTRAMODERNIST the traditionalist has reach an all-time low with this stuff, as much "cheating" and deception going on in the world of chess at this very moment and some people want to attack a child, disgusting. and u Buffalonians ask me why i dont go play with some gm they send to Rochester to play with me , well think about this post for a second will ya? and i dont know why chess players of african descent dont study chess more "SERIOUSLY" so they can see past all the nonsense thats being put out in the chessworld. Do some real work and this will allow you to pass on some REAL INFORMATION for our youth instead of just parrotin stuff somebody else is talkin about with some title they got in chess.

on 09 Apr 2016 at 3:47 pm

35

George

All,
I went to North American and Philly Open as well. It's my first time to meet Joshua at North American Open and was impressed by his performance. But the accusations from some of the foreign GMs of his brilliant moves after the bathroom trip did raise suspicion about Joshua real strength.
At the first game of Philly Open, Joshua faced a lower rated player at the first round, and I was surprised to see that his position was worse closing the end of the time control. And he got up to the bathroom, I was waiting for him to come back to play good moves, but he was not back. So I went to the bathroom as well. And I was shocked to see him came out of stall and slipped the cell phone into his pocket.
That just put a very bad taste in my mouth. And I followed him back to the game. And he played brilliant defense within a couple minutes and even came up with brilliant counter attack.
I believe USCF needs to put more strict rules against bringing cell phone to the bathroom to bring the fairness back to the chess tournaments.

on 09 Apr 2016 at 9:50 pm

36

Guy

Strangely, Ruifeng Li was once accused of cheating himself some years back at the South Houston Open. The site that Andrew posted about Josh (Reddit) would not allow any posting on that incident because allegedly the cheating accusation was without merit. Is it ok then to wonder why Reddit would allow people to post on this allegation since it too has been debunked?

on 10 Apr 2016 at 11:19 pm

37

Ian Wilkinson (JAMAICA)

Guy/Josh,

Please note that the Jamaican Chess fraternity is sending you lots of power, strength and support. As one who represents people often accused of wrongdoing (quite often unjustifiably so!) I can attest to how painful it is to be so accused. Further, it is difficult to remove the "stain" once applied. That is why quite often huge sums are awarded for compensation/damages in libel/slander cases.

The offending allegation should be removed from any source so that, among other things, it is not there as a constant, painful reminder or to come to the attention of new readers to cause possible harm.

Josh – use this episode as a catalyst or motivation to excel even more than before. As we say in Jamaica – "mek dem tyad fi si yuh face" (Make them tired/worried to see you – Give them hell!!).

Forward to greater things and historic accomplishments!

There are reports that more than one chess parent may have been involved in following Josh both in Las Vegas and Philadelphia. According to two separate witnesses, they identified both (on separate occasions) as spreading accusatory comments about Josh… particularly to the Chinese players. In the original case Zhengyang Li reported seeing Josh with his cell phone after which he was sanctioned with a penalty. The other chess parent is from the Milpitas, California area and has admitted to following Josh around at the Philadelphia Open and making similar accusations. The two chess parents are said to be friends. The story appears to be chess parents attempting to paint Josh Colas in a negative light for competitive reasons. This has to stop! If there is someone following your child at the chess tournament, confront them and call security. We will continue to follow this lead.

on 14 Apr 2016 at 4:38 pm

39

john porter

Man great info, please advise on how/or ways to give a tournament and prevent even the thought of foul play, sometimes going to the bathroom for extended periods does seem strange while I do know that playing chess does create a need to free yourself of unnecessary waste! Hence the term "I beat the sh*& out of him" I can not wait for my return to the 64 squares with all this technology I can make great excuses for my loses now! Chibange

on 14 Apr 2016 at 4:59 pm

40

LIonel Davis

haha Nice, well Mr. Porter if u return then i will follow! my only fear if the Gms like Nigel Short shows up and now they somehow get stronger with an 8 hr. time limit, right Buffalonians? LOL

on 15 Apr 2016 at 4:06 pm

41

john porter

I hear you man,

on 16 Apr 2016 at 11:03 am

42

LIonel Davis

good to hear from ya bro!, actually our young need to hear more from some of our great players who have been particpating in some of the traditional events around the world. um sure they can learn alot from the experience of some of our masters! hopefully Daaim can find a way to lure them onto the site! On an Ultramodern note Um hopeful we dont spend to much energy on such negative type post and refocus on what our young can learn on the postitive side of chess, from my personal experience in traditional practice events its strange to hear the traditionalist talk about cheating knowing all the bad behavior ive have dealt with over the years at theses events.

on 16 Apr 2016 at 5:22 pm

43

Guy

Your point is well taken Lionel. But in this case I believe Daaim did the right thing. It's an occasion that is perfect to offer all the fair minded individuals and others to articulate their opinion and for us do comprehend and learn from their response and be more alert as to how vigilant we need to be when we try to chase intellectual activities. An evil tweet had been tweeted to smear Josh, so the negative info was already spreading its wing, so the truth had to go out right away Josh is not the only black player who has exhibited a great deal of potential, but he is the one that has ruffled some feathers by earning a GM norm in Vegas. So this reaction was expected and he was warned. But when you have reputable people like Polly or a Major League journalist like Mr. Lawrence, saying kind words about him, I hope it will make you appreciate why all this uproar behind a 2400 FIDE player. Perhaps, they understand he could go far and needs to be stop now. But, I hope we can move past this occurrence and accept that aptitude has no color.

True. I also would not be concerned about what his peers are doing and what help they may be getting. It is easy to fall in that trap and we do not want to waste one moment of time thinking about that. For those who support Josh, they have to use their resources to put Josh into a position of success. Resources do not always result in improvement. It just so happens that some players have maximized the opportunities they have received. So be it… Josh has to maximize his.

That being said… we also have to make sure that people are not harassing Josh or undermining his progress because they want their own children to succeed at his expense. That cannot happen. While I believe this was a case of chess parents conspiring against Josh, there has to be a readiness to face those challenges. He has to be prepared for it.

on 16 Apr 2016 at 5:37 pm

45

Guy

Give him the best coach, prep him and send him out there to play the world best and see what happens. Unfortunately , he is not that lucky. But Saint Louis and Susan is working to make the playing field =.

Prep him… exactly right. We have to make sure WE are prepared. St. Louis and Susan can only do so much. The field is what it is… level or not. Let make sure he has a safe and secure environment where he can concentrate without a distractions as we have seen. He needs to save his energy and let us worry about deal with "leveling the field."

on 23 Apr 2016 at 12:43 am

47

Quentin

"Safe and secure environment"…. I agree 100% . Any grown up harassing and stalking him should be arrested.

on 17 Apr 2016 at 2:33 pm

48

LIonel Davis

Yes , well i realize it will take awhile for you all to adjust to ULTRAMODERNISM and how unique we are, Adia why havent you told the chessdrummers how uniques we are instead of parroting ideas in N.Y.C.? Ya know Mr. Colas we so LEARNED in ULTRAMODERNISM that if "The Genius" Yuri Lapshun is practicin down at the Marshall Club with Alex King then all of a sudden he moves to Europe to practice with them we wanna KNOW something about it so we study all his games here in BUFFALO N.Y. cuz we dont wanna be cheated outta TRUE GENIUS. oh Adia ya know Eddie Mark is back practicin ULTRAMODERNISM like u, hes gunna Laugh about me the genius reference to Yuri ya know? hes gunna say, " LIONEL U KTAZY"!!! Peace Drummas.

I have never felt so hurt! I know my son, he could be careless at times, but cheating is not something he would not needs to do. If you want to put things in perspective, let analyze this response. GM Asley said, if a kid hadn't had serious coaching, you don't really know if he's reached his potential. That is Josh. One month of internet coaching here and there. Had one face to face coaching for three months when he was 11. That's all he had. This phenomenon, GM Jefferry Xiong, had no problem offering him a draw after they were out of Theory in the tournament in Vegas and just shook his hand with mutual respect. Instead of embracing this kid, folks have allowed jealousy and spite to reign. I am enjoying the US Chsmpiondhip and excited to see Chess is becoming s news alert, but I would be amiss to not say that I'd love to see at least ONE black player in the lineup. That's what nog bring mentioned.

Guy,

I believe we simply need to qualify. Mentioning there are no Black players in the championship brings attention to the obvious. We have not had a GM since 1999. We have not qualified a player at U.S. Championship since 2006 when Emory Tate qualified. Ashley and Muhammad before him. Charles Lawton played in 2013, but was an invitee. We will have a player when we qualify through strong results. We are not bringing it on a consistent basis.

on 24 Apr 2016 at 12:30 pm

51

Guy

To be candid, we need to recognize that the young players who are showing strong results have remarkable coaching and financial support on their behalf. And of course they are very dedicated. We have plenty of talent as well, but we are missing important elements, coaching and sponsorship. To complicate matters, when we do show strong results, we see what follows. We will start to see changes when elite group like "Young Stars" include in their roster names like: Justus William, Josh Colas, James Black, Kassa Korley , etc., but until then, the appalling stats you pointed out will remain unchanged for decades to come. Of course individually, we have to work hard, but to interpret Susan, without custom-made training and sponsorship; very few will ever reach their full potential. It's really a sad tale that people had to find about the great late Emory Tate only after he left us. If you are a board member or in a position of authority, you have to speak up for inclusion, change starts from persons that have courage and who are altruistic.

Guy,

The financial support of today's rising players comes primarily from the parents. Then players like Sevian, Liang and Xiong are obsessed with their progress. They are not distracted at this point.

It's a difficult thing. Sponsorship is not an easy thing to come by for anyone. When FIDE, the USCF and Millionaire Chess have a hard time drawing sponsors, then it shows the difficulty or perhaps an inadequate strategy at marketing chess. Our "Young Stars" you have mentioned have been supported in a different ways, but of course it will take individual focus and initiative as well. Do they have mentorship? They also have to take the initiative to approach players and seek out role models. Rode models do not have to be stronger players. Willie "Pop" Johnson, who made Expert, was a role model for Maurice Ashley. He mentioned Pop in his Hall-of-Fame speech. We have all types of players who are successful in their fields and in life… doctors, lawyers, professors, engineers, scientists, etc. In fact, the only young talent I can ever remember contacting me personally was Emmanuel Carter… and later Kassa.

To my knowledge, none of the players you mentioned ever met Emory Tate. Perhaps they heard of him and saw him at tournaments. I'm not sure. The connection with history is not there. Emory was actually known worldwide and I wrote about three dozen articles on him which were widely referenced. However, it is my view that he was not fully appreciated until his death. His post-mortems were legendary. As I continue on his biography it is clear that those who didn't meet him missed an opportunity. He was great with youth.

In chess, players are basically responsible for their own progress. Even with the few training opportunities that are out there (Susan Polgar, Greg Shahade and Garry Kasparov), one or two of those sessions will not result in marked improvement if there is not a sharp focus and determination. The information will not be employed properly. Altruism (from supporters) without a vision is like an unskilled driver in a powerful Lamborghini. We need a plan of focus to adequately use the resources that we have. Human resources are perhaps the most important. What is valuable is collaborative efforts.

Did the "Young Lions" ever train together and share information? The Josh-Justus matches early on had the potential to start a partnership before people (parents, fans and coaches) got in the way. The Black chess community has talked about sponsorship and support before, but it will basically come down to individuals charting a course. There are no big sponsoring bodies for chess that I know of. The only sponsorship is that which we create ourselves.

on 02 May 2016 at 2:09 pm

53

Bob Seung

I am a chess parent. I think Joshua has done a remarkable job that may have invited some suspicion. A friend of mine talked about his USCF rating virtually not being changed for a good part of the past 3+ years, but suddenly gained 80+ points in less than 2 months. He could have obtained a very good coach/mentor, or he might have started spending a lot of time in the game. Anything is possible. So, could someone reveal some information along these lines to fend off the criticism?

That may be true about his recent spurt. Maybe he simply worked hard to improve.

Your friend may not understand that improvement is not linear. You don't improve at the same rate over time. Sometimes progression happens in spurts and sometimes you stay at the same level for years before improving. Not sure why many people find mystery in that. When I was a junior decades ago, I went from 1300 to 2000 in less than three years. It's called hard work.

on 03 May 2016 at 10:55 am

55

Guy

For a youngster who had defeated an IM at age 10 (1/1/09), a two times National Champion of Trinidad at age 11 and routed countless IMS and GMs over the years, I am stunned that his noteworthy improvement has created so much curiosity. Let me fill you in. Recently, a foreign coach contacted Josh and asked him if he was working with anyone, Josh said no. He told Josh that he saw his game against GM Luke McShane and was impressed and he would like to help him reach his goal. We didn't accept the offer right away, but as Joshua's performances kept vacillating, I told him to get in touch with the coach. He did and the coach took him under his wing and has since been working strictly on fine tuning his opening repertoire. He get lesson once a week over the Net. In addition, Joshua really wants the GM title so he has been working on his end game studies a lot more then he used to. Joshua used to go into a tournament and practically play a different opening r each round and that was his results. Now that he has professional direction, he has learned how to properly prepare for his opponents and has a set of openings that he can play well and with confidence against any GM. That is why you are beginning to see his rating speeding up to reflect his talent.

on 22 May 2016 at 8:00 pm

56

anonymous

" To say, "he put his phone in his pocket" goes far beyond "someone brought the cellphone into the restroom." "

i don't believe josh cheated, but a question here. josh admitted he had the cellphone with him, and if he just brought his cellphone into the restroom and left it in his pocket then how could anyone know he had the cellphone with him? So i that would tend to support the notion that he had had the cellphone out of his pocket at some point. again i don't believe josh cheated I seen him play G30 tournaments and beat 2400 players never leaving his seat. But let's be fair to Mr. Li. he doesn't have x-ray vision, so the cellphone must have been visible at times. cellphone should be banned at tournaments plain and simple. GM Maurice Ashley's millionaire open with metal detectors has it right. this should be the standard, then you don't have this problem at all.

on 23 May 2016 at 12:20 pm

57

LIonel Davis

Yall funny.

on 23 May 2016 at 2:03 pm

58

Guy

Anonymous, you are correct the phone was visible because Josh was wearing those jeans were the pockets are cut to the side and only 3/4 of the phone is able to fit inside the pocket. Anyone could have scene that his cell phone was in his pocket. You say he's beaten 2400; he's beaten 2700s so the issue of cheating is just trash. In fact what's amazing is after the allegation, obviously he was upset, he was paired with strong GMs and IMs and he managed to only drop one game. In fact, if he was paired with one additional foreigner, he would have secured a 2nd Norm. Joshua is far from stupid. If he wanted to cheat, he would not leave his phone protruding from his pocket nor would he come out of a stall and put his phone in his pocket in from of Mr. Li. To his discredit, Mr. Li and his friend approached Joshua's opponent once their game was agreed to a draw and told the Chinese kid, why did you draw the game, we messed up his head. This kid would be willing to testify about this comment that was made to him. He advised Josh to ignore them, because they play those kinds of games. But it's not a game!

on 23 May 2016 at 4:13 pm

59

Guy

That a was legit question anonymous and I am glad you asked and hopefully you can see why if his phone is already showing and he comes out of the bathroom and places his hands in his pocket , how someone could mistakenly misconstrued that he was putting a phone in his pocket. Truth is easy to explain, and rest assured that Josh will get his next two GM norms in a reasonable time. He is working for that.

on 23 May 2016 at 8:14 pm

60

Kimani A. Stancil

Josh and Guy(and family), I wish you both much support! The only requirement for brilliant action is brilliant work. Please keep up the excellence and control your sphere of influence to align your innate gifts of honesty and strong intellect with your chosen goals. Peace.
Kimani A. Stancil

on 25 May 2016 at 12:53 pm

61

LIonel Davis

Yeah and after all this talkin do some SERIOUS work and dont worry about some gm with a traditional title and rating and u will find out that success in chess is easy.

on 20 Jun 2016 at 9:29 am

62

it doesn't matter

Though it sounds as if Josh is not guilty of cheating, anyone who thinks cheating is rare that these events is deluded.And anyone who thinks it's necessary to go to the restroom to cheat at chess tournament is likewise deluded. I've been victimized by chesscheats more times than I want to recall. Anyone who has participated in these events is fully aware of the fact that the Continental Chess Association does not take cheating seriously at all.

on 20 Jun 2016 at 9:35 am

63

it doesn't matter

I want to be clear that in my estimation based on what I've read it seems very unlikely that Josh was cheating. My main point was that when I played in these events years ago cheating was rampant and very little effort was made by tournament directors to do anything about it. And while I believe I understand the motive for the lack of Interest in thwarting the cheaters, I don't want to risk stating what I believe that was on this forum.

on 20 Jun 2016 at 8:36 pm

64

Guy

It does matter!
It's really not fair to Josh to claim that based on what you have read it's unlikely that he was cheating. The decision that was made by the arbiters of CCA was not based on a hypothesis. Josh had to actually hand over his phone; password and let the arbiters thoroughly searched through his phone, including emails .Again, they did not find anything to suggest that he was using a chess engine or anything else (end of story). Joshua was made aware, only after the fact that his every move was under surveillance when he played in Vegas where he earned his first GM norm. Is this a uniform practice with all the other young players who are getting GM or IM norms left and right?

Nope. Not uniform practice.

on 24 Jun 2016 at 10:14 pm

66

it doesn't matter

Your response to my comment makes zero sense. "It doesn't matter"….is a reference to my identity….my identity….or lack thereof (anonymous) is irrelevant. It's "unfair" for me to conclude that Josh was probably not cheating?! WTF?!….If you choose to think he did, that's entirely your prerogative. Yet you chide me for also believing he was not cheating. Get some help.

on 24 Jun 2016 at 10:20 pm

67

it doesn't matter

Besides, my main point was that Continental Chess' high interest in cheating is interesting given their complete lack of interst for so many years in the past.

Thanks for your comment. I am 100% sure there was a misunderstanding.

on 25 Jun 2016 at 8:57 am

69

Guy

The allusion to your concealed identity was just a tease. It is your right to speak under cover. But, it's not that serious. If Josh was any other kid, there wouldn't be this level of fascination and nuisance. Just imagine if they did find something, there would be a lot of cheerful folks, but since they didn't, there's some real irritation out there. Otherwise, why draw out with this non issue for so long. I do agree that if I thought Josh was being dishonest, then I should seek psychiatric help immediately. Can we leave him alone? He has a few major tournaments coming up and he doesn't need any deliberate distractions.

Peter Doggers, "GM Solozhenkin Suspended For Making Cheating Accusations; Fellow GMs Protest," Apr 18, 2018.

Leave a Reply!