2015 Millionaire Chess Open (Day #2)

Day two of the Millionaire Chess started with the arrival of the four-day schedule. There was also an opening breakfast where Maurice and Amy addressed the audience. One can clearly see that the MC organization is trying some innovative ideas. One of the newest is the RFID data entry method. There are tablets situation throughout the venue and upon completion of one's game, you simply have to have your bracelet scanned and you can indicate your result. Long gone is the method of marking your score on a chart.
My 4th round opponent Randas Burns scans his RFID bracelet issued at registration…
…chooses the correct result of our game.
The data is immediate saved to the player profile. Nice!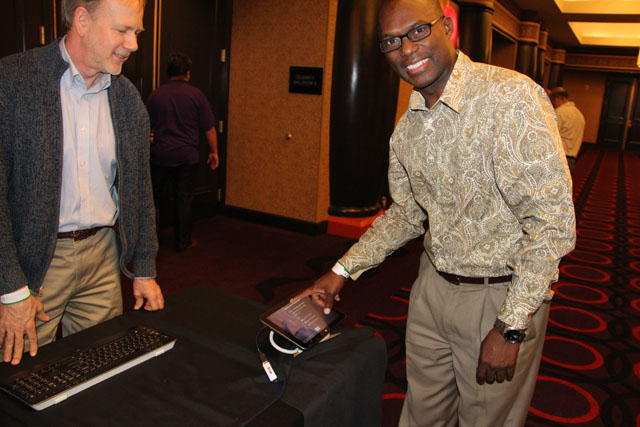 It's my turn! Worked like a charm!!
ROUND THREE
Perhaps the headline of the day would have been GM Hikaru Nakamura being held by University of Texas-Dallas GM Gil Popilski. The hard fought game went the minimum 30 moves until a draw was offered… Sofia Rules in effect. In fact, the Israeli had been slightly better earlier.
Raven Sturt is causing a bit of a stir after scoring a win over GM Zbignew Pakleza in the second round and then holding GM Gregory Kaidanov in the third round. Still lots of favorites at the top by with GM Fabiano Caruana being nicked again by IM K. Priyadharshan of India, the winner of the MC New York qualifier. It's interesting that since returning the U.S., Caruana is re-acclimating himself, results have not been as he would have hoped but he seems happy.
Finally a big stir was created when GM Gata Kamsky forfeited after coming to his board at 11:32am. Players get 30 minutes after the round starts to appear at the board. There were rumors that Kamsky had gotten into a car accident. Nevertheless, he appeared fine in the fourth round and got back into his winning ways. Some players grumbled about the change of times when that is usually reserved for the last day of the tournament.
While other games were in progress, Kamsky's loss is prominently displayed.
* * *
Replay of Round #3
ROUND FOUR
Most of the favorites were flexing their muscles in this round, but leader Wesley So lost a heartbreaker. So had a decisive advantage when disaster struck. So faced Vasif Durarbayli's hedgehog and uncorked a scintillating attack after 12.e5! Bxg2 13.exf6 Ba8 14.Bg5 Ne5? 15.Nxe6! fxe6 16.Rxe5! when black is completely busted. So kept coming with ferocity but black was able to conjure up counterplay and take advantage of the exposed white king. Black held off the onslaught and when the smoke cleared, black had a winning ending. With So going down, the pack of leaders tightened with four players still unscathed.
Yu was on the attack against Suarez and sits on 4/4. He is trying to redeem the crushing loss from last year.
On board two, Yu Yangyi went on the attack against Cuba's Isan Suarez. In a Najdorf turned Schevenigen, Yu shocked Suarez with 16.Bf6! and left the bishop enprise for five moves. To stave off the attack it costed Suarez two pawns and when he finally got the queens off, he was simply in a technically losing position even when Yu gave back a pawn to free his pieces. Yu is trying to rebound from a devastating loss to Ray Robson in last year's Millionaire Monday semi-final bout. He is among the four with perfect 4/4.
Replay of Round #4
Official Site: https://millionairechess.com/
Photos: https://www.flickr.com/photos/
hashtag: #MC2
Twitter: @highstakeschess
Drum Coverage: https://www.thechessdrum.net/