2015 Sinquefield Cup: Round #2
2015 Sinquefield Cup
August 23th – September 3rd, 2014 (St. Louis, USA)
Round #2 – Monday, 24 August 2015

1
Topalov, V

BUL

1-0

Nakamura, H

USA
2
Vachier-Lagrave, M

FRA

½-½

Aronian, L

ARM
3
Giri, A

NED

½-½

So, W

USA
4
Caruana, F

USA

0-1

Carlsen, M

NOR
5
Grischuk, A

RUS

1-0

Anand, V

IND

Official Site
"Topalov scores against Nakamura…
Caruana-Carlsen's time pressure kerfuffle
ends in calamity"
Starting with the most exciting games… if anyone has high blood pressure, then they would have done best to avoid the gladiator battle of Caruana-Carlsen. This game went down to a fierce time scramble ending when Caruana fell into a tactical blunder losing on the spot. In contrast to last year's 7/7 romp, the American hopes he doesn't have the opposite trend, but it is unlikely that he'll continue this streak.
The Ruy Lopez was a very characteristic juggernaut with all the pawns in tense hand-to-hand combat. Once there were some pawns exchanged the position was starting to inch toward a tactical battle. However Caruana had only a few minutes left to make his 40th. Both players started to lose the thread in time pressure as the clocks were ticking down.
The telecast captured the tension with close camera angles and the tension was thick. Instead of explaining it away, fans have to see the finish to believe it. The action picks up at 4:08:32 with Carlsen on move 28.
Video by Spectrum Studios (for CCSCSL).
It must have a horrible feeling to blunder at move 40, but it is very common with seconds winding down. Caruana has to collect himself… play solid games and not lose another before the rest day. To his credit, he was gracious enough to share his thoughts in what must have been a heart-breaking games. Carlsen was very critical of his form and stated that he'd take any when he could get.
Magnus Carlsen beats Fabiano Caruana after an insane time scramble! https://t.co/Kkd2uI5iBo #c24live pic.twitter.com/bJvJ9KDqPz

— chess24.com (@chess24com) August 24, 2015
The tour leader Veselin Topalov battled Hikaru Nakamura in an anti-Berlin showdown. White possessed a spatial advantage and ramped up the pressure with his two bishops versus two knights. In fact, black's king ended up being over exposed and trapped in a woven web on g5. The positional advantage gave rise to many tactical possibilities with the slicing bishops and mating nets.
As Topalov continued to probe the position, it appeared that Nakamura was losing his grip and was unable to defend his weakened kingside. With 56.g5! white not only created a passed pawn, but gained the ability to attack the weak f4-pawn. Black's position gradually deteriorated. It would prove to be too much as there were no drawing tricks in the rook ending. Americans are having a rough go in this tournament.
Nakamura concedes defeat, leaving Topalov the sole leader of the #SinquefieldCup! https://t.co/xMzMo5YBDS #c24live pic.twitter.com/OBFZJ500JF

— chess24.com (@chess24com) August 24, 2015
Viswanathan Anand has been playing well as of late, but had another snafu in his game against Alexander Grischuk. The Russian trotted out the London System and Anand fell into trouble right out of the opening. After 9…Bd7 commentators suggested 10.e4! yet the Russian opted for the quiet 10.a3 and after 10…Qxc5 11.Na4 Qa7 he played another lever with 12.c4! White still had a slight positional edge with the locked pawns and his probing knights.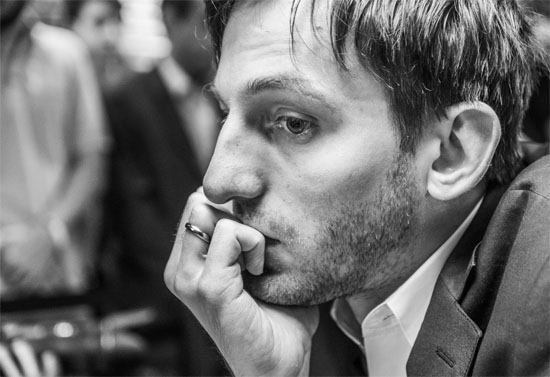 Alexander Grischuk's breathed a sigh of relief.
Photo by Lennart Ootes.
Grischuk snared a pawn on a6 and now had the advantage of two connected passed pawns. This proved to be too much of a structural advantage for Anand to contend with as his own central pawns became exposed and were cut down. Anand gave up after 35.Rf8+. A nice win for Grischuk and amazingly his first win over Anand in a classical game.
Anand: "I shouldn't have repeated our blitz game from Norway-that's basically what we were playing. That wasn't very bright" #SinquefieldCup

— chess24.com (@chess24com) August 24, 2015
Wesley So managed to draw his encounter with Anish Giri without much drama and the USA avoided a whitewash. Maxime Vachier-Lagrave and Levon Aronian had perhaps the most peaceful game with no real imbalances or tension. Smooth draw and a chance for both players to take a stroll at the famous Forest Park nearby.
Full Drum Coverage: https://www.thechessdrum.net/blog/2015/08/22/2015-sinquefield-cup-st-louis-usa/
Standings after Round 2
1st: Veselin Topalov, 2; 2nd-4th: Anish Giri, Maxime Vachier-Lagrave, Levon Aronian, 1½; 5th-7th: Hikaru Nakamura, Magnus Carlsen, Alexander Grischuk, 1; 8th: So, ½; 9th-10th: Viswanathan Anand, Fabiano Caruana 0