Drum Interviews @ '15 World Open
IM Odion Aikhoje gave some interesting professional insights about the marketing of chess in an informative half-hour conversation. He has a Master's degree in sports marketing management.
The 2015 World Open remains America's marquee event… for right now. It has staying power, but of course its consistency may suggest that a few tweaks are needed. Many foreign players get their first exposure to American tournaments via the World Open and usually will gripe about lack of professional standards.
In fact, Alexander Ipatov wrote an article for ChessBase that sounded like so many of the other articles written… no conditions, have to supply own clock and set, two rounds a day, the usual complaints. Few foreign players understand the American chess landscape and how it works. However, there were some interesting observations made by IM Odion Aikhoje (Nigeria) who gave an interesting perspective in our 30-minute conversation. He also gave his analysis of why African chess suffers such dysfunction… not for the lack of talent.
Aikhoje won a gold medal at the 1998 Chess Olympiad in Elista, Russia, but makes some incisive comments about how a country can capitalize off the success of a single player to create a sustainable business model for future development. Very insightful indeed! 30:01 minutes
GM Luke McShane (England) – Luke was playing in the blitz tournament when I asked for an interview so I only had a few minutes. The English player was enjoying a vacation in the U.S. and decided to make chess a part of it. This was his second time competing in the World Open, America's marquee tournament. This time he competed in both the DC International (tying for 1st on 7/9) and the World Open (tying for 2nd on 6.5/9).
Luke McShane (right) was able to avoid being krushed by Irina!
Yes I know… a bad pun!
He made a comment about the two games a day, but not as strongly as his compatriot Nigel Short who feels the practice should be banned. Luke is not a professional chess player, but is often touted as the strongest amateur player in the world. Perhaps one can sense that he is a bit at ease while playing. Unlike many professional players, a game's result would have no bearing on his ability to pay his mortgage! 3:21 minutes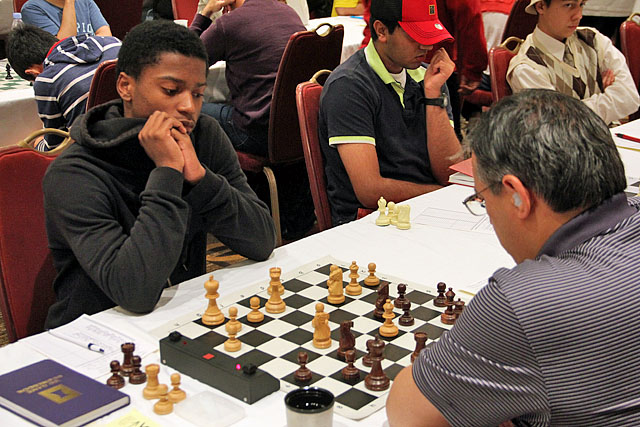 Fifteen-year old National Master Emmanuel Carter in action!
NM Emmanuel Carter (USA) – This young master gained major experience at this World Open and was able to test his rapidly improving skills in a number of blitz encounters. Soft-spoken, yet confident and self-assured, Carter tells The Chess Drum about his beginnings, how he found chess and his career aspirations. While the 15-year old is rather new to the national scene, we certainly will hear more about him in the coming years. 5:17 minutes
Vanita Young got 6.5/9 at the World Open
in the under-1800 section.
Vanita Young (USA) – A Philadelphia native how gained some initial exposure the the Dark Knights Chess Club under the tutelage of Douglas Cox, Young earned a scholarship to player for the the highly-fancied Webster University chess team. However, she returned to Philadelphia after one year to be closer to home.
This tournament was a rousing success for Young who scored 6.5/9 in the under-1800 section. It was her most successful result since leaving Webster University. These days she keeps a busy schedule but still finds time to take on a few students while working and going to school. Vanita also gives some interesting insights on the raging gender debate in chess. Certainly, a credible voice on the topic. 7:03 minutes
FM Kazim Gulamali discussed his international adventures!
FM Kazim Gulamali (USA) – When someone calls Kazim a "bugger" they mean it in a positive light. 🙂 One of the world's strongest players in the chess variant of "bughouse" the Atlanta native still has aspirations in chess. His goals have taken him to Europe to play in a series of tournaments including Lazslo Nagy's "First Saturday" tournament in Hungary. Kazim raved about the travel experience and remarked at the beauty of the country and the hospitality of Nagy. He was able to bag one IM norm and hopes to defend his Millionaire under-2500 title this October. 15:55 minutes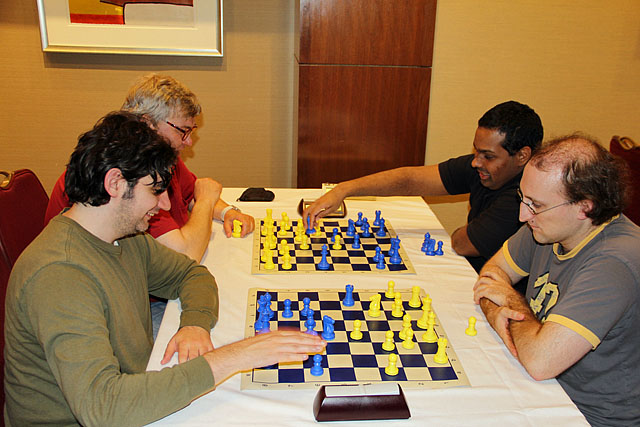 Gulamali playing bughouse, a variant in which he is one of the world's best!
Mario Marshall (Jamaica) – Many times in tournaments, we do not know the professional backgrounds of our opponents. Sometimes I Google my opponents after a tournament and it is amazing how many accomplished players lurk at tournaments. May it's not so surprising! Mario is one of those unassuming players with immense intellectual capital. Holding a Ph.D. in Mathematics from Florida Atlantic University, he currently teaches online courses for Western Governors University and resides in south Florida. Although he did not do well in the tournament, he shared his experiences during the World Open and views about chess in the Caribbean. 8:21 minutes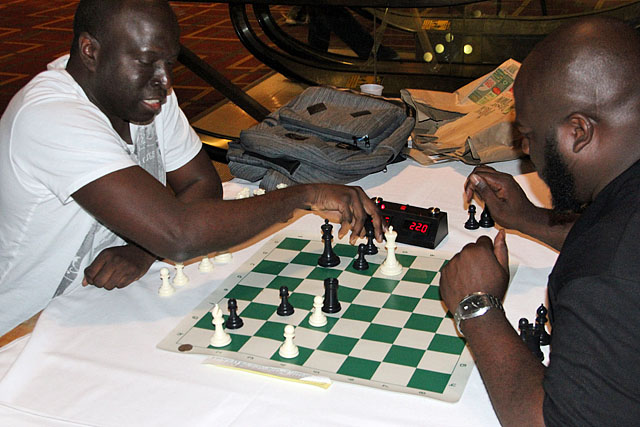 Mario Marshall blitzing with Donnell Sutton.
All photos by Daaim Shabazz.
This year, I had a wish-list of interviewees and while I did not get many of them, I hope to get some good ones at the Millionaire Open in October. Adia Onyango has agreed to do one at the Millionaire Open and maybe I'll have a few surprises, so stay-tuned! Please feel free to make comments below!
Drum Coverage: https://www.thechessdrum.net/blog/2015/07/09/2015-world-open-arlington-virginia/
Drum Interviews (archive): https://www.thechessdrum.net/interviews.html