Chess Coach Wilson facing trial July 14th
F. Leon Wilson at 2014 U.S. Open in Orlando.
Photo by Daaim Shabazz.
Approximately one week ago, the Columbus Dispatch a story broke about F. Leon Wilson, highly-regarded coach and founder of both The Chess Learning Center and the KnightMare Chess Club. Sources in Columbus, Ohio report that Wilson was arrested on charges of inappropriate contact with a minor during a coaching session.
A 4-year old girl told her father that Wilson touched her improperly on April 7th at the Prep Academy School in Polaris. The father reported the matter to the Delaware County April 9th to authorities and based on the singular testimony of the girl, Wilson was arrested after he returned from an overseas chess tournament.
Wilson, 61, was in Delaware County Common Pleas Court last Friday on May 1st and plead "not guilty" to counts of "gross sexual imposition". He is free after posting the $250,000 bond. The initial $500,000 municipal court bond levied by the Delaware County Jail was reduced to $250,000 because the adjustment of the charge from "rape" to "gross sexual imposition".
Wilson initially faced a charge of rape, a first-degree felony, in Delaware Municipal Court, but that charge was dismissed pursuant to the grand jury's indictment. (see article)
Although Wilson maintains his innocence, several of the schools have immediately cut ties. This amounts to more than a hundred chess players and more than a dozen schools. Wilson has been teaching chess for the better part of a decade is an active tournament competitor and a Life Member of the United States Chess Federation (USCF). He also has active teaching certifications with the USCF and FIDE, the world chess federation.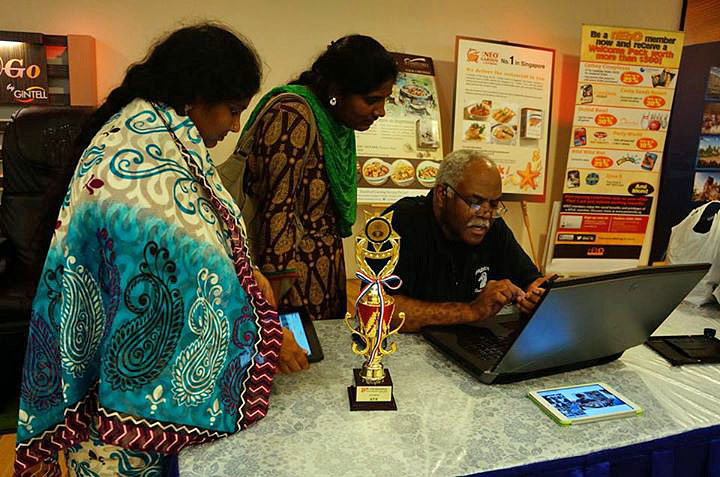 Wilson with fellow competitors
at the 2014 World Amateur Championship in Singapore.
Photo by Frank Johnson.
A cursory background check Wilson comes clean with only minor traffic violations. Prior to working with Prep Academy, he submitted to a rigorous background check. Following is an excerpt from Prep Academy's Tom Runfola describing the process.
As soon as we learned of this matter we immediately contacted the Delaware County Sheriff's Department to offer our full cooperation and assistance.

While we are aware that Mr. Wilson has been arrested, we do not know what if any formal charges will be formally pursued, nor are we privy to the status of the investigation. In the meantime, we have suspended after-school chess classes indefinitely.

We do everything in our power to ensure that every single person who comes into contact with our children is safe, trustworthy and beyond reproach. We regularly enlist the services of outside experts with extensive law enforcement experience, including experience with the U.S. Secret Service and the Crimes Against Children Task Force, to ensure that our security protocols are as strong as possible. A thorough background check on the accused individual found no cause for concern. (see article)
On Wilson's website, it is mentioned that he had passed background checks by the Ohio Bureau of Criminal Investigation (OBCI) and the Federal Bureau of Investigation (FBI).
F. Leon Wilson
Photo by Frank Johnson.
After the first accusation, two other charges against Wilson have been launched. One based on the accusations of a 7-year old girl at the Bexley Academy and a young lady who was 13 when she alleged Wilson abused her 10 years ago. Although the mother got the police involved in the latter case, no charges were brought. The mother stated in the interview with WBNS-10TV that "it was her word against his". There is a legal process in these instances to determine whether such charges have merit. It remains unclear why that process was not followed. Authorities in Delaware County are determining whether that case is relevant to the recent accusations.
As far as the current cases, Delaware County sheriff's spokesperson Tracy Whited, could not provide any details about what occurred in any of the cases. Wilson appeared on a video in his prison-issued orange jumpsuit. While leaving the hearing, the cameras followed him after which the exasperated Wilson uttered, "Not guilty." No other information about the accusations has been released.
Video by WBNS-10TV.
The Chess Drum's text messages to Wilson have not been returned. It is likely that he has been told by his attorney not to give statements to journalists. Thus far, the public has not heard Wilson's side and the story has been spread around the globe via news syndication. Lori Kurtzman, who ran one of the breaking reports, told The Chess Drum that she is looking for people in the chess community who are especially close to him in an effort to provide some balance to the story.
At this point, Wilson has been presented to the world as a child molester and sexual predator prior to being proven guilty. His ultimate fate rides on the testimony of a 4-year old and 7-year old. Nevertheless, even if he is proven to be innocent, it may have irreparable damage to his reputation as a chess teacher. There are a number of questions that will be raised in this case (and perhaps the 10-year old case), but certainly there has to be balance in how Mr. Wilson has been characterized in order that he receive fairness in his trial.
Sources
Dean Narciso, "Girl says teacher sexually assaulted her at preschool," 28 April 2015.
Lori Kurtzman, "Rape charges against chess teacher worry parents, teachers at several schools," Columbus Dispatch, 29 April 2015.
Lori Kurtzman, "New allegations emerge against youth chess teacher," Columbus Dispatch, 29 April 2015.
"Chess Instructor Accused Of Raping Children." WBNS-10TV News, 1 May 2015.
Josh Poland, "Mother Speaks Out About Alleged Abuse By Chess Instructor," WBNS-10TV News, 4 May 2015.
Thomas Gallick, "Alleged victims of chess teacher now number three," Olentangy Valley News, 6 May 2015.