2015 Digicel President's Invitational (Jamaica)



"WIZZY" STRIKES GOLD!!!!
2015 DIGICEL PRESIDENT'S INVITATIONAL
CHESS TOURNAMENT
The 2015 edition of the Jamaica Chess Federation ("JCF") Digicel President's Invitational Chess Tournament came to a thrilling climax on Saturday April 25 with the completion of the 11th and final round at the conference room of the Jamaica Olympic Association ("JOA").
Nathan Hinds (L) about to face NM Daren Wisdom
in their crucial final round clash.
NM Daren "Wizzy" Wisdom notched another hold on the trophy by snatching victory at the tape by defeating Nathan Hinds with the black pieces in a tense Queen's pawn game which, fittingly, went into a queen and pawns ending. The Charlemont High graduate recovered from a poor start to the tournament (including a shock defeat to Jared Lewis in the 3rd round) and a demoralizing loss to title challenger Miguel Asher in the 8th round, to record seven wins and end on 7½ points.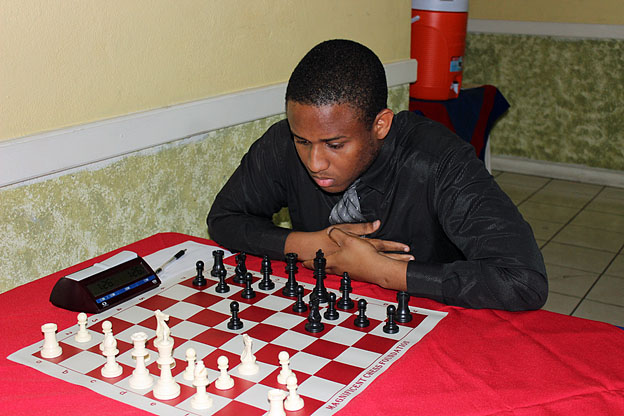 Miguel Asher, who defeated Daren Wisdom,
was unable to hold the lead and came in joint 2nd.
Asher, armed with the white pieces and gunning for the title, faced his pet French Defence (!) and crashed to defeat after losing the plot against Lewis in a sharp game. He ended on 6½ points, the same score as Markland Douglas who drew a dynamic King's Indian Defence ("KID") against WCM Melisha Smith in 40 moves. Douglas took second spot on tie-breaks.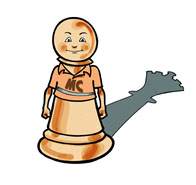 JCF president Ian Wilkinson QC and NM Ryan Blackwood battled to a draw in 56 moves in another KID, each ending the event on 5½ points, Wilkinson finishing 4th on tie-breaks. In the other game of the round Kevron Campbell outclassed Terence Lindo with the black pieces in a Ruy Lopez (exchange variation). Former winner and veteran Michael Diedrick had a bye and ended 6th on 5 points; Lewis was 7th and Campbell 8th (4½ points each); Hinds 9th (4 points); Lindo 10th (3 points) and Smith propped up the table with 2½ points.
The full results and games can be found at either www.Chess-Results.com or at www.jamaicachessfederation.com and www.jamchess.com. The event was played at Christar Villas Hotel and the JOA, respectively, and was sponsored by Digicel, Christar Villas Hotel, the JOA and Magnificent Chess Foundation.
The next event on the JCF's calendar is the 8th Robert Wheeler Open scheduled to be played May 21-24 at Christar Villas Hotel and Shirley Retreat Hotel. This is the second tournament in the JCF's Grand Prix series which will determine the qualifiers for the 2016 Jamaican Chess Championships.
Report and photo by Ian G. Wilkinson QC – President, Jamaica Chess Federation.