2015 U.S. Chess Championships (Round #11)
2015 U.S. Chess Championship

St. Louis, Missouri, USA
Round #11 (Sunday, 12 April 2015)

Overall

Table
White
Score
Rating
Black
Score
Rating
Result
1
GM So, Wesley
5.5
2788
GM Troff, Kayden W
5.0
2532
1-0
2
GM Naroditsky, Daniel
2.5
2633
GM Kamsky, Gata
5.0
2683
½-½
3
GM Shankland, Samuel L
4.5
2661
GM Akobian, Varuzhan
5.0
2622
½-½
4
GM Sevian, Samuel
4.5
2531
GM Holt, Conrad
4.5
2530
1-0
5
GM Nakamura, Hikaru
7.0
2798
GM Onischuk, Alexander
6.0
2665
1-0
6
GM Gareev, Timur
4.0
2604
GM Robson, Ray
6.5
2656
0-1

Women

Table
White
Score
Rating
Black
Score
Rating
Result
1
WIM Ni, Viktorija
6.0
2188
WCM Virkud, Apurva
3.5
2132
1-0
2
IM Paikidze, Nazi
7.0
2333
WGM Foisor, Sabina-Francesca
5.0
2235
½-½
3
GM Krush, Irina
8.0
2477
WGM Nemcova, Katerina
7.0
2279
½-½
4
IM Goletiani, Rusudan
5.5
2311
WFM Yu, Jennifer R
2.0
2180
½-½
5
WGM Sharevich, Anna
5.5
2267
WGM Abrahamyan, Tatev
5.5
2322
1-0
6
WIM Wang, Annie
2.5
1901
FM Melekhina, Alisa
2.5
2235
1-0

Games (Men, Women)
Round #11: Nakamura, Krush… 2015 U.S. Champions!
Hikaru Nakamura bagged his 4th title. His first was 10 years ago!
There was a bit of tension in the last round of the 2015 U.S. Chess Championship, but in the end, all went according to script. Top seeds Hikaru Nakamura and Irina Krush clinched titles in the crucial last round. Nakamura upended Alexander Onischuk in a Scotch Gambit, an unlikely choice but one with a bit of venom if black is not careful.
In this line black sacrificed a pawn for piece play, but was unable to obtain an initiative. In the end Onischuk dropped a piece after 27…Nxf2 28.Nd4. This tournament was a bit strange in that Nakamura didn't play his absolute best chess, but was able to stave off a surging Ray Robson and in the end, a fourth U.S. Championship.
A time of reflection ahead for So.
Photo by Lennart Ootes.
Robson had a wonderful showing with +4 result and is perhaps showing that he will be a force to be reckoned with in future events. Fourteen-year old Samuel Sevian also had a strong event scoring 50% against the strongest field he has ever faced. His win over Wesley So showed that he has enough confidence to win big games.
As for So, his mid-tournament meltdown was due to offsite factors that seem a lot more complicated than merely writing notes on a sheet of paper. An entire imbroglio has unfurled with accusations being aimed at various people (including Millionaire Chess). What is important now is for the 21-year old So to get this episode behind him and to reconcile with his family. In this end, these are going to be the people who are there when the lights grown dim. So is a wonderful young man, a prodigious talent and the chess world wishes him well!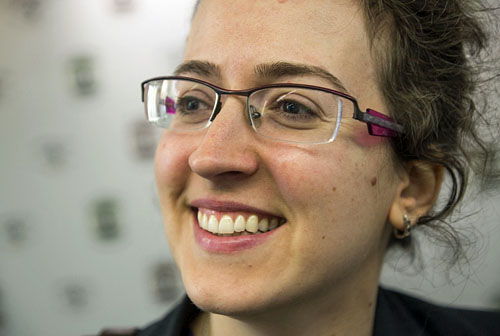 Irina Krush displaying her usual exuberance after 7th title.
Will she wear her famous red dress?
Photo by Lennart Ootes.
In the women's field, Irina Krush showed that she was the most stable and also showed the despite some tough moments, she kept her composure and was able to avoid a crisis. On the other hand, Katerina Nemcova waited until the penultimate round to have a rare setback losing to runner-up Nazi Paikidze. However, beating Krush in the last round would have given her the title despite that fact that an unbeaten Paikidze beat both Krush and Nemcova. It was an interesting tournament with breakout performance for Viktorija Ni (7/11) and debutante Anna Sharevich (6.5/11).
Rusudan Goletiani faltered in the later rounds and ended on +1. National players Tatev Abrahamyan and Sabina-Francecsa Foisor were inconsistent and finished with even scores. At the bottom half you had the wildcard scholastic players who merely chalked this tournament as an experience. There was Annie Wang opening win over Abrahamyan that started a buzz. Apurva Virkud had a couple wins and draws with Paikidze and Sharevich.
Will Apurva Virkud be a future contender?
Photo by Lennart Ootes.
Will these junior players continue with chess or will they become a footnote in history like previous young participants Baraka Shabazz, Cindy Tsai, Hana Itkis, Laura Ross and Ashritha Eswaran? In the meantime, the vacuum of talented girls leaving chess has been filled by immigrants seeking higher education. Half of the women's field consists of recent emigres, many who double as university students.
One of the persons who may shed light on this issue is Alisa Melekhina. In her case, she scored poorly, but not for the lack of fight. It was merely a case of nerves and missed opportunities. It goes without saying that being a lawyer at a New York law firm carries with it a unique set of challenges. Nevertheless, Melekhina has made her mark and the variety of her accomplishments is proof that one can have a successful balance in a life which includes chess. While she flamed out of the event, her article in Chess Life will be an ongoing case of how one can find that balance!
Official Site: https://www.uschesschamps.com/
Livestream: https://new.livestream.com/ccscsl/USChessChampionships
Chess24.com: https://chess24.com/en/watch/live-tournaments/us-championship-2015#live
Drum Coverage! https://www.thechessdrum.net/
OVERALL
WOMEN