2015 U.S. Chess Championships (Round #2)
2015 U.S. Chess Championship

St. Louis, Missouri, USA
Round #2 (Thursday, 2 April 2015)

Overall

Table
White
Score
Rating
Black
Score
Rating
Result
1
GM Troff, Kayden W
0.0
2532
GM Naroditsky, Daniel
0.0
2633
1-0
2
GM Shankland, Samuel L
0.5
2661
GM So, Wesley
1.0
2788
0-1
3
GM Sevian, Samuel
0.0
2531
GM Kamsky, Gata
0.5
2683
½-½
4
GM Nakamura, Hikaru
1.0
2798
GM Akobian, Varuzhan
1.0
2622
1-0
5
GM Gareev, Timur
0.5
2604
GM Holt, Conrad
0.0
2530
0-1
6
GM Robson, Ray
1.0
2656
GM Onischuk, Alexander
0.5
2665
½-½

Women

Table
White
Score
Rating
Black
Score
Rating
Result
1
WCM Virkud, Apurva
1.0
2132
IM Paikidze, Nazi
0.5
2333
½-½
2
GM Krush, Irina
0.5
2477
WIM Ni, Viktorija
0.5
2188
1-0
3
IM Goletiani, Rusudan
0.5
2311
WGM Foisor, Sabina-Francesca
0.5
2276
1-0
4
WGM Sharevich, Anna
1.0
2267
WGM Nemcova, Katerina
0.5
2279
0-1
5
WIM Wang, Annie
1.0
1901
WFM Yu, Jennifer R
0.0
2180
0-1
6
FM Melekhina, Alisa
0.0
2235
WGM Abrahamyan, Tatev
0.0
2322
1-0

Games (Men, Women)
Round #2: Nakamura on 2/2 in a blunderful round of chess
This round will not get many prizes for stellar play as blunders were commonplace in the games today. In Nakamura-Akobian, black played his usual French, but played a gambit line that is not in the spirit of his style. This was confirmed by Nakamura in the post-game conference. With the win, Nakamura climbed back over 2800 (2802) and when asked how he felt about it he was rather flippant in his remark stating, "Who cares. I have better things to do than to follow that stupid rating list." What one can take from this statement was that he has one goal in mind and only one person stands in the way of this.
In Shankland-So, the game plodded with black having an advantage of active pieces. Shankland had to donate a pawn in order to trade pieces and increase his chances for a draw. This effort almost paid off as So made some a number of mistakes throwing away wins at several points in the double knight ending. In the end it was Shankland who made the final mistake with the improbable 92.g4?? and white resigned after simply 92…Nxg4. In Robson-Onischuk, the student-teacher battle was a bit sterile as absolutely nothing came out of this Ruy Lopez. Sevian-Kamsky was interesting in that the youngster decided to go after the six-time champion with a seemingly crude idea of piling up rooks and queen on the g-file and hope to break through with 33.Nf5.
---
Nakamura didn't seem to concerned about moving into the #2 position on the FIDE list. In the meantime, Wesley So went up to #5.
---
As pointed out in the commentary, black was not obligated to capture the sacrificed knight and the g-file would remain plugged. Black ultimately sacrificed an exchange and had adequate play to level the game. Conrad Holt had a stunning result back in 2013 U.S. Championship, but he is struggling to find his form. He tried a caveman attack against Timur Gareev with f4 and Rf1-f3-h3 but this wasted time and allowed black to set up a bulwark knight on e4. Ultimately, white had to sacrifice an exchange for that knight, but white couldn't find a way to hold the position. Troff-Naroditsky was a strange game where the knights ruled. This was a game that followed main line, but white seemed to keep a slight grip on the position and was able to extract a structural advantage and black's position crumbled. Troff found the winning path with the nice 52.Re6+ Rxe6 53.dxe6 Kxe6 54.Rxe4+.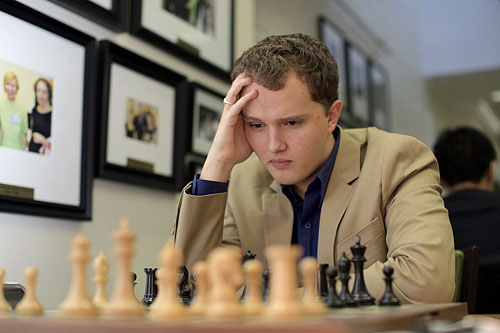 After a disappointing loss yesterday, Kayden Troff got what he deserved today. Photo by Lennart Ootes.
In the women's field, there were 5/6 decisive games. The only draw was Virkud-Paikidze in a swashbuckling Benko Gambit. This game saw the decline with 5.b6 which is not the most active retort, but a rather solid one. Black got active play by breaking with …e6. The game descended in a rather unbalanced affair with the 16-year old aiming her pieces at the black king. Actually Paikidze missed a win after 32…Qb4! 33.Re4 Ne2+ 34.Kh2 and 34…dxe2 instead of her 34…Qxe2. After 36.Nxe8 d2 37.Qe7! white had enough counterplay to save the game. Black could not promote because of endless checks or mate.
Perhaps it is difficult to prepare during the rigors of grad school, but here Anna Sharevich spent one minute and twenty seconds before playing Rac1. What did she miss?
Sharevich-Nemcova was a lopsided affair as Sharevich momentarily forgot about king safety and black pieces were poised for the kill. What's worse is that Sharevich overlooked a mate in one with 29…Qh1#! Awful. After nearly losing against Jennifer Yu, perhaps the Webster doctoral student is lacking preparation and it is showing.
In the battle of the two youngest players Annie Wang (12) and Jennifer Yu (13) battled in what was probably the latest of many battles from scholastic circles. The game appeared to be headed for a draw when Wang made a horrible blunder and her king ended up in a mating net. The example is instructive.
With shattered pawns, Wang tried to make a dash for black's queenside pawns with 39.d5?? After 39…cxd5+ 40.Kb5 Ne6! 41.Kxa5 there was 41…Kc5! and suddenly white was completely lost due to the dominance of the black knight. After 42.b4+ Kc6 43.Be2 Nd4 44.Bd1 f4 and white resigned in a couple of moves.
Viktorija Ni tried the Dzindzi-Indian, but got nowhere against Irina Krush.
Photo by Lennart Ootes.
Krush-Ni was a matter of black simply not taking this game seriously. Trotting out the Dzindzi-Indian after 1. c4 g6 2. d4 Bg7 3. Nc3 c5 4. d5 Bxc3+!? 5. bxc3 f5. However, black didn't seem to equalize as this opening makes it a bit difficult for black to arrange the pieces. Without much to do but shuffle pieces, black finally allow white a virulent attack after 23…Qxh4 24.Ng3 Qd8 25.Rh1. Krush finished the game off winning a piece after 33.Qf6+!
IM Rusudan Goletiani is back from a one-year hiatus and appears to be rejuvented.
Photo by Lennart Ootes.
Rusudan Goletiani returns after a year away from the championship. Apart from her mothering duties, she has a thriving chess company and has little time for actual study and competitions. However she seems to be in form and won against Sabina Foisor. This game was actually equal throughout, but black faltered in time pressure. After 78.Rb7!= black started the downhill spiral with 81.Ke5 Rf8? 82.f6+? Kh6?? (82…Rxf6!=) 83.Kf5 (threatening mate) and black has to lose material to prevent mate.
In Melekhina-Abrahamyan, it is becoming evident (at least in the early rounds) that the top seeds are a bit too relaxed and off-form. Abrahamyan lost her second consecutive game to the Melekhina after playing a bad middlegame. Abrahamyan, one of the favorites, inexplicably blundered after her light squares became dangerously weak. She then tossed a piece after 30.Qe5 and it was the end.
Official Site: https://www.uschesschamps.com/
Livestream: https://new.livestream.com/ccscsl/USChessChampionships
Chess24.com: https://chess24.com/en/watch/live-tournaments/us-championship-2015#live
Drum Coverage! https://www.thechessdrum.net/
OVERALL
WOMEN