2015 U.S. Championship will be epic!
We are only in the second month of 2015 and there is already heightened anticipation of the U.S. Championships which will begin on March 31st. What is the reason for the excitement? First, Wesley So will be competing in his first U.S. Championship and his transfer will ultimately make the tournament much more competitive in what has been essentially a two-horse race for the past ten years.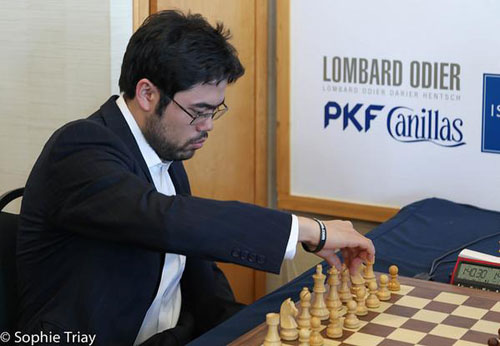 Hikaru Nakamura shown during his sterling performance in Gibraltar.
Photo by Sophie Triay.
Hikaru Nakamura is coming off of a stunning win of the Gibraltar Masters tournament. This was on the heels of So's stellar performance at the Tata Steel tournament in Wijk aan Zee. So had gone several tournaments without a loss and had famously won the inaugural Millionaire Chess Open and the $100,000 prize.
Wesley So had pulled ahead of Nakamura on the FIDE list by three ELO point at 2785 after his +4 performance at Tata Steel Masters. Nakamura would not be outdone.
Sam Shankland had another strong effort at Tata Steel Challengers and has put together a string of impressive results. Photos by Nadja Wittmann.
Almost on cue, Nakamura and So both registered for the Millionaire Chess Open in October stoking a rivalry that will certainly be good for American chess. The two had also played a "Death Match" at chess.com. Nakamura's victory in Spain vaulted him back over So and he reached a career-high of 2795 on the live list and has passed Viswanthan Anand in the process.
GM Gata Kamsky and GM Irina Krush
2014 U.S. Champions
The host will again be the Chess Club and Scholastic Center of St. Louis which has hosted the event since 2009. This will be one of the strongest fields ever and will also be one of the youngest fields with several young stars such as Ray Robson, Daniel Naroditsky, Sam Shankland, Kayden Troff, Conrad Holt and Samuel Sevian. All of these players have had great success recently. These homegrown talents are finally rising up the ranks in contrast to 20 years ago when the field was mostly filled with players who had emigrated from the various eastern European countries.
In contrast, the women's field has a few new faces, but most of them are returnees. IM Nazi Paikidze and WGM Anna Sharevich will be playing in their first U.S. Championships since changing federations from Georgia and Belarus respectively. Both are students with Paikidze at UMBC and Sharevich is taking graduate studies at Webster.
The highlight of the event is perhaps the young scholastic stars in the women's field. Three wildcards were used to invite three national masters, 12-year-old WIM Annie Wang, the reigning U12 World Junior Champion, WFM Jennifer Yu and National Master Apurva Virkud. Newly added to the U.S. Women's Championship this year is the $64,000 Fischer Bonus, awarded to any player who can match Bobby Fischer's legendary 11-0 score in the 1963-64 U.S. Championship.
2015 U.S. Chess Championship

Chess Club & Scholastic Center of St. Louis

U.S. Overall (by USCF Rating)

U.S. Overall

U.S. Women's

GM Gata Kamsky (U.S. Champion)
GM Irina Krush (U.S. Champion)
GM Hikaru Nakamura (Rating)
IM Anna Zatonskih (Rating)
GM Wesley So (Rating)
WGM Tatev Abrahamyan (Rating)
GM Ray Robson (Rating)
WGM Sabina Foisor (Rating)
GM Alex Onischuk (Rating)
WGM Katerina Nemcova (Rating)
GM Daniel Naroditsky (Rating)
IM Nazi Paikidze (Rating)
GM Sam Shankland (Rating)
FM Alisa Melekhina (Rating)
GM Varuzhan Akobian (Rating)
IM Rusudan Goletiani (Rating)
GM Timur Gareev (Rating)
WGM Anna Sharevich (Rating)
GM Kayden Troff (U.S. Junior Champ)
WIM Annie Wang (Wildcard)
GM Conrad Holt (U.S. Open Champ)
NM Apurva Virkud (Wildcard)
GM Sam Sevian (Wildcard)
WFM Jennifer Yu (Wildcard)

Francisco Guadeloupe, Arbiter
Of course, the St. Louis Chess Club is called the Nation's Capital of Chess for a good reason. Spectators will be able to enjoy the action closeup and even interact with the players. The event will also be streamed live on www.uschesschamps.com, with play-by-play commentary and analysis from GM Yasser Seirawan, GM Maurice Ashley and WGM Jennifer Shahade. There will be additional commentators at various locations. More information can be found on https://www.uschesschamps.com/.