2015 Tata Steel Masters: Round #1
Round #1 – Saturday, 10 January 2015
Masters
Anish Giri – Magnus Carlsen, ½-½
Ivan Saric – Levon Aronian, ½-½
Teimour Radjabov – Loek van Wely, ½-½
Maxime Vachier-Lagrave – Hou Yifan, 1-0
Vassily Ivanchuk – Baddur Jobova, 1-0
Ding Liren – Fabiano Caruana, 0-1
Wesley So – Radaslaw Wojtaszek, ½-½
Jobava played 42…Ra4?? and after Ivanchuk's 43.Rxa4 he resigned "like a professional". What is the continuation?
The 77th edition started with a bang with three decisive results in the most instructive of ways. It was the Ivanchuk-Jobava game that had the twists and turns including an instructive ending that was demonstrated by Ivanchuk in the post-mortem. Many GMs including commentator Yasser Seirawan were flummoxed as to why Jobava resigned.
In the diagrammed position, many wondered why the Georgian resigned, but after 43.Rxa4 43.bxa4 bxa4 44.Kc4! Kc6 45.Kd3! winning. How? After 45…Kd5 46.e6! fxe6 47.f6 Kd6 forced 48.c4! The problem is that the split pawns are like a two-on-one fastbreak in basketball. 48…a3 49.c5+ Kd7 50.Kc2 e5 51.c6+ Ke6 52.c7 Kd7 53.f7 and white queens.
Ivanchuk says, "Well… not so hard if you are a good Grandmaster." Even the computers did not see the subtleties for a few moves. So Ivanchuk gave a quick lesson on pawn endings and opposition. Quite instructive. Here is the animated interview…
There was another pawn ending demonstrated in another decisive game Vachier-Lagrave (MVL) winning over Hou Yifan. The Chinese played French Defense, an appropriate defense against the Frenchman, but apparently not sufficient. MVL essayed the Albin-Chatard Alekhine Attack after 6.h4!?, but after Hou Yifan equalized, she went astray in the complications and got a wrecked structure. The ending became difficult to defend and she was unable to hold. She also "resigned like a professional" before waiting for MVL to prove the pawn ending.
Maxime Vachier-Lagrave versus Hou Yifan, 1-0.
Photo by Alina L'Ami.
The other decisive game was Fabiano Caruana's win over Chinese Ding Liren. In this Grunfeld Defense, a tense middlegame ensued in the imbalanced position. White began to play less optimal moves and black finally seized control after 32…Rfe8! With the bishops slicing the board, Caruana dealt a killing blow with 36…a5! (threatening a4 and Qd4+) winning after 37.Rxa5 Bc3 38.Rd5 Qa7+ white suffers massive losses.
GM Wesley So
Photo by Alina L'Ami.
Saric-Aronian was also another game that lacked an edge as the pieces melted from the board and went into a dull, opposite-colored bishop ending with no imbalances. What is interesting was that a Pirc Defense was also played in Radjabov-Van Wely. This was the so-called Austrian Attack gave white a structural advantage, but black had more than enough fluidity to equalize and the game petered out.
Wesley So is coming off of a successful 2014 campaign and is playing in his first 2015 tournament after announcing he was turned professional. Of course, there was still a lot of buzz about his Death Match with Hikaru Nakamura. He lost by a wide margin but chuckled that he would certainly play better in this event. So played impressively throughout in a complicated Najdorf Sicilian. The result seemed in doubt all the way until the final moves when they agreed to a repetition draw.
Great stuff! Giri-Carlsen was a strange Modern Defense, an opening rarely seen at top level. There was nothing in this opening but a slight advantage for white, but black was never in danger. Giri still holds a +1 score over Carlsen. Carlsen joked that Giri was a "coward" for not being a bit more ambitious.
Giri on Carlsen: "Magnus' comments didn't exactly make me cry […] I may be a coward, but I play well against him" #TataSteelChess

— Tarjei J. Svensen (@TarjeiJS) January 10, 2015
It was clearly a joke and some took it out of context. Suffice it to say, all of the players will be looking to put a notch on their belt when they play the world champion. Wesley So will take a crack in the second round.
Challengers
Samuel Shankland – Wei Yi, ½-½
David Navara – Erwin L'Ami, ½-½
Robin Van Kampen – Samuel Sevian, 1-0
Salem Saleh – Vladimir Potkin, ½-½
Ari Dale – Anna Haast, 1-0
Jan Timman – David Klein, ½-½
Bart-Michiels – Valentina Guinina, ½-½
The Challengers section was very quiet today as only one game proved decisive. Robin Van Kampen beat the world's youngest GM Samuel Sevian in a technical win. Black was saddle with a bad bishop which was partically stifled by his own isolated d5-pawn. Van Kampen had optimally pieces and great mobility and seized the winning advantage with 42.Re8! After that, it was a matter of technique… bishop overpowering the clumsy knight. Some of the other games were rather placid, but Dale-Hasset was quite a thrill as was Timman-Klein.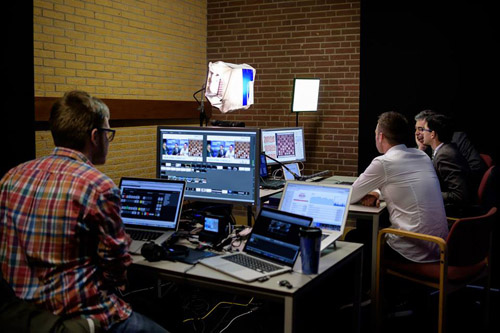 Pressroom with GM Yasser Seirawan at the far end.
Photo by Alina L'Ami.
Video by GM Daniel King.
Official Site: https://www.tatasteelchess.com/
Tata Steel (YouTube Channel): https://www.youtube.com/
Drum Coverage: https://www.thechessdrum.net/blog/2015/01/04/2015-tata-steel-chess-wijk-aan-zee/