2014 Zimbabwe Open… Bwalya on top!



Zambia has proven to be one of the most promising federations in sub-Saharan Africa. Having produced the first GM in the region in Amon Simutowe, the players have established quite a tradition and showed their mettle in the 2010 Olympiad coming in 47th after being ranked 121st.
However, their neighbor Zimbabwe has a reputation of their own. The Zimbabwe Open stokes a regional rivalry and the Zambians came in force among the 150 players. The Zambians had won the previous two years. In the end it was Zambian International Master Gillian Bwalya who would pace the field with a dominant 7/9 pipping IMs Rodwell Makoto of Zimbabwe, Kelvin Chumfwa of Zambia and Botswana's International Master Providence Oatlhotse all of whom ended on 6.5/9.
Bwalya sealed the victory with a draw in the last round despite wins by the runner-ups. What was interesting and perhaps disappointing was that Bwalya played four Zambian and four Zimbabweans scoring 3.5/4 in both cases. He only suffered his single loss to Oatlhotse. In another report Oliver Shalala stated,
This is the second major title the Nkwazi Chess Club talisman has won since he came back from police training at Lilayi mid last year. In October, he beat the whole stellar field of Zambian chess players to win the tightly contested 2014 Zambia Open Chess Championship held at OYDC in Lusaka and walk away with K10,000 and a winner's trophy.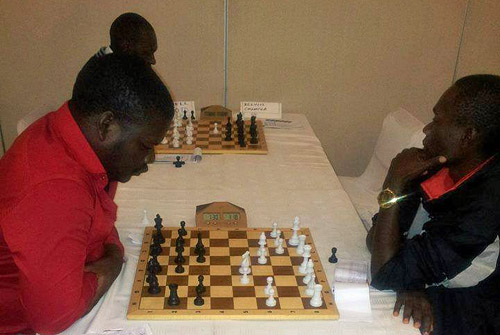 Zambian IMs Chitumbo Mwali and Gillian Bwalya battle in penultimate round!
The Chess Drum audience will remember that Bwalya participated in the 2013 World Cup playing GM Vladimir Kramnik. That was a valuable experience for him and he has returned back to form after having completed police training. He did not qualify for the African Individuals this year, but this victory will certainly be a boost to his confidence.
This tournament has developed a great tradition and hopefully will be bigger next year. The Kasparov Chess Foundation has pledged their support in future events in the region. Kudos to the Zimbabwe Chess Federation!
Results: https://chess-results.com/tnr157061.aspx?lan=1&art=1&wi=821