Nakamura beats Aronian in Showdown!
Rex Sinquefield keeps building the momentum of top-level chess in America with yet another inventive idea. This time he is hosting another novel event with two top-ten players in Levon Aronian and Hikaru Nakamura. These two gladiators will battle in four-game classical match followed by a hair-raising 16-game blitz match. The prize fund was set at $100,000 with a 60-40 split.
GM Levon Aronian (Armenia, 2797)



GM Hikaru Nakamura (USA, 2767)
"Nakamura, the top American player ranked No. 9 in the world, is in the hunt for his first Candidates Tournament appearance and currently sits in second place halfway through the 2014-2015 FIDE Grand Prix cycle. Aronian, a veteran to the world ranks currently at No. 4, has long-been regarded as the main rival to World Champion Magnus Carlsen and reached his career-peak rating of 2830 earlier this year. The Showdown in Saint Louis will settle the score from the players' last meeting, drawing twice at the 2014 Sinquefield Cup in the U.S. Capital of Chess last September."
This event overlapped with the recently-ended World Championship but the blitz encounter certainly claimed a wide-reaching audience. Both players are closely rated on the FIDE list, but have had some wonderful battles. Perhaps this may spawn off a series of matches precipitated by the "death matches" that have grown popular on chess.com. Nevertheless, excitement reigned in St. Louis, a city awaiting tense moments of the Darren Wilson grand jury decision in the killing of Michael Brown.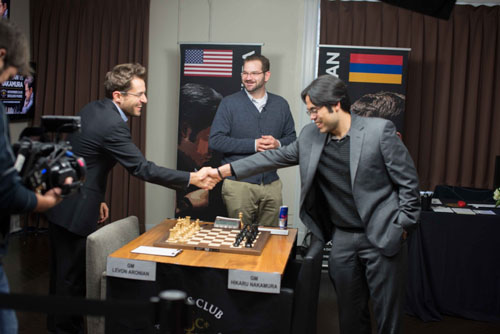 Both players greet before the start of second classical game.
In a thrilling match, the players fought to a 2-2 draw in the classical battles trading win in the first two games. Nakamura capitalized off of careless play when Aronian bungled his defensive resources with the howler 29…h5?? In the second game, Nakamura had a nice initiative, but the tables turned in the ending when Aronian converted his queenside passed pawn. The last two games of the classical also featured tremendous tension, twists and turns, dizzying complications and time scrambles.
Exciting battle in game three, but ended in a dead draw.
Classical (Score: 2-2)
All in all, the four classical games were hard-fought with nary a dull moment. In fact, fans and commentators were unsure of which result would prevail. Nakamura showed a bit better form in the classical games winning the first impressively, but failing to hold the draw in the second. Seem like Nakamura had an initiative in game three, but the Aronian counter-punched and equalized. Conversely, Aronian seem to have played with good energy in the last game, but missed a better continuation with 25.g4. Nevertheless, it was a truly exciting match.
Blitz (Score: Nakamura wins 9.5-6.5)
This was the moment the fans had anticipated. With a 2-2 deadlock in four hard-fought encounters, we would then go to 16 blitz battles at 3'+2″. If the blitz match was tied at the end of 16, they would go to an Armageddon match. Both players are well-suited for this match but Nakamura must have been the favorite. Rated #2 on the blitz rating list, he developed a reputation as a ferocious player in "bullet chess" or one-minute.
The fans certainly got what they bargained for in the blitz match…
thrills and spills! All photos courtesy of CCSCSL.
This match started out with a bang out of a London system when Nakamura was caught napping with 17.Qe3?? Rxe4! winning the queen for two pieces. It appeared that the Armenia was simply going to mop up as white's king was dangling in the center. Somehow white's knights started communicating and pieces gained harmony. In one of the most amazing finishes. Nakamura mated the black king with his two knights evoking howls from commentators Yasser Seirawan and Jennifer Shahade. Amazing!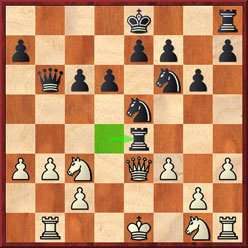 In the first blitz game, things started sour for Nakamura who lost his queen for two pieces to the shot 17…Rxe4! He carried on and after some inaccurate moves by Aronian, he was able to get his knights coordinated and miraculously conjured up a two-knight mating attack. Amazing finish!
In game #2, Aronian won a very nice ending ending with 33.Bh3 h5?? 34.Nxe4+ and white scored his first victory. Game #3 turned into a hot mess as Aronian had four passed pawns on the queenside. Nakamura gained central pressure with his two bishops zipping about the board. In the end it was the bishops that "shish kabobbed" the rooks. Nakamura up 2-1 and would never relinquish the lead. What became clear was that Aronian could not keep up the pace and Maurice Ashley excoriated him for taking so long on automatic recaptures. This trend would last the entire match. Aronian did take some chances and ceded games because of his poor handling of the clock. After first eight games, Nakamura was already up +3.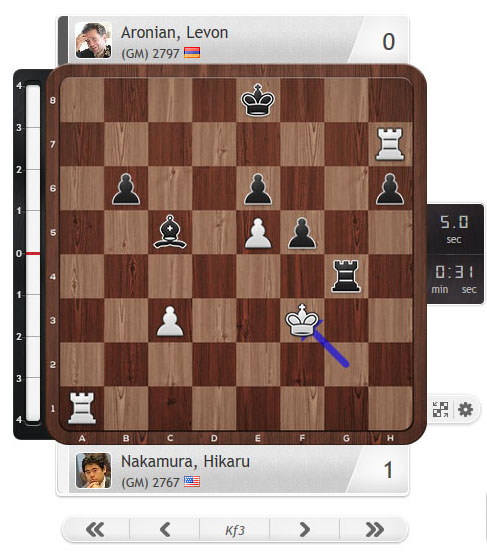 Nakamura went up to +3 in the blitz after winning this game #11.
In the second half, there were different openings including another London System, but then Aronian essayed 1.e4 in game #10 and allowed Nakamura to fight with the Sicilian. This was Aronian's best game perhaps as he controlled the game positionally. Nakamura came right back and won with are rather wild Trompowsky Attack! Aronian was battling time pressure once again but found the interesting 14…Ne3!? The move wasn't sound but it gained time on the clock. The game processed and reached a fever pitch as rooks zipping across the board. Finally white was able to gained a winning initiative and Nakamura was back up +3.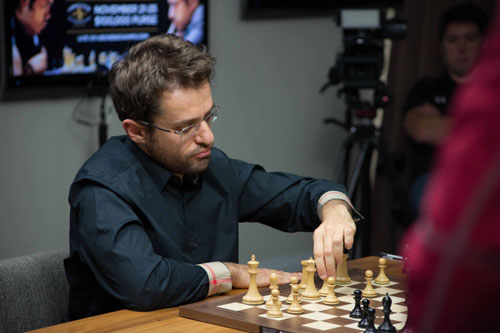 Aronian admitted that 3'+2″ was not his best blitz format and stated that it was too fast. He is a former world champion in the 4'+2″ time control and of course a minute makes quite a bit of difference. However, Nakamura was simply too fast and showed his strength in the blitz format. All photos courtesy of CCSCSL.
The American would extend the lead to +4 but had already clinched the match with two rounds remaining. Aronian won the last game from prosperity and the score ended in favor of Nakamura. What battles! Hopefully, this is the beginning of a new tradition. Immediately after the match, Ashley asked Nakamara, if he would entertain a match with Magnus Carlsen. Nakamura chuckled only to say that something may be in the works for such a match. Apart from blitz, both Nakamura and Aronian are hoping to qualify for the championship cycle in an attempt to dethrone Carlsen.
Final (Score: Nakamura wins 11.5-8.5)
| Official Site | PGN Games (Classical, Blitz) | Photos |

* * *
Broadcast Replays