Is Caruana the next contender?
After his scintillating performance in the 2014 Sinquefield Cup, fans the world over marveled at Fabiano Caruana's resourceful play, cool demeanor and humility. During his run of seven consecutive wins, there was a furor created that he was quickly gaining on Magnus Carlsen in terms of ELO rating and that he would be the next rival. This was acknowledged by Carlsen himself.
However, it should be no surprise that Caruana is categorized in this manner. Already a force to be reckoned with, he had solid results in the past few years without all the expectations and fanfare. After he tied for first in the Sao Paulo/Bilbao tournament in 2012, he reached a career high of 2782 and vaulted to #5 on the ELO list. Two years later, he then eclipsed the 2800 barrier.
With his victory at the Sinquefield Cup there was a buzz created on how this would affect the pecking order in chess with Caruana now at #2. During the tournament Caruana took the high road and stated that he was "surprised" by his result and was unsure that he did anything differently after competing in the Olympiad. His humility won thousands of fans in two short weeks and perhaps the world knows quite a bit more about the American-born Grandmaster of Italian ancestry.
I think it does shake up the top ten… Caruana has shown that he can beat Magnus. Their personal record is 5-4. It could have been 5-5 in this tournament if Fabiano had just find one really good move. It would have been 5-5, so Magnus doesn't dominate him. He's right there. He knows when he sits down with Magnus, it's like… "You win some and I win some."

~GM Maurice Ashley after the Sinquefield Cup~
The question remains whether Caruana represents the coming of several challengers for the world championship crown. It's clear that he and players like Hikaru Nakamura, Sergey Karjakin, Teimour Radjabov, Anish Giri and Chinese upstarts Ding Liren and Yu Yangyi are waiting for a chance. However, they will have to get in line as perhaps the last stand of the middle-aged player from India will stand in the way.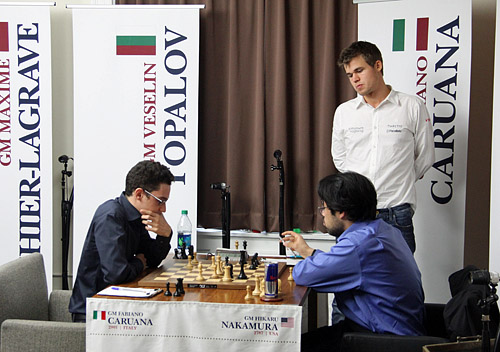 Carlsen watches two of his peers closely.
Photo by Daaim Shabazz.
Whether Carlsen or Viswanathan Anand wins, the future is an exciting one and Caruana is ready to make an impact. It remains to be seen whether he will by the first American-born player since Bobby Fischer to hold the crown. Also… he will give legitimacy to Nabakov's Italian character Dottore Turati in "The Luzhin Defense". If you ask Caruana if he has what it takes to be World Champion, he will probably answer in a diplomatic fashion, but the answer is becoming obvious. Let's review his historic result!
Caruana's Games from the historic 2014 Sinquefield Cup