Ashley interview on Millionaire Chess, Part 3
"The event has really exploded on the public consciousness!"
~ GM Maurice Ashley ~
The crescendo of excitement will reach the ultimate climax on October 9th when the
Millionaire Chess Open
will begin.
GM Maurice Ashley
is ecstatic about the progress of the tournament and wants to raise the profile of chess.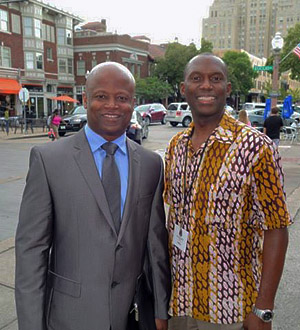 GM Maurice Ashley and Dr. Daaim Shabazz
during the 2014 Sinquefield Cup.
Photo by Rodney Thomas.
At the conclusion of the 2014 Sinquefield Cup, The Chess Drum got an opportunity to chat with Ashley. He discussed the Sinquefield Cup, the performance of Fabiano Caruana, the impact of this result on the top ten and why it matters. He then shared the progress of the Millionaire Chess Open which he says is moving as a blistering pace and more than 500 players from 40 countries have entered. It includes an impressive list of GMs including one who is expected to enter very soon.
He discussed some of the incentives which includes escort limousines for the first 20 GMs registered, entertainment, VIP rooms and everything Las Vegas has to offer. Ashley also mentioned the "Millionaire Chess" app that it available for download. It has the list of entries, user groups, puzzle of the day, MC store and even a countdown to the event.
Listen to Ashley's interview! 12:58 minutes