2014 Sinquefield Cup
August 27th – September 7th, 2014 (St. Louis, USA)
Round #10 – Saturday, 6 September 2014

1
Aronian, L

ARM

½-½

Caruana, F

ITA
2
Topalov, V

BUL

½-½

Carlsen, M

NOR
3
Nakamura, H

USA

½-½

Vachier-Lagrave, M

FRA

Official Site
Caruana wins 2014 Sinquefield Cup!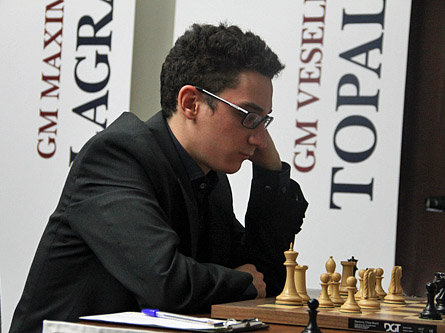 Fabiano Caruana, 2014 Sinquefield Cup champion!
For several rounds, the tournament winner was not in doubt as Fabiano Caruana started with a streak of consecutive seven wins. The last round was anti-climatic as none of the games were the kind of fighting chess we had seen. In fact Chris Bird quipped that there were 29 fighting games (out of 30) which brought laughter and strange looks from Veselin Topalov. His game with Magnus Carlsen was the shortest at 19 moves. Nevertheless, it was a fantastic tournament. Next year will be a larger format, possibly eight players, but that was not been announced. Carlsen has already vowed to return in order to reclaim his honor.
There were a few light moments during the final press conference.
The Carlsen team would soon make a decision on Carlsen-Anand.
Photos by Daaim Shabazz.
Standings after Round 10
1st: Fabiano Caruana, 8.5; 2nd: Magnus Carlsen, 5.5; 3rd: Veselin Topalov, 5; 4th-5th: Maxime Vachier-Lagrave, Levon Aronian, 4; 6th: Hikaru Nakamura, 3.
4 Responses to "2014 Sinquefield Cup: Round #10"
Leave a Reply!