Conrad "Lightning" Holt wins U.S. Open!
GM Conrad Holt receiving the Edmondson Cup.
Photo by Daaim Shabazz.
Conrad Holt
has had a great run in the last couple of years. The physics major and rising senior at University of Texas at Dallas made a sparkling debut in last year's U.S. Championship scoring a creditable 5th place with a solid +2. He did not play in the championship this year, but will make a return in 2015 by virtue of his U.S. Open victory.
Nearly 400 players trekked across the U.S. to compete in the 75th anniversary of the USCF. The competition was stiff as Ukranian star Illia Nyzhnyk was the top seed followed by a mixture of youthful vigor and legendary pedigree. With a Grandmaster roster including Alexander Shabalov, Julio Becerra, Giorgi Margvelashvili and Fidel Corrales Jimenez, Holt was the unlikely candidate to emerge from the field. Legendary figures James Tarjan and Ron Henley were on hand to give the event historic legitimacy. Both were top American players in the 70s and 80s respectively.
So the unheralded and soft-spoken player rose from the obscure "chess desert" of Wichita, Kansas won the event by beating IM Michael Mulyar in a "lightning" Armageddon match. Some of his friends have given him nicknames like "Thunder Holt", but he would be "Lightning Holt" today as he beat Mulyar quite handily.
During the U.S. Open every year, there are committee reports and the general sessions to vote on various matters concerning the development of the chess infrastructure. Various USCF officials were present and President Ruth Haring played in the tournament! Other executives such as Tim Redman, Harold Winston were seen milling about.
One of the most encouraging observations one could easily make is that scholastic chess is strong and steadily growing. This has become a "game of the youth" with approximately half of the players present seemingly fitting into this category. Also noted were the number of girls in the field as many stayed on after competing in the National Girls Championship. The first National Girls Closed Champion Claudia Munoz was competing as well. She shared a moment with The Chess Drum audience.Listen!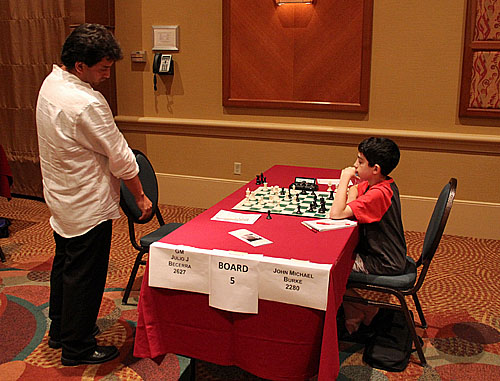 GM Julio Becerra (2627) awaits move of young star John Michael Burke (2280), 1/2-1/2!

Chess has become "child's play" as a good portion of the U.S. Open participants
were scholastic players.

Some players stood out more than others. Josh Alexander (2140) was one of them!
He finished with 5/9.
The site of Orlando was also an attraction given its proximity to a virtual playground of exciting leisure activities such as Disney, Universal Studios, Seaworld and dozens of other theme parks. It is no surprise that many groups choose Orlando as their convention site and this year a diverse group shared the Rosen Centre Hotel with chess players. The Tuskegee Airman were have their annual conference giving honor to the pivotal role that African-Americans played in World War II combat missions.
Tuskegee Airmen reminiscing.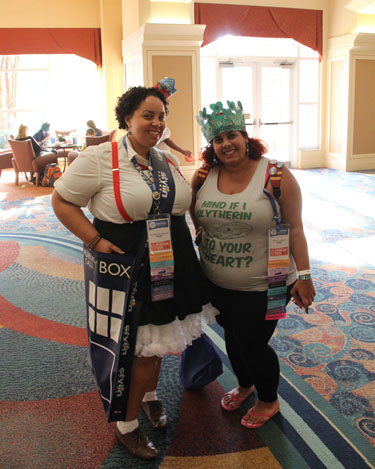 Harry Potter conferees… Jordan Falby and Ashley Yono.

Miss Teen Pageant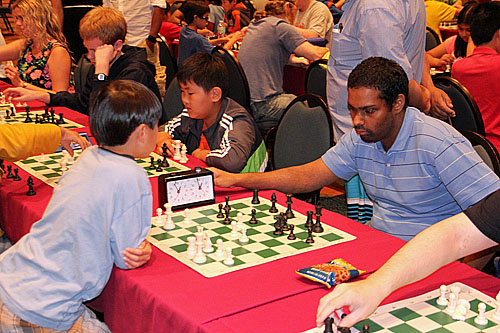 FM Kazim Gulamali facing a young aspirant in blitz tourney.
There was also "leakycon" conference of Harry Potter enthusiasts. This conference attracted young and old and were made known by their outlandish theme costumes and accessories. Then there was the Miss Teen beauty pageant where young girls were competing for national crown. The actual Miss America titlists from each state were there as well. The women were all striking in appearance… and very tall! Certainly if there was an example of beauty and the beast, this weekend provided many examples.
All in all, a very enjoyable event. The Chief Director Jon Haskel ran a smooth tournament with most of the rounds starting on time and with the Monroi game system in full effect. The prime location may provide an idea that Orlando could be the site of a future Olympiad tournament.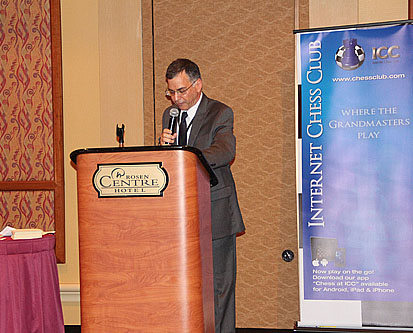 Jon Haskel, Chief Tournament Director

(L-R) Daaim Shabazz, Otis Young, Mario Marshall,
Jeremiah Williams, Frank Johnson
Photos by Daaim Shabazz.
Standings: https://www.alchess.com/chess/14/usopen/