2014 Chess Olympiad: Round #2
Top Boards (Open)
Russia 3½-½ Qatar
Norway 2 2-2 Ukraine
Finland 2-2 Norway 1
France 4-0 Mongolia
Australia 1-3 Armenia
Fabiano Caruana of Italy is now #3 in the world with a 2800 ELO. Photo by chess24.com.
First major upset of the tournament! The Ukraine was drawn by a Norwegian side… not the Carlsen-led varsity team, but it was Norway 2! GM Vassily Ivanchuk who traditionally has been ruthless at Olympiad tournaments fell on the sword today losing to and unfancied IM by the name of IM Frode Urkedal. In fact the entire team of IMs fought well and held on boards two and three against opposition 200-300 ELO higher. Clearly this will be a crucial setback if the Ukraine is vying for medals. Each point is crucial when determining tiebreak order.
While there were no more team upsets, there were several board upsets including Richard Rapport's loss to IM Juan Armando Rohl Montes in Hungary-Venezuela. This was offset by Judit Polgar's beautiful win!
Magnus Carlsen was held by Tomi Nyback of Finland which could be called an upset since there is a 280-point ELO difference. Powerful Armenia was also nicked for a couple of draws by Australia. The tournament will heat up as the top teams will begin to face off.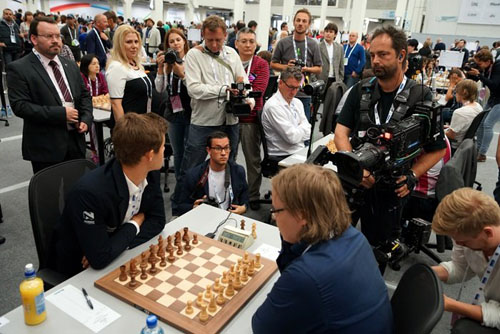 Magnus Carlsen won most of the attention,
but was unable to breach Finland's Tomi Nyback.
Photo by Paul Truong.
Daniel King pointed out in his "Play of the Day" featured Shirov-Sulkis (Latvia-Lithuania) with a dashing victory for the Latvian in a "Fried-Liver Attack". Normally seen in junior chess, this opening may have gotten a boost.
Top Boards (Women)
China 4-0 Venezeula
Ecuador 0-4 Norway
Brazil 0-4 Russia
Ukraine 3-1 Australia
Montengro 1-3 Georgia
WCM Javanna Smith of Trinidad & Tobago.
Photo by chess24.com.
Top teams are still holding their board positions with convincing victories in their matches. The USA had a setback with 1944-rated Wiebke Barbier beat WGM Katerina Nemcova to steak a valuable point. The Americans are led by GM Irina Krush and a host of emigres including Nemcova who recently changed her federation from Czech Republic.
In the third round, marquee matchups will feature with USA-China and Russia-France. While China and Russia are still ahead, other teams are improving their standard and perhaps there will be some surprises. The Ukranian women suffered a similar fate as their compatriots by ceding two draws to players more than 300 ELO lower. Perhaps the unrest in the country has affected the players. Only time will tell when the teams will settle into their form.