Black Stars @ '14 World Open
Marcus Garvey was famous for his revolutionary movement at the turn of the 20th century known as the Universal Negro Improvement Association (UNIA). At the height of his powers, he attracted nearly 4,000,000 followers. His idea was to unite all of those of African ancestry under the banner of Pan-Africanism for political, industrial and social uplift. He incidentally called his famous shipping project, "The Black Star Line". Dr. Kwame Nkrumah, Ghana's first President, was inspired by Garvey's idea of Pan-Africanism and the black star remains the prominent symbol of the Ghana flag.
The World Open has traditionally been a party where stars are born. It is were players like Hikaru Nakamura and Fabiano Caruana cut their teeth on the toughest competition they would face as juniors. Many come to the World Open to make a name at the expense of highly-touted players. IM Stephen Muhammad made a career out of terrorizing strong players at the World Open and earning one of his three norms at the tournament.
Adia Onyango and Stephanie Ballom
This past week, Walter Harris came to visit the World Open and was impressed by all the Black players competing. On numerous occasions he mentioned how "lonely" it was coming up in the 50s as the only player of his ethnicity. Of course he had contemporaries such as Frank Street and Kenneth Clayton, but none of them were on a stage as large as the World Open. Harris had not visited a tournament in 30-40 years and it was quite a scene to see admirers meeting him and his reaction. Street still follows chess and visits the World Open every year but said that there was not a time in the 60s when practically the entire hotel was dominated by a chess tournament!
Dr. Kimani Stancil and Dr. Daaim Shabazz flanked by legends NM Walter Harris and NM Frank Street.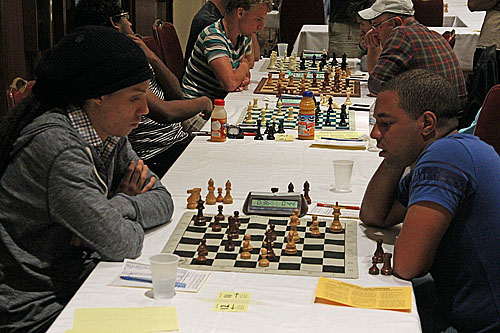 IM Kassa Korley battling against Cuban Grandmaster Isan Reynaldo Ortiz Suarez.
This year's World Open brought to Arlington, Virginia the hopes and dreams of many. Some want to gain rating points; some wanted norms; some want to win prize money; some wanted all three. One player came from Charlotte, North Carolina to earn the Master's title. An affable character who is studying Exercise Science at Liberty University, Dominique Myers played up in the under-2400 section. Undaunted by playing stronger competition, he scored 4/8 and vaulted over the 2200 mark. In the interview, he stated that he was inspired by the legendary Ron Simpson. He was promptly congratulated by the North Carolina chess community and of course is now a member of the "Drum Majors" list of Black chess masters.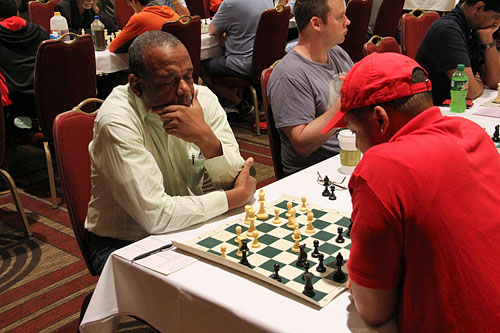 FM Philip Corbin is a seven-time Barbados national champion and is known as the "Caribbean Tal". He has penned an excellent memoir titled, "Calypso Chess".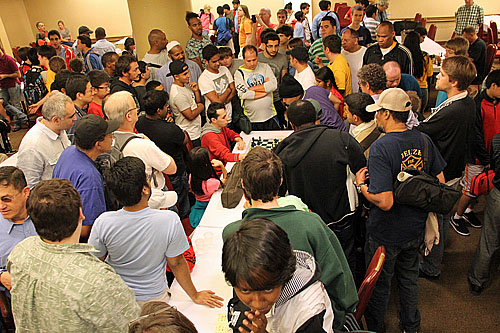 GM Alex Lenderman and FM Luis Flaquer draw a crowd. Flaquer upset Lenderman in the two-game match! Luis was in wonderful form having just scored 7.5/9 in the under-2400 section.
Another sterling result came from FM Luis Flaquer who hails from the Dominican Republic. He torched the under-2400 field with 7.5/9 losing only to the co-winner of the section FM Eugene Yanayt. Flaquer is based in New York and finally made a breakthrough after fluctuating with the 2200 range. His performance netted him 99 rating points (2211-2310) and $7,630.50. While the usual Afro-Hispanic players were absent this year, Flaquer made an impression.
One other attractions to the World Open tournament is the excitement that comes with observing the grittiness of chess hustling. This is one of the most noticeable fixtures in the skittles rooms at the World Open. A number of street chess legends trek to the World Open to catch unsuspecting players who accept odds for a chance at winning stakes. The back-and-forth banter, frenetic pace and the flying of chess pieces make this scene one of the most anticipated every year.
Blitz Battles… Nigerians versus New York's finest.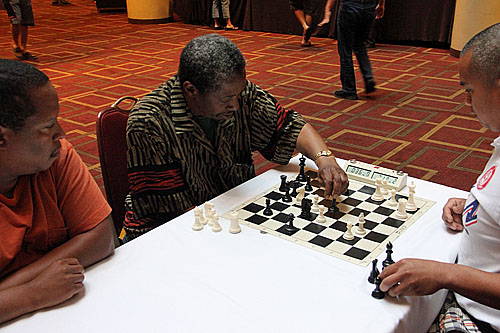 The legendary blitzer Tom Murphy, mayor of Dupont Circle.
One of the players having achieved notoriety is Tavon Carter, an Internet sensation who posted some of his blitz exploits online. Then there are the New York hustlers with names like "Sun God," "Sammy the Sandman," "Sting Ray" and of course Tom Murphy, a Dupont Circle blitz legend. However, this year you have a dozen Nigerians who raided the blitz halls to play these hustlers and there were some spirited battles with Nigerian trashtalk… "giving an opponent some fufu".
Last but not the least is seeing players of African descent on the top boards during the World Open. Since there are so few of these players active, a new crop is emerging with IMs Farai Mandizha and Kassa Korley making way for players like Justus Williams, Josh Colas and James Black. Then there are the legendary figures such as Ernest Colding and William "Exterminator" Morrison, Black Bear legends and contemporaries of Maurice Ashley.
IM Farai Mandizha won against Matt Paul Slomski.
FM William Morrison battling in the under-2400 section.
NM Ernest Colding vs. Efemuai Odafe Benedict in blitz battle.
Photos by Daaim Shabazz.
As Ashley gears up for the Millionaire Chess Open, players of African descent will come in high numbers to support his effort and perhaps will initiate an new "Black Renaissance" or a romantic period in which players of African descent will assert greater influence in chess. Perhaps there will be other traditions created, but right now, the World Open remains as the gathering point for this energy. See you next year!
World Open Articles